Events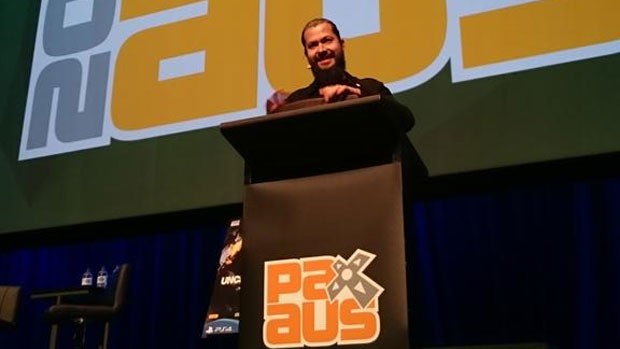 Published on November 1st, 2015 | by admin
Gamers at PAX get a first view of UNCHARTED 4: A Thief's End multiplayer
Naughty Dog's Arne Meyer gave fans a taste of the UNCHARTED 4: A Thief's End multiplayer fresh from Paris Games Week behind closed doors in a media preview. In addition to this exclusive first peek, Aussie fans are amongst the first worldwide to get hands-on with the multiplayer mode on the PlayStation booth.
1st Nov 2015 – Sydney, Australia: New footage of the Uncharted 4: A Thief's End multiplayer received an overwhelming reception at PAX today where PlayStation showcased the future of PlayStation®4 (PS4) experiences.
In Sunday's first panel in the main theatre; Naughty Dog presents Uncharted 4: A Thief's End, fans of UNCHARTED were guided through a series of the newest and most exciting MP features:
The supernatural Djinn Mystical power, a powerful addition to any character's arsenal, brings explosive, fiery attacks to game play
The Cintamani Stone Mystical, which revives teammates and your own character quickly, taking them from a downed state back to combat-ready
New sidekicks, including the Brute, the Savior, and the Marksman, each with their own game-altering elements
Individually-recorded lines for sidekicks
Arne Meyer, Director of Communications for Naughty Dog said: ''Uncharted 4 drew long lines on the show floors at Paris Games week and we were overwhelmed with the amazing feedback from those who had a first sample of the multiplayer mode. We are unbelievably excited about giving Australian gamers at PAX a first glimpse of the hard work the Naughty Dog multiplayer team have put into this, and can guarantee those who make it to play today won't be disappointed with this first taste of our deeply rich multiplayer modes.''
Uncharted 4: A Thief's End multiplayer joins the impressive list of games on the PlayStation booth including Uncharted: The Nathan Drake Collection, PlayStation VR, Star Wars Battlefront, and Street Fighter V. Players can already sign up for the Uncharted 4: A Thief's End multiplayer beta in February with every purchase of Uncharted: The Nathan Drake Collection.
PAX – initially started in Seattlend in 2004 by the creators Reed Pop – is one of the largest gaming conventions in the world and first arrived in Melbourne in 2013. The festival celebrating everything gaming culture is set to bring players up-close and personal with the world's leading game publishers and developers in an inclusive gaming community environment.