Games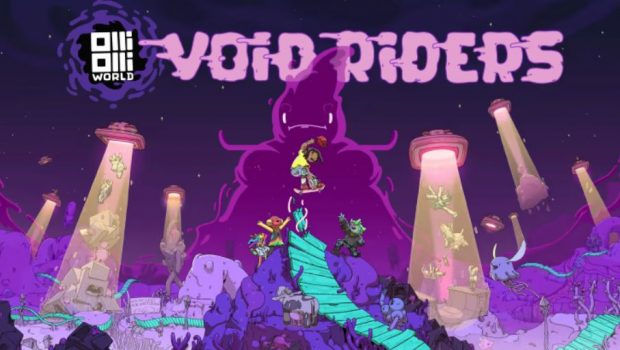 Published on May 26th, 2022 | by Andrew Bistak
Gameplay Premiere: The VOID Riders have landed in OlliOlli World's first story expansion
Private Division and Roll7 are proud to announce VOID Riders, the first of two expansions to the critically acclaimed skateboarding action-platformer OlliOlli World. VOID Riders launches digitally on June 15th for Nintendo Switch™, PlayStation®5 and PlayStation®4, the Xbox Series X|S and Xbox One consoles, and PC via Steam.
Extra steezy extraterrestrials, Sair'Rah, Khehvyn, and Pftangxi, have arrived in Radlandia, intent on acquiring skater specimens for the mighty Nebulord. OlliOlli World: VOID Riders brings a brave new world of challenges and space-age gear as you prepare to enter and explore the alien zone, the V.O.I.D. Feel the flow as you skate across the snowed-in Cloverbrook, grind the eerie Sunshine Valley, and visit the storming Burntrock.
While traversing Radlandia, find yourself swept up in an alien abduction featuring a new tractor beam mechanic. Stick the landing and impress Nebulord with your out-of-this-world style and you may just find yourself in favor of becoming his favorite skate alien! Kickflip into the raddest reaches of space in OlliOlli World's next extraterrestrial adventure.
OlliOlli World: VOID Riders will be available for $14.95.
Players can also purchase the OlliOlli World Rad Edition, a deluxe version of the game, available for $66.95. The Rad Edition includes the base game, OlliOlli World: VOID Riders and the upcoming second expansion (scheduled for late 2022), as well as the "Close Encounter Skate Deck" digital cosmetic item.
Check out the very first gameplay of OlliOlli World: VOID Riders in this brand-new trailer: https://youtu.be/mRPmjJvunz0
OlliOlli World marks the third and highest-rated entry in the beloved OlliOlli series from Roll7, the London-based studio famous for creating remarkable games like OlliOlli, OlliOlli 2: Welcome to Olliwood, Laser League, and NOT A HERO. Roll7 is a wholly-owned studio of Private Division, a publishing label of Take-Two Interactive Software.