Movies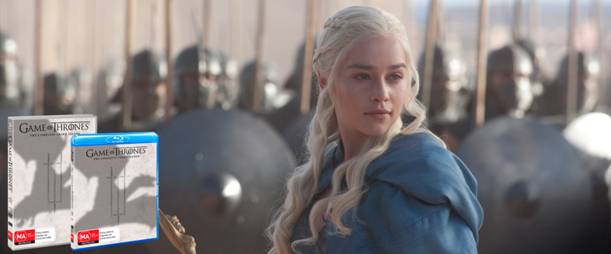 Published on December 20th, 2013 | by admin
Game of Thrones: The Complete Third Season
Loaded with Exclusive Bonus Content: Including Comprehensive Guides, Illustrated Histories and an In-Depth Look at one of the most talked about TV episodes ever: "The Rains of Castamere" 
Game of ThronesSM, was not only one of the most popular shows of 2013, but the media and social media explosion around its dynamic storytelling and climactic finale made it a genuine pop culture event. George R R Martin, accompanied by actresses Lena Headey and Michelle Fairley, sold out the Opera House in November and the show was the most nominated series at the 2013 Emmy Awards. On February 19th, Game of Thrones: The Complete Third Season will make its debut on Blu-rayTM and DVD.
Synopsis:
While the Houses of Lannister, Baratheon and Stark continue to fight for the control of Kings Landing, in the far north, the enigmatic Mance Rayder has united the Wildlings into the largest army that Westeros has ever seen. The only thing that stands between him and the seven kingdoms is the Nights Watch but nobody has heard from their Lord Commander or the force that he led north of the wall. And across the narrow sea, another army and another claimant to the Iron Throne, Daenerys Targaryen, is making preparations to return and with her come dragons. In the words of Ramsey Snow: "If you think this has a happy ending, you haven't been paying attention".
SKU
RRP
Notes
ALL
N/A
Rating:   MA15+
Runtime: Approx. 555 minutes (not including extra features)
DVD

$59.95

Special   Features Include:

"A   Gathering Storm" Featurette – Look back at the stormy events of Season 2   in this 14-minute recap with cast and crew.

"The   Politics of Marriage" Featurette – The concept of matrimony in Westeros   is all about making power plays and political alliances. Cast and crew   examine this ancient institution and its place in Game of Thrones.

"Inside   the Wildlings" Featurette – Go beyond the Wall with this introduction to   the wildlings to gain a better understanding of their back story.

New   Characters of Season 3 – Meet the new faces in Season 3: Olenna Tyrell,   Missandei, Mance Rayder, Tormund Giantsbane, Orell, Jojen & Meera Reed,   Blackfish & Edmure Tully, Thoros of Myr and Beric Dondarrion.

Deleted/Extended   Scenes – Five deleted and extended scenes.

Audio   Commentaries – 12 commentaries with cast and crew including David Benioff,   D.B. Weiss, George R.R. Martin, Lena Headey, Emilia Clarke, Michelle Fairley,   Kit Harington, Richard Madden and more.

Blu-ray

$69.95

All   the DVD special features plus:

In-Episode   Guide – In-feature resource that provides background information about   on-screen characters, locations and relevant histories.

"The   Rains of Castamere" Unveiled – Get an in-depth look at the creation of   the most pivotal episode of Season 3 in this comprehensive exposé featuring cast   and crew.

The   Roots of Westeros – Explore the interconnected web of relationships,   rivalries and conflicts between the noble houses of Westeros with this   interactive guide.

Histories   & Lore – Learn about the mythology of Westeros as told from the varying   perspectives of the characters themselves.

Special Editions
$79.95

There   will be a selection of special editions available at participating stores   including one Blu-ray special edition that comes with an Exclusive Pop Vinyl   figure of Viserion The Dragon and another Blu-ray special edition that comes   with an exclusive glow in the dark Pop Vinyl figure of a White Walker.

 

Season 1 – 3   Complete Box Set
$119.95   (DVD)

$129.95   (Blu-ray)

There   will also be a special National Collectors Box Set that includes all three   seasons of Game of Thrones available in Blu-ray and DVD

Digital
Game   of Thrones: The Complete Third Season is already available through digital retailers.
Based on George R.R. Martin's best-selling book series, A Song of Ice and Fire, the third season of Game of Thrones features returning cast members Emmy and Golden Globe winner Peter Dinklage (Tyrion Lannister), Michelle Fairley (Catelyn Stark), Lena Headey (Cersei Lannister), Emilia Clarke (Daenerys Targaryen), Nikolaj Coster-Waldau (Jaime Lannister), Aidan Gillen (Petyr "Littlefinger" Baelish), Iain Glen (Jorah Mormont), Kit Harington (Jon Snow), Richard Madden (Robb Stark), Maisie Williams (Arya Stark), Isaac Hempstead Wright (Bran Stark), Sophie Turner (Sansa Stark), Jack Gleeson (Joffrey Baratheon), Alfie Allen (Theon Greyjoy), Rory McCann (Sandor "The Hound" Clegane), Charles Dance (Tywin Lannister), Jerome Flynn (Bronn), Conleth Hill (Varys), John Bradley (Samwell Tarly), Gwendoline Christie (Brienne of Tarth), James Cosmo (Commander Mormont), Stephen Dillane (Stannis Baratheon), Carice van Houten (Melisandre), Liam Cunningham (Davos Seaworth), Sibel Kekilli (Shae), Rose Leslie (Ygritte) and Natalie Dormer (Margaery Tyrell).
New cast members for Season 3 include: Ciarán Hinds (Mance Rayder), Diana Rigg (Lady Olenna Tyrell, Emmy-nominated for her role), Mackenzie Crook (Orell), Clive Russell (Brynden "The Blackfish" Tully), Nathalie Emannuel (Missandei), Kerry Ingram (Shireen Baratheon), Paul Kaye (Thoros of Myr), Thomas Brodie-Sangster (Jojen Reed), Ellie Kendrick (Meera Reed), Richard Dormer (Beric Dondarrion), Kristofer Hivju (Tormund Giantsbane), Philip McGinley (Anguy), Tara Fitzgerald (Selyse Baratheon), Tobias Menzies (Edmure Tully), Anton Lesser (Qyburn), Ian McElhinney (Barristan Selmy), Michael McElhatton (Roose Bolton) and Noah Taylor (Locke). The series executive producers are David Benioff, D.B. Weiss, Carolyn Strauss, Frank Doelger, Bernadette Caulfield; co-executive producers, Guymon Casady, Vince Gerardis, George R.R. Martin, Vanessa Taylor; produced by Chris Newman, Greg Spence.