Games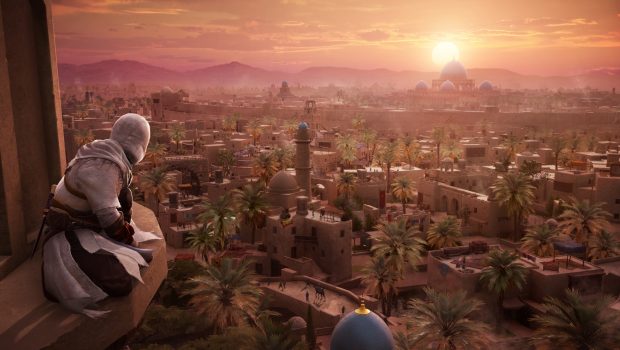 Published on October 5th, 2023 | by Adrian Gunning
Game On Driver for Intel® Arc™ Graphics for Assassin's Creed Mirage* and Forza Motorsport
Intel® Game On Drivers deliver the best experience for gamers playing on Intel Graphics with optimized launch-day patches and performance updates as new games release.
Leap into the dazzling city of 9th century Baghdad or take the wheel in Forza Motorsport with today's Game On drivers. Intel Arc graphics handle both stealth and speed in this week's new games.
The Golden Age's flourishing cultural and scientific advancements have been stalled by instability spread throughout the Middle East. Assassin's Creed Mirage follows Basim Ibn Ishaq, defiant to the turbulence surrounding him in 9th century Baghdad. Despite this turmoil, this historical period produced stunning architecture, like that of the Great Mosque of Samarra. In AC Mirage, Basim's father architected the marvelous mosque, only to be discredited, exiled, and perish in poverty, leaving Basim alone in the streets.
Now on his own, Basim must do what it takes to survive. Facing far more than the struggles of being a petty thief, Basim is haunted by dark visions of his conflicted destiny. Seeking answers amid the city's power struggle lands him in the lap of the Assassin Brotherhood, a new family offering mentorship and a glimpse into what Basim's fate truly holds. As you uncover the secrets lying in wait around the sprawling city of Baghdad, Basim's abilities will grow as he puts his parkour skills, weaponry, and companions to use.
The PC version of Assassin's Creed Mirage comes packed with extra abilities too. HDR and ultrawide support make the round city of Baghdad shine best on the most advanced monitors, especially at high framerates. To get even more performance when you play Assassin's Creed Mirage, we've teamed up with Ubisoft to integrate Intel XeSS, taking performance to taller heights.
Forza Motorsport drops the number from its title as it's now set to be an "evolving racing platform." From the first waves of the green flag, the new Forza Motorsport is a place for champions to prove themselves with over 500 cars and 20 tracks. Wheel-to-wheel racing arrives with vintage formula cars, modern muscle, and advanced prototype racecars, and developer Turn 10 says there's a lot more on the way.
But before we get ahead of ourselves, there's plenty of ways to hone your racing chops at Forza Motorsport's starting line. Singleplayer challenges include rotating Featured Rivals events, the first of which will take you back to the fan favorite fictional Maple Valley Raceway, back in Motorsport and better than ever. Hundreds of customization options give you every chance to tailor your car to best suit your driving style. For a level playing field, Spec Series will get you online in a loaner car matching the rest of the grid for pure competition. Looking ahead to the next apex? Monthly updates promise new cars, events, and the occasional new track like world-renowned Nordschleife, due in spring of next year.
Performance built for stealth and speed
Today's Intel Arc graphics drivers are ready for the streets of the past and racecars of modernity. Take flight from the tallest towers, or really push your driving skills through tight turns, either way Intel Arc GPUs have what it takes. Looking to upgrade your PC for the latest games? Check out our Balanced Builds deals for the best values in PC gaming hardware.
Additional
Game performance improvements versus Intel® 31.0.101.4826 software driver for:
o   Up to 19% uplift at 1440p with High settings
o   Up to 27% uplift at 1080p with High Ray Tracing settings
The Last of Us Part 1 (DX12)
o   Up to 12% uplift at 1080p with Ultra settings
This release introduces fixes for Starfield, FC 24, Uncharted: Legacy of Thieves Collection, Dying Light 2 Stay Human, Fortnite, and Adobe After Effects.
Game performance improvements versus Intel® 31.0.101.4669 software driver for:
o   Up to 9% uplift at 1080p with Maximum settings
o   Up to 37% uplift at 1080p with Ultra settings
Naraka: Bladepoint (DX11)
o   Up to 5% uplift at 1080p with Highest settings
Tom Clancy's Rainbow Six Siege (DX11)
o   Up to 32% uplift at 1080p with Ultra settings
Final Fantasy XIV Online (DX11)
o   Up to 7% uplift at 1080p with Ultra settings
Age of Empires 2: Definitive Edition (DX11)
o   Up to 42% uplift at 1080p with Ultra settings
Call of Duty: Black Ops 3 (DX11)
o   Up to 88% uplift at 1080p with High settings
Total War: Warhammer 2 (DX11)
o   Up to 10% uplift at 1080p with Ultra settings
o   Up to 10% uplift at 1080p with Ultra settings
o   Up to 6% uplift at 1080p with Very High settings
Middle-Earth: Shadow of Mordor (DX11)
o   Up to 14% uplift at 1080p with Ultra settings
Call of Duty: Modern Warfare (DX11)
o   Up to 90% uplift at 1080p with Extra settings
Deus Ex: Human Revolution (DX11)
o   Up to 119% uplift at 1080p with Ultra settings
Call of Duty: Black Ops 4 (DX11)
o   Up to 8% uplift at 1080p with Very High settings
o   Up to 10% uplift at 1080p with High settings
Kingdom Come: Deliverance (DX11)
o   Up to 22% uplift at 1080p with Ultra High settings
Divinity: Original Sin – Enhanced Edition (DX11)
o   Up to 9% uplift at 1080p with Ultra settings