Blu-ray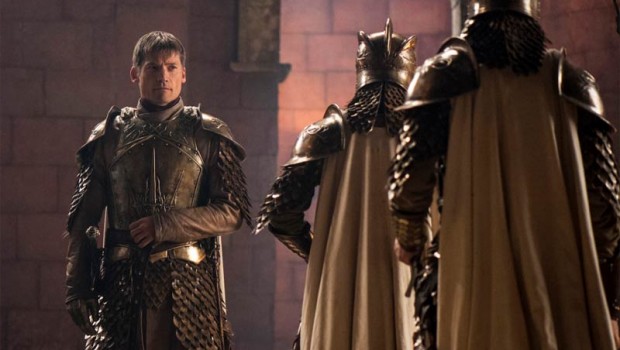 Published on February 21st, 2015 | by Simon Black
Game of Thrones The Complete Fourth Season Blu-ray Review
Summary: Game of Thrones the Complete Fourth Season on Blu-ray is perfect!
Game of Thrones – The Complete Fourth Season
Distributor: Warner Brothers
Running Time: 546 minutes
Rating: R18+
Reviewer: Simon Black
'All men must die.'
Never has a truer or more illustrative sentiment adorned the box cover of a television series.  'Why can't we be friends?' might also have worked, had a somewhat jauntier angle been sought.  For make no mistake, Season 4 of HBO's flagship series – do your worst, Boardwalk Empire fans, your reign is at an end – is an absolute bloodbath.
The series opening finds Brandon Stark still being dragged through the snow in the company of a pair of psychically gifted siblings and an imbecile giant. (Spoiler alert: the most badass line of the series involves Brandon, when a shapeshifting oracle informs the crippled boy he will never walk in this life again.  'But you will fly,' adds the wise old necromancer.  Cue goosebumps).  Über-hottie Daenerys Stormborn is still out to avenge the world one slave city at a time, and if she can amass an army and keep her dragons fed all the better.
The remaining Starks have their own considerable slew of quandaries– Jon Snow amidst the wildlings of the North, his half-sister Sansa in the perilous orbit of Joffrey's mad reign and young Eire in the company of cutthroat man-mountain the Hound, while the Lannisters are… ruthlessly concerned with scheming towards the consolidation of power and the continuance of their family legacy.  And the supporting cast are as impeccable as ever, particular standouts being German-born Sibel Kekilli as Tyrion Lannister's lissom companion Shae, and Pedro Pascal as the lovably louche Dornish prince Oberyn Martell, who must attempt to conquer his own mountain.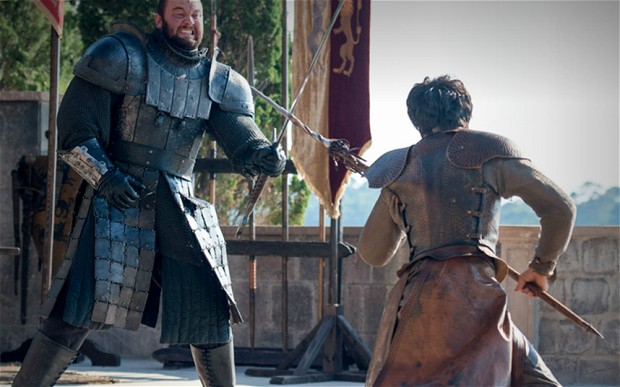 A review needn't mention what any of the characters are searching for specifically, because the answer is the same in every case: fulfilment of an immutable individual destiny.  They might scream as they are flung to their death from the Moon Door, they may wail and gnash their teeth as their loved ones are poisoned and mutilated in front of their very eyes, they may well be aghast at the fact their offspring was just chargrilled by a dragon, but rarely do the characters of Game of Thrones shirk their duty, or their honour.
I haven't read the books, and that's the way I likes it: I prefer not knowing what's going to happen from moment to moment, recognising that at any turn a character I am invested in could be dispatched with as little sentiment as though one were crushing beetles with a rock.  From the moment Ned Stark and Khal Drogo met their doom early in the piece you knew this was not a series from which you could expect sympathy, nor one which would allow you to take anything for granted.  Television is better like that, I think.
Which is why we may forgive the maker's of GoT for drawing things out a little – they want to prolong the experience, and so do we.  So what if the White Walkers are dragging their heels?  So what if Daenerys is spending more time amassing her personal army than Axl Rose did on Chinese Democracy?  Yes, the woman takes a long time to raise a battle-ready fighting contingent, but it's sure fun watching her piece it together, one shattered city at a time, then struggling to try to maintain order in the wake of chaos.
And that's why I like Game of Thrones.  Because unlike regular television with its stupid sitcommy tropes and archetypes-by-numbers, GoT flips the script in every conceivable way and turns Ordo Ab Chaos into a veritable rallying cry.  Characters are written in a manner entirely devoid of conceit, and newcomers and fellow travellers alike meet their fate, be it good or bad, with an all-encompassing  passion that makes for thrilling, occasionally downright fearsome viewing.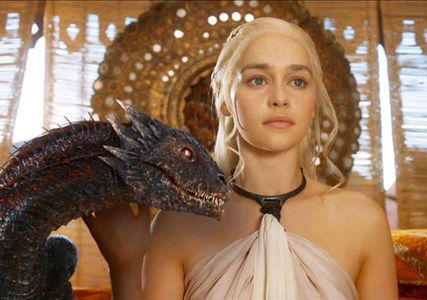 Verdict
I'm giving this one 15 out of 10.  I'm no Good Will Hunting and don't know how that works mathematically, but a series of this magnitude deserves more than a mere 10, especially considering the veritable cornucopia of bonus features on offer this time around.  Have you seen the peerless costuming?  The psychological complexity of almost every snippet of dialogue?  The superlative attention paid to the set designs?  The near-impeccable* computer-generated effects?  The host of world-class character actors that together bring to life a fictional world unrivalled in scope, and a series of intertwining plot lines unparalleled in ambition?  Did I mention it has dragons?
Special Features
In-Episode Guide – In-feature resource that provides background information about on-screen characters, locations and relevant histories. • Histories & Lore – Learn about the mythology of Westeros as told from the varying perspectives of the characters themselves.
Behind the Battle for the Wall – Follow the cast and crew as they create the most ambitious battle to date. This 30-minute documentary explores the challenges of putting together one of the series' most intense episodes, with never-before-seen material. • The Fallen: A Roundtable – Writer Bryan Cogman sits down with a few of the many cast members who meet their demise in Season 4. From first learning of their deaths to shooting their final scenes, this 30-minute feature will shed light on what it's like to live—and die—in the Game of Thrones world. • The Politics of Power: A Look Back at Season 3 – Revisit the brutal events of Season 3 to see power shifts that define Westeros at the start of Season 4. • Bastards of Westeros – Hear showrunners David Benioff & D.B. Weiss and author George R.R. Martin discuss the role bastards play in the Seven Kingdoms. • Deleted/Extended Scenes – Two deleted scenes. • Gag Reel
Audio Commentaries – Commentaries with cast and crew including showrunners David Benioff and D.B. Weiss, A Song of Ice and Fire author George R.R. Martin, Sophie Turner, Maisie Williams, Pedro Pascal, Aiden Gillen and more!
* I say near-impeccable because the White Walkers don't look that convincing in my opinon.  I mean I get that CGI is expensive, but they built these beings up as the most terrifying force imaginable from day 1 and they ended up looking like the jerky offspring of the skeletons from Army of Darkness.