Hardware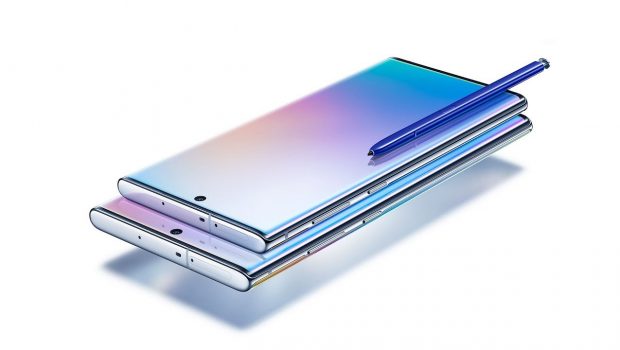 Published on August 8th, 2019 | by Admin
Galaxy Da Vinci Addendum
Samsung Electronics Australia today announced the launch of the Galaxy Note 10, Note 10+ and Note10+ 5G.  The Galaxy Note 10 range sets a new standard for Samsung smartphone design and power, engineered to help users bring their ideas to life with productivity, performance, design and creativity tools.
Customers in Australia who pre-order the Galaxy Note 10, Note 10+ or Note 10+ 5G from participating retailers, will receive a bonus pair of AKG Wireless Headphones (N700NCM2)[1] valued at RRP$499.  The pre-order period runs from 09.00, August 8 to 23.59, August 22, with an on-sale date of August 23, 2019[2].
In Australia, the Galaxy Note 10 range is available in two colours, Aura Glow and Aura Black.
Pricing and memory variants for the Galaxy Note 10 range in Australia are:
Galaxy Note 10 (256GB) RRP$1,499
Galaxy Note 10+ (256GB) RRP$1,699
Galaxy Note 10+ 5G (512GB) RRP$1,999
Garry McGregor, Vice-President, Mobile Division, Samsung Electronics Australia, said: "The Galaxy Note has always been the power phone for people who want the very best in smartphone technology.  This device has helped millions of people to pursue their passions, be more productive and unleash their creativity in new ways.  Galaxy Note users are Samsung's most loyal customers – they use their phones to help them achieve more, every day.
"The Galaxy Note 10 and Note 10+ are the ultimate devices for today's power user whose smartphone is at the centre of how they manage their lives. It features a long-lasting battery, a pro-grade camera with a full kit of lenses and a super-fast processor to deliver incredible computing power.
"But what continues to set the Galaxy Note apart from every other smartphone is its unique S Pen. The Galaxy Note 10 range has our most intelligent S Pen ever which can be used as a remote control for your camera or PowerPoint presentation. It can also convert handwriting to text so you can quickly and easily share your notes in an email, Word or PDF document.
"This device is the perfectly suited to empower Australia's ambitious achievers to help them to power their productivity whether they're at home, in the office or on-the-go."
[1] AKG Wireless Headphones (N700NCM2) in Black, https://www.samsung.com/au/mobile-accessories/akg-n700ncm2/
[2] The pre-order period for the Galaxy Note 10 range is from 09.00 (AEDT), August 8 to 23.59 (AEDT) on August 22, 2019. The offer to receive a bonus pair of AKG Wireless Headphones is available during the pre-order period or when stock runs out. Available from participating retailers only. Visit samsung.com/au/note10-offer/terms for T&Cs