Comics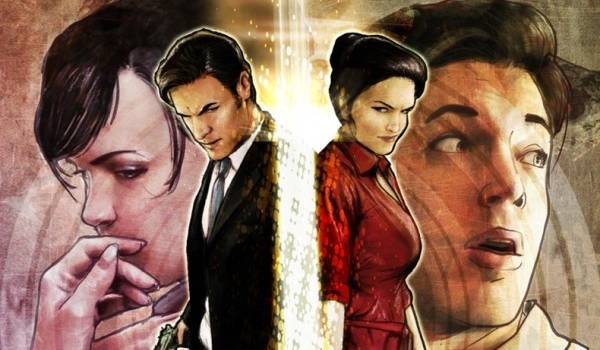 Published on January 12th, 2018 | by Dana Folkard
GAIL SIMONE AND CAT STAGGS' CROSSWIND HEADED TO PAPERBACK, TV!
Superstar creators Gail Simone (Red Sonja, Secret Six) and Cat Staggs (Wonder Woman '77, Smallville Season 11) will release CROSSWIND, VOL. 1 from Image Comics this February. CROSSWIND is in development for a television series, with Simone slated to write as well as executively produce and Staggs to serve as a consulting producer.
A slick and ruthless Chicago hitman. A smart but downtrodden Seattle housewife. When an inexplicable event strikes these two random strangers, their bodies, souls, and lives are switched—to potentially deadly effect.
"CROSSWIND is a dream project for co-creator/artist Cat Staggs and me: a crime fantasy with guts and heart and a downright mean streak at times," said Simone. "It's a venomous confection, two people whose lives are switched and they have no idea why. We loved every minute of making this book and hope you'll love it, too, bodily injury and all."
"If you ever wondered what it was like to walk in someone else's shoes, CROSSWIND might make you think twice about that," said Staggs. "Gail and I have worked to create a grounded and sometimes brutal fantasy that you won't be able to put down. Buckle up and enjoy the ride."
CROSSWIND, VOL. 1 (Diamond code: NOV170676, ISBN: 978-1-5343-0474-1) hits comic book stores Wednesday, February 28th. The final order cutoff deadline for comics retailers is Monday, January 15th.
CROSSWIND, VOL. 1 will be available in bookstores Tuesday, March 5th. It can be preordered via Amazon, Barnes & Noble, Indiebound, and Indigo.
Select praise for CROSSWIND:
"Freaky Friday—yes! But dark and twisted and such great art and page composition. And glints of humour. This is great, kinetic, mind-warping work. Art reminded me of Chaykin's The Shadow meets Bill Sienkiewicz. I love this." —Ian Rankin (Inspector Rebus novels)
"CROSSWIND is a fantastic story with very real stakes and consequences concerning identity in both physical and psychological ways." —Comics Verse
"CROSSWIND will sneak up on you from behind and knock you sideways. Gail Simone is at her absolute sharpest, and Cat Staggs's art is daring and sexy. Freakin' impressive is what it is…!" —Cully Hamner (RED, The Question)
"Cat Staggs's art will grab you by the throat and kick you in the teeth. This is one creepy ride." —Joe Harris (ROCKSTARS, X-Files)
"Simone and Staggs' work together rivals that of even the best noir teams (Brubaker and Phillips better watch their backs)." —Monkeys Fighting Robots
"By the end of issue #1, I was absolutely hooked. The only thing more riveting than CROSSWIND's two protagonists are these two incredible creators joining together at the peak of their powers." —Tom Taylor (All-New Wolverine, Injustice, The Deep)
"Beautifully illustrated and with a fresh take on a fairly worn-out trope, CROSSWIND is a fantastic new series from two creators working in perfect synergy." —Big Comic Page
"Gail Simone's dialogue kicks major ass and Cat Staggs' artwork is superb and evocative." —Tor.com, "The Top Spec-fic Comics of 2017"
"Staggs and Simone have delivered a great, cinematic experience." —Black Nerd Problems