Interviews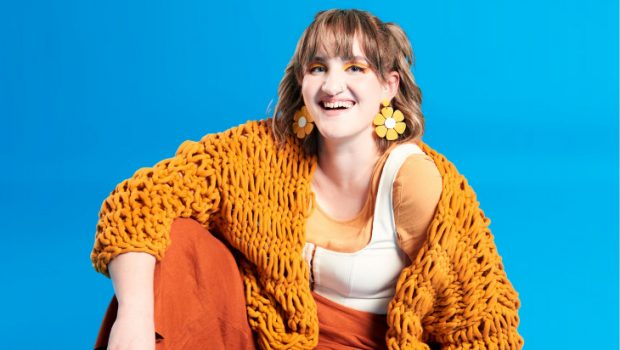 Published on March 28th, 2023 | by Andrew Bistak
Gabbi Bolt Interview @micomfestival @GabbiBolt @ARationalFear #MICF 2023
We catch-up with comedian Gabbi Bolt on the even of the Melbourne International Comedy Festival for 2023!
Welcome to Impulse Gamer, so tell us what are you most excited about MICF this year?
I'm excited to be here the entire month and really immerse myself in the festival! Last year I was only here for 2 weeks and it felt like 2 days!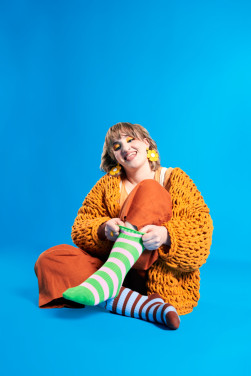 Tell us about your show Odd Sock, what can we expect and where did your inspirations come from?
Expect a musical, whimsical, sometimes political stream of consciousness. It's fast, it's wordy and it's got moments where it's too niche for it's own good (there is a 4 and a half minute song about Andrew Garfield) but most of all it's FUN! My inspiration this time was honestly more of a method, which was to just let go and write a bit more freely.
How do you prepare for a show?
Truthfully, this is the process.
a) watch a bunch of comedians/musicians/theatre pieces that are already way better than anything you could ever write
b) sit at the piano and delude yourself into thinking you might actually write a masterpiece in the next 4 minutes
c) you actually end up writing nothing for 3 hours and you cry for 4.
d) eventually you literally have to let go of your song needing to be practically perfect in everyway and you just write… something.
e) more often than not, THAT something leads to something else way better and boom you're writing a song
f) do that like 8 or 9 more times
How did you fall, get pushed and end up in comedy?
I turned to online satire when my main source of income (music teaching/pub muso) was shut down during the pandemic. Then about a year later I moved to Sydney and booked my first live comedy gig (A Rational Fear Live), and I knew I wanted to do live comedy forever.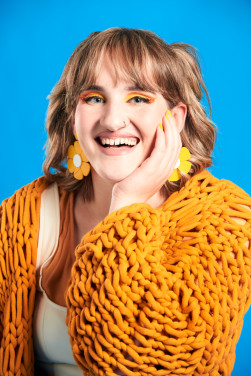 What's the funniest thing that has ever happened to you?
I mean there's loads of things, but probably the ones that take the cake are getting a legitimate broadway compositional credit from a musical about a cooking rat, or getting an ex prime-minister to sing online karaoke with me.
Lastly, name two other comedians that you hope to see at MICF and why?
Connor Morel (A Lovely Day to Be Online) – This guy has so much talent it's unbelievable, after watching only a couple of clips online I can tell he's a complete superstar. If you like me you'll love him, fast jokes, BEAUTIFUL music, great voice.
Sam & Mel (High Pony) – I've known these two for a couple of years now and they just get better and better every year. HILARIOUS songs, super incredible stagecraft, unbelievable fashion, and just like triple threat talented. A HOOT I say a HOOT.
Gabbi Bolt Odd Sock
After sold out shows in Adelaide, Melbourne and Sydney of her award-winning, debut show I Hope My Keyboard Doesn't Break, Gabbi's second solo show has her filling even bigger shoes, lest she get lost in the wash.
Odd Sock is an hour of original musical comedy, stand-up and storytelling with Gabbi's usual observational anarchy. The keyboard is on, the mic is hot and the socks are odd cause she was running late leaving the house. It's balladeer meets berserk, with Gabbi's warm, soulful vocals distracting you from the fact she's probably singing a whole song about feet pics, which you are not getting by the way.
Gabbi won Best Newcomer at the 2022 Sydney Comedy Festival, was a 2022 Moosehead Award recipient and has appeared on The Chaser, A Rational Fear and Spicks and Specks (ABC TV).
'Gabbi is legitimately a good composer and lyricist.' Wayne Brady, Whose Line Is It Anyway?
'If you wanna be the kind of person that can say "I saw Tim Minchin before he was big", Gabbi's that sort of act.' Wil Anderson
'Gabbi Bolt is incredibly original and very much in a league of her own. ★★★★★' Broadway World (UK)
'Watch this space – this young woman is going to be a star. ★★★★½' Adelaide Advertiser
'Bolt is truly a brilliant up-and-comer in the Australian comedy scene. ★★★★' Time Out 
For more information, please visit https://www.comedyfestival.com.au/2023/shows/gabbi-bolt-odd-sock