Hardware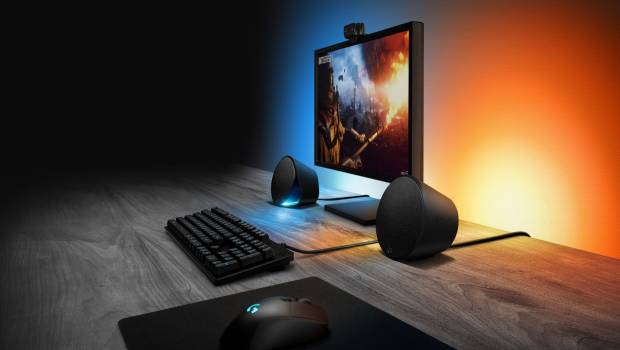 Published on May 8th, 2018 | by Admin
G560 Lightsync PC Gaming Speakers Review
Summary: One Speaker to Rule them All… the G560 Lightsync PC Gaming Speakers!
Some of my first speakers ever, were from Logitech and this company has a long history with the gaming community thanks to their excellent peripherals which have evolved through the years as have games. This time we're checking out their G560 Lightsync PC Gaming Speakers which packs a punch when it comes to audio thanks to its 240 watts of peak power. At its core, it is a 2.1 speaker system which has great gamer-like aesthetics and some nifty features… welcome to the Logitech 560 Lightsync PC Gaming Speakers!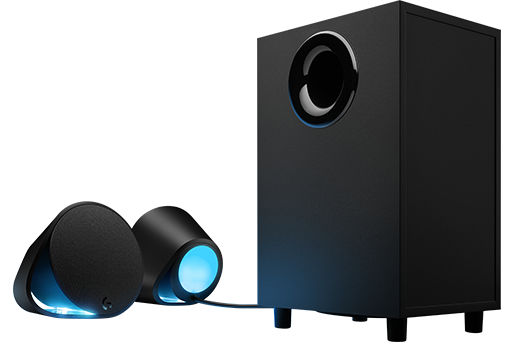 Labelled as the "Most Immersive PC Gaming Speakers", this is actually not too far from the truth that successfully incorporates 3D audio with DTS:X Ultra 1.0 for in-game positional audio. So when the action heats up, you know exactly where that sound is coming from and whether I was playing Star Wars Battlefront II, The Witcher III: Blood and Wine or Starcraft II, these speakers really enhanced the overall gameplay thanks to the clear, loud and distorted free audio.
Besides the excellent audio quality for games, including movies and music which I'll address a little later in this review, Logitech have incorporated a very clever element into the G560 with Lightsync technology which literally makes this product glow like a aurora borealis. On the back of the two satellite speakers are RGB lights which give you access to over 16.8 million colours which really puts Joseph and his technicolour dream coat to shame.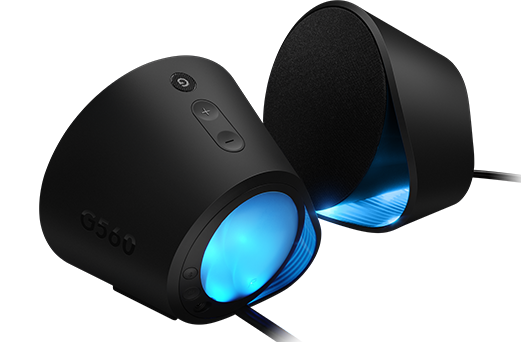 The idea behind Lightsync technology is that with certain games, the RGB lights on the back of these speakers change colours to indicate in-game aspects like taking damage, an enemy is approaching and other cues that translate both visual and audio cues into coloured lights. Although the RGB lights are quite bright on the back on the two satellites, the front of these speakers has a hollow curved handle-like section with a handful of lines inside this "tunnel". This creates an interesting effect as it channels the light into this small tunnel. In a dark room, it's quite spectacular. If you have other Lightsync products like a keyboard and mouse, you can even incorporate all these together for additional RGB visuals.
Further to that, you can even set the four corners of your monitor to change with the lights on the speakers like if an enemy has entered your zone or other catalysts to enhance your gameplay. This built-in screen sampler is great for RTS titles like Total War: Warhammer II which these speakers support. A full list of games can be found at https://www.logitechg.com/en-us/product/g560-rgb-gaming-speakers. Hopefully other developers will embrace this RGB technology to truly bring your games to life.
At first, I thought this might be a little too much as it creates a combined audio-visual perception like fireworks but in reality, it actually helps with the overall immersion factor and does get your adrenaline pumping, especially when the speakers to red when you're being shot in Battelfield. Besides gaming, Lightsync technology works with other audio content such as movies and music that also creates your own light show. However to fully maximise this feature, you do need to install the Logitech Gaming Software on your Windows 10 machine. Given that, this software is also compatible with Windows 7 and 8… if you're still using these two dinosaur operating systems!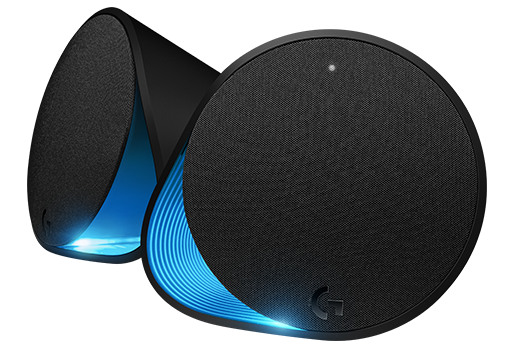 Furthermore, the G560 have a handful of inputs that include USB, AUX 3.5mm and Bluetooth which really increases the connectivity and scope of this speaker system. The last feature of the G560 Lightsync PC Gaming Speakers is that it adds Easy-Switch technology which easily allows you to swap between audio devices connected to these speakers. So when the gaming stopped on my PC, I just pushed play on my smartphone and bingo, the music started.
Well packed from Logitech, the box contents of the G560 include;
G560 LIGHTSYNC PC Gaming Speakers
Two satellite speakers
One subwoofer with power cable
USB cable
User documentation
In terms of size, the subwoofer measures at 404mm (height) x 255mm (width) with 207mm (depth) with a weight of 5.5kg. The satellite speakers measure at 148mm (height) x 166m (width) and 118mm (depth) and each has a weight of just 1.79kg. Needless to say, the design is good and although the subwoofer is quite large and heavy, it delivers a mean bass, including very loud audio!
Unboxing Photos
For those tech heads, here are the technical specifications from Logitech;
Total watts (peak): 240W
Total watts (RMS): 120W
Bluetooth version 4.1
Reliable 25-meter line of sight range
USB input x 1
Headphone jack x 1
Bluetooth pairing and power buttons are located on the back of the right speaker. G-key and volume controls are located on the top of the right speaker.
Frequency response: 40Hz – 18KHz
Max SPL: 97dB@426B
Sensitivity: 84dB@1m/1w
Input impedance: >10K ohm
Connection Type: USB, 3.5mm, Bluetooth
Indicator Lights (LED): back and front lighting zones
Wireless Range: 25 meter line of sight
Driver Size:
satellite: 63.5 mm
subwoofer: 165 mm
Input Impedance: >10K ohms
Sound Pressure Level (SPL Max): 97dB@426B
Audio Controls: on right satellite speaker
Audio Output: 3.5 mm headphone jack on right satellite
Speaker Type: 2.1
Cable Length (Power/Charging):
Power: 2200mm
Right to subwoofer = 2200mm
Left to subwoofer = 2200mm
USB cable length = 2500mm
Installation was easy and I had this audio behemoth up and running in no time. Once you have connected the two clearly labelled satellite speakers (right and left) to the subwoofer which is like connecting monitor cables, you then attach the included MicroUSB into the unit and then your PC. Windows 10 automatically detected the Logitech G560 Lightsync Gaming Speakers, however you do need to installed the Logitech Gaming Software to get the full benefits from this audio system which is available from the Logitech website.
On the right satellite speaker, there is a power-button plus volume controls. On the back, there is the Bluetooth button, a button to enable/disable the Lightsync feature and a connection for external headphones. To setup Bluetooth, you only need to hold down the Bluetooth button on the back of the right satellite speaker for 3-seconds until it beeps and then you need to search for the G560 Gaming Speaker on your smart device. Once again… a very easy process!
Once you have installed the Logitech Gaming Software, you can tweak the speakers considerably, particularly for its Lightsync technology that allows for special effects, how the audio is handled and adjusting the four zones (two zones per speaker) of RGB lights, enabling the DTS:X Ultra Virtual Surround Sound plus profiles. Music lovers will also appreciate how the speakers handle different audio with mids and highs being displayed by the front lights and bass at the back of the speakers.
The audio quality for the G560 via USB and Bluetooth produced some great clarity throughout the spectrum from mids and highs. Although some distortion occurred at the highest volume for some games/music, for the most part it was very clear. Given that, the speakers can be quite loud and you really feel the bass which I'm sure could also be heard (and maybe felt) by the neighbours at night. Games such as Overwatch, Star Wars Battlefront II and Call of Duty World War II sounded spectacular, particularly with all the action around me that shows these speakers were made for gaming. For titles that support these speakers, the visual effects is very impressive. For example, when you become a wanted criminal in Grand Theft Auto V and the police chase, you, the speakers will flash red and blue… very cool. Or if you're taking damage from gun fire, they will flash red.
In terms of additional testing, I watched Justice League, Downsizing and Wonder Woman, with these speakers bringing these films to life, especially when the action scenes commenced as these speakers dance with all the coloured lights. Music was equally impressive at just about all different levels of volume, it was crisp and clear. Although these are stereo speakers per se, the included software allows you to enable DTS:X Ultra Virtual Surround Sound that create a faux 7.1 audio experience, including the ability to tweak the volume levels from all virtual 7.1 areas.
You can also connect headphones to this speaker system which are located on the back of the speaker that nicely rounds out these 2.1 speaker system from Logitech.

Final Thoughts?
The G560 Lightsync PC Gaming Speakers are some decent speakers from Logitech that take audio to a whole new immersive level, particularly for gaming!
G560 Lightsync PC Gaming Speakers Features
LIGHTSYNC
RGB Lighting That Reacts to Games
Experience new levels of intensity while gaming. LIGHTSYNC RGB immerses you into the action with automatic, game-driven lighting effects that react to many popular games. LIGHTSYNC will blast light to match in-game explosions, approaching enemies, damage taken, healing done, new worlds visited, and much more.
BRING GAMES TO LIGHT
Custom RGB Experience for Popular Titles
Extend the game world into your room. Game developers work with our RGB SDK to program the color and animation effects for each game. That means the spectacular moments that the game creators focus on will be enhanced with RGB. Your favorite games. Brought to light.
GAME BEYOND THE MONITOR
Customizable Screen Sampler Extends Color
Choose any area on your monitor and assign it to any of the four lighting zones via Logitech Gaming Software (LGS). G560 then tracks in real-time and matches speaker lighting with the colors on screen. The result is stunning environmental lighting that immersing your room into the experience.
AUDIO VISUALIZER
Full spectrum lighting driven by music
See your music. Connect via Bluetooth, 3.5 jack or USB and the built-in G560 Audio Visualizer activates to bring your music to life. Low-volume response is a soft breathing effect. High-volume lighting pulses to the beat—rear lights take the bass and fronts take mids and highs. Connect via USB and use Logitech Gaming Software to customize lighting color and effects.
240 WATTS POWERFUL SOUND
All-consuming sound from every angle
Feel the explosive action from 240 Watts Peak (120 Watts RMS) power feeding the down-firing subwoofer and two satellite speakers with lightweight, high-strength metallic drivers. Hear every detail as game and sound designers intended from this 2.1 speaker system. And from a wide range of angles, thanks to the unique driver design delivering a huge soundscape.
DTS:X ULTRA SURROUND SOUND
Next-gen Positional Audio
The intensity you want and the edge you need from precise positional audio. DTS:X Ultra renders a 3D soundscape for games, so you hear your gaming environment from every angle. Also with DTS:X Ultra, multi-channel music sources such as 5.1 or 7.1 surround become a multi-dimensional experience. Each channel of the mix takes a unique position for heightened realism.
ONE SPEAKER FOR ALL YOUR AUDIO
USB, 3.5mm, and Bluetooth compatible
Enhance your rig with a versatile, easy-access audio solution. G560 connects to and mixes multiple sources: USB, 3.5mm, and Bluetooth®. USB connection is required for true digital audio, LIGHTSYNC RGB, and DTS:X Ultra® surround sound. With Logitech Easy-Switch™ you can seamlessly switch between up to 4 connected devices.
LOGITECH GAMING SOFTWARE
Game Integration and Custom Lighting Effects
Game-driven lighting activates automatically. Just scan and add games in LGS and G560 handles the rest. With LGS, you can customize audio visualization lighting color and effects, as well as a screen sampler that reads pixels on screen and matches color dynamically. Choose any part of the screen and assign to any of the 4 areas: left and right, front and back. The G-key can also be programmed to activate custom commands for any applications.
DESIGNED TO BREAK BOUNDARIES
The First RGB Speaker of Its Kind
Feel games and music in a whole new way. Two lighting zones per speaker deliver rear ambient projection to enhance your environment and front-facing lights for more active and informational lighting. With LGS you can customize across approximately 16.8 million colors to match your style and setup. Let the programmable screen sampler react to your monitor to extend any colors from the screen to your room.
CONTROLS AT YOUR FINGERTIPS
Personalized Play
G560 serves as an audio control center as well. Volume control is front and center. Bluetooth pairing is done with the touch of a button. Programmable G-key cycles through color brightness by default and can activate anything from a special ability in-game to launching an audio application via LGS. The power button is also directly within reach on the back of the right satellite speaker.