Hardware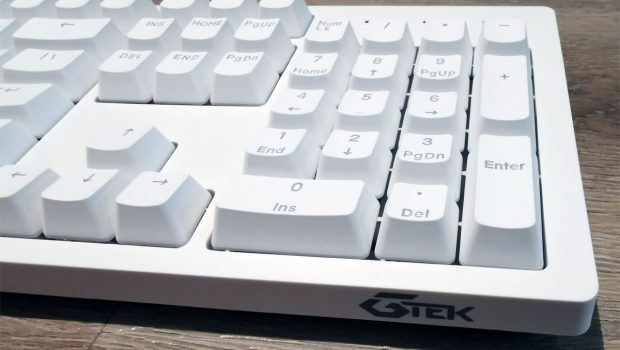 Published on April 3rd, 2022 | by James Wright
G-TEK Cyborg 3000 Mechanical Gaming Keyboard Review
Summary: Gaming power without the bloat!
Available at JB Hi-Fi, the G-TEK Cyborg 3000 Mechanical Gaming Keyboard is made for gaming and I really love the unassuming white colouring as it makes it stand out from its competitors… it looks like Clark Kent but in actual fact is Superman beneath. Furthermore it's complemented by premium Cherry MX Switches which makes it a very responsive and high speed gaming keyboard with Double Shot PBT keycaps to prevent wear.
There is also no setup… you basically plug the keyboard cable into your gaming rig and presto, you are ready to use the G-TEK Cyborg 3000 Mechanical Gaming Keyboard.
Interestingly it does not come with any software (or as some would say bloatware) because the keyboard handles all the RGB back-lighting effects innately. If you want to change the colour pattern on the Cyborg 3000, you simply use the function buttons to rotate the effects and brightness. All in all, a well designed gaming keyboard and here are the official specifications below;
Power Consumption: 100mA (no LED) – 350mA (brightest LED)
Weight: 1.2 kg
Keyboard Dimensions (without cover): 44.4 x 13.1 x 4.4 cm
Cover Dimensions: 45.1 x 13.6 x 4.4 cm
LED: Customizable RGB Lighting
Number of Keys: 104
Rollover: NKey
Keycaps: PBT Double Shot
Switch Type: Cherry MX Red (linear)
Actuation force: 45 ± 15 cN
Total Travel: 3.7mm
Pre-travel: 1.9mm
Bounce Time: < 5ms
Durability: > 50 million actuations
Unboxing
Well-packed from G-TEK, the Cyborg 3000 Mechanical Gaming Keyboard is a beast in terms of size (45.1 x 13.6 x 4.4 cm, 1.2kg) and while it boasts full sized keys, it is larger than your standard office keyboard but the additional real-estate makes it better to use while you game. Furthermore, it feels quite solid and professionally built.
Adding to the design are the excellent key presses that feel great for both typing and gaming that are super responsive courtesy of its (linear) Cherry MX Red Switches. As a result, it gives your keys a power-up, particularly when you pushing the same keys (e.g. rapid tapping). Another highlight is that the G-TEK Cyborg 3000 Mechanical Gaming features a magnetically attached wrist and palm rest for additional ergonomics plus adjustable feet, including 3-way cable management to reduce desk clutter. Oh, the removable cover make cleaning a breeze as well!
After using this keyboard for around 3-weeks now, it's awesome for typing and the Cherry MX switches feel great. Whether I was typing or playing games, it was a very responsive keyboard courtesy of its switches. Needless to say, no missed key presses and for a mechanical keyboard, it's also very quiet, so no annoying family or housemates late at night.
Games such as Call of Duty Black Ops, Fortnite, World of Warcraft or Battlefront 2042 didn't miss a beat and again reinforced the speed of this keyboard. While no software, it is actually built into the keyboard which allows you to fine-tune the lighting effects which include the following combinations;
LED Light Controls
FN + Up Arrow – Increase LED brightness
FN + Down Arrow – Decrease LED brightness
Preset LED Controls
FN + F7 Cycle between wave lighting modes (Section, Whole keyboard, row)
FN + F8 Cycle between dynamic and constant modes (Single light, breathing, RGB constant)
FN + F9 Cycle between RGB changing modes (RGB light changes per key, random colour per key, single row sequential)
FN + F10 Cycle between fade modes (Key fades out when pressed, key lights on press, row lights on key press)
FN + F11 Cycle between pattern modes (Oblique wave, constant light, ripple)
FN + F12 Cycle between marquee modes ("S" pattern, middle focus, random lights)
While lights are great, including the ability to control all facets of this gaming feature, some hardcore gamers or e-sporters may miss the total control over the RGB lighting, however G-TEK done an excellent job at giving the end user a plethora of different lighting options, including special effects.
Additionally, you can control the LED brightness plus you have multimedia options as well;
Customizing the LED Lights
FN + F1 – Play / Pause
FN + F2 – Previous Song
FN + F3 – Next Song
FN + F4 – Mute
FN + F5 – Volume Down
FN + F6 – Volume Up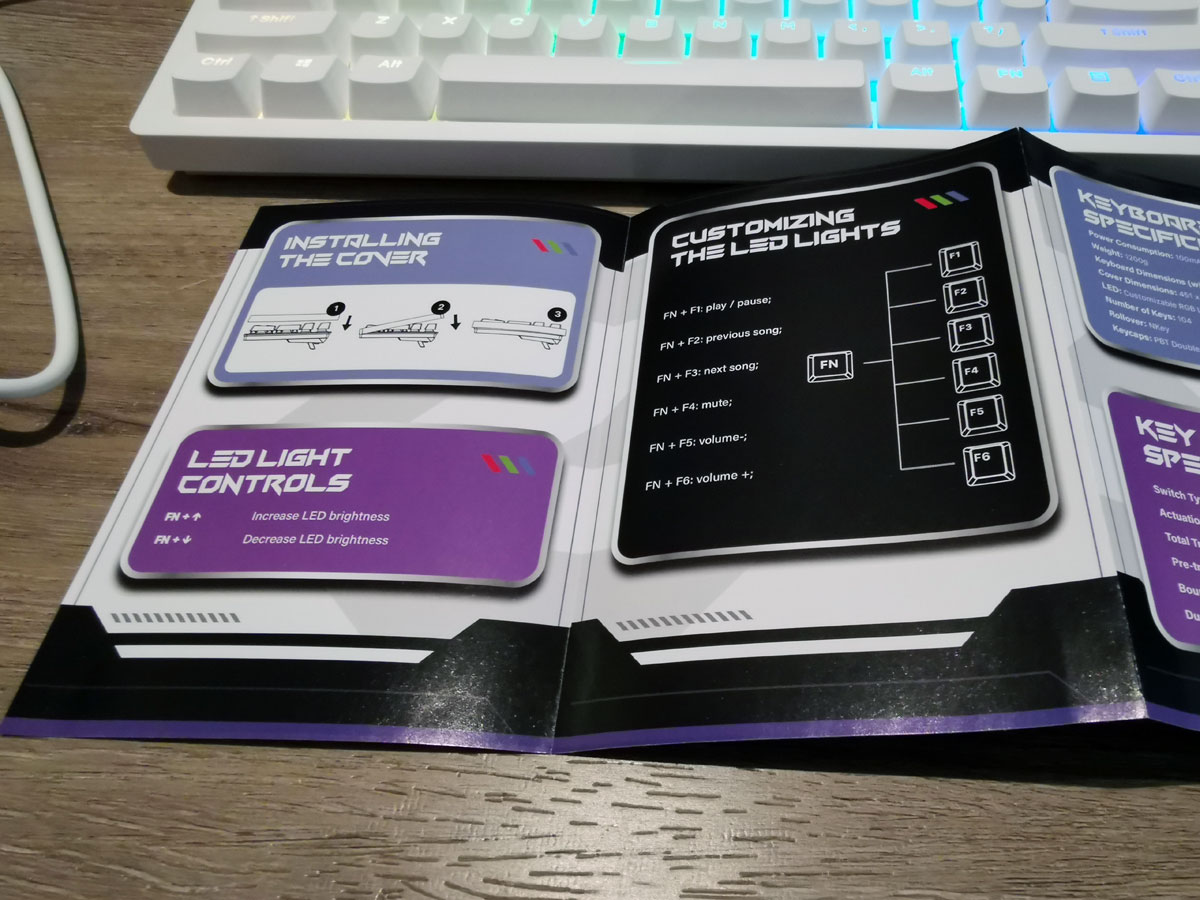 The only drawback with this keyboard being software-less is control over macros, however for the majority this will probably be a moot point.
Final thoughts?
The G-TEK Cyborg 3000 Mechanical Gaming Keyboard provides powerful and super fast mechanical keys with excellent responsiveness for those gamers who want that edge on the virtual battlefield. Additionally, it sets itself apart from its competitors and the onboard controls of lighting is a very clever element as it removes bloatware.