Hardware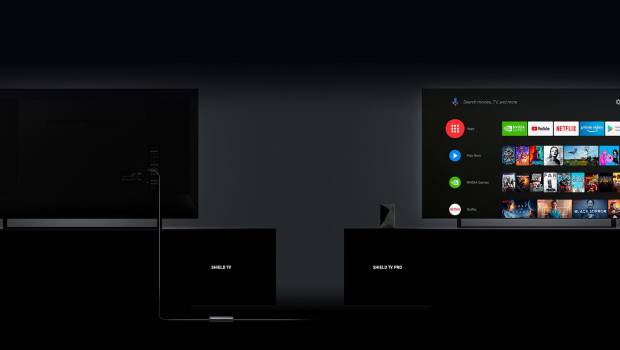 Published on March 19th, 2020 | by Adrian Gunning
Future of Streaming Entertainment Starts Today with Launch of NVIDIA SHIELD TV, Starting at AU$249.95
NVIDIA today announced that the next generation of SHIELD™ TV – an Android TV™-based, open-platform media streamer built on bleeding-edge visual computing technology that delivers unmatched experiences in streaming, gaming and AI – is coming to Australia and New Zealand.
The two new SHIELD models — SHIELD TV and SHIELD TV Pro — provide exceptional visual and sound experiences. Their new Tegra® X1+ processor, delivering up to 25 percent more performance than its predecessor, helps bring to life Dolby Vision for ultra-vivid imagery and Dolby Atmos for extraordinary audio. Its computational prowess dramatically improves picture quality by using AI to upscale HD video streams into 4K resolution.
"These new models provide a big step up for SHIELD, which has consistently delivered ground-breaking innovations in the living room since its introduction five years ago," said Jeff Fisher, senior vice president of the Consumer Business at NVIDIA. "They deliver unquestionably best-in-class entertainment, supported by Dolby Atmos, Dolby Vision and our breakthroughs in using AI to improve video streaming playback."
The SHIELD additions offer options that will appeal to everyone, from casual streamers to media and gaming enthusiasts.
SHIELD TV has a slim, stealthy design meant to disappear by blending in with, or behind, entertainment centres. It also has Gigabit Ethernet and dual-band Wi-Fi for lightning-fast connectivity.
SHIELD TV Pro takes entertainment to the next level for the most demanding users. It is based on the previous generation's iconic, sleek design and comes with additional memory and storage, plus two USB ports for running a Plex Media Server and connecting high-capacity hard drives or other USB devices.
Both come bundled with an all-new remote control, powered by two AAA batteries, that features motion-activated backlit buttons, a built-in lost remote locator and a mic for voice search.
SHIELD, as an Android TV device, provides access to over 500,000 movies and shows and more than 5,000 apps and games through Google Play. The Google Assistant enables users to quickly access entertainment, control smart devices and get answers on screen with their voice. SHIELD now supports "routines" — with one command, the Google Assistant will complete multiple tasks.
"NVIDIA pushes the boundaries of how media and entertainment are consumed in the home," said Shalini Govil-Pai, senior director of Product Management for Android TV, at Google. "By bringing together Dolby Vision and Dolby Atmos with Android TV, users of the new SHIELD TV media players receive an unmatched experience that well represents our platform's rich content and capabilities."
Spectacular Visuals and Sound
Dolby Vision transforms entertainment experiences with ultra-vivid imaging — incredible brightness, contrast, colour and detail that infuse movies with refined, life-like images. It can deliver colours never seen before on a screen, with dramatic contrast, highlights that are up to 40x brighter, and blacks that are 10x darker.
Dolby Atmos represents a leap forward from surround sound, transporting listeners into an extraordinary experience with moving audio that flows around them. Listeners will feel like they are inside the action as the sounds of people, places, things and music come alive with breathtaking realism.
With SHIELD, you can enjoy your favourite movies and shows that support both Dolby Vision and Dolby Atmos on Netflix, Amazon Prime Video and Disney Plus.
AI in the Home
SHIELD benefits from NVIDIA's AI leadership to offer features lacking in competing devices. In addition to built-in Google Assistant connectivity, the new streamers use an AI upscaler to bring HD content to life. Trained on a deep neural network, the upscaler lets SHIELD owners watch 720p and 1080p content in beautiful 4K.
Amazing Games
With NVIDIA GameStream technology – a super smooth, ultra-low latency streaming technology – GeForce gamers untether PC gaming, casting their library of games to SHIELD in vibrant 4K HDR at up to 60 frames per second. Direct access to Steam Big Picture mode opens up a massive library of Steam titles. The most popular games like Minecraft: Windows 10 Edition, Fortnite and Counter Strike: Global Offensive can now be played on the big screen.
SHIELD powers hundreds of the best Android games, with native experiences that include major PC and mobile franchises Borderlands, Doom, Grand Theft Auto, Metal Gear, Resident Evil, Shadowgun, and Tomb Raider.
Built for Your Google-Connected Lifestyle
Based on Android TV, SHIELD is an open-platform media streaming device. It taps into Google's industry leading search capabilities, connects to your library of entertainment with Google Play Movies & TV, and provides access to the Google Play Store for Stan, tenplay, 7 Plus, Foxtel, Optus Sport, Kayo and a near endless supply of apps and games.
With Google Cast technology built-in, SHIELD helps you access even more apps and cast your favorite shows, movies, music and pictures from your smartphone, tablet or Chrome device.
Pricing and Availability
SHIELD TV and SHIELD TV Pro are available now and ship in Australia. SHIELD TV starts at AU$249.95 with remote. SHIELD TV Pro with remote, 3GB of memory and 16GB of storage is available for AU$349.95. More information, including where to buy, is available at https://www.nvidia.com/en-au/shield/.