Games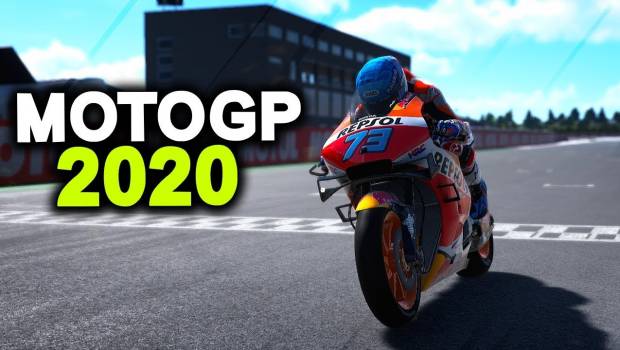 Published on April 23rd, 2020 | by Andrew Bistak
FULL THROTTLE FOR MotoGP™20 LAUNCH
Milestone are delighted to announce the release of MotoGP™20 on PlayStation®4, Xbox One, Windows PC®/STEAM, Google Stadia and Nintendo Switch™* today.
With MotoGP™20, players can participate in the 2020 season, racing against MotoGP™ champions, or jump into the boots of a young rider, working your way up from the Moto3™** to reach the topflight.
And – for the first time in the franchise's history – the game is releasing almost two months earlier from its traditional release date, enabling players to enjoy the new season sooner than ever.
Building on last year's critically acclaimed edition, MotoGP™20 boasts a range of new features resulting in an even better strategic and realistic game. This is the pure MotoGP™ experience, from box to the track!
A GREATER GAMEPLAY DEPTH WITH THE NEW MANAGERIAL CAREER
The new Career Mode will put players into a pro riders' boots, with an engaging and progressive gaming experience both on and off the track. Just like in the real MotoGP™ simply being fast on the circuit is not enough; players will need to take the best decisions to find a winning strategy to master the Championship.
Echoing real life, one of the key figures at the top of the team is the personal manager, whose work can truly make a difference when it comes to sponsorship and contract opportunities. If players select a new team, they will be able to make their rider and bike stand out using different graphic editors to modify the helmet, racing number, lower-back patch, stickers and bike livery. When it comes to being fast on track, it is the players' choice of technical staff that influences the performance of the bike; the most skilled technicians will be able to develop bikes better and faster, but of course they will be much more expensive than others. How do you find the right balance between budget and performance? It's up to players! On-track tests during the weekend will provide valuable data for development, but the synergy between the engineers will determine how much of this knowledge can be actually used to craft new parts. Each engineer will have different skills in different areas so teamwork will be key.
Taking part in the winter and mid-season tests enables players to develop their bike, choosing up to 3 different packs with various engines and frame combinations to find the perfect settings for the season. Once the season starts, players can also improve performances of different bike parts, earning and spending development points and allocating their R&D staff to reach the highest level. Aerodynamics, electronics, engine power and fuel consumption are just an example of the many technical parts that players can now manage to improve their bikes. For the first time, Milestone also announces brand-new features that will support the game after launch, that will further expand contents of the Managerial Career gameplay; more details about the post launch features will be revealed soon.
A STEP FORWARD IN SIMULATION
The development team worked really hard to make the gameplay much more strategic and realistic, with brand new features boosting realism such as fuel management, asymmetrical tires' consumption and, last but not least, for the first time in franchise history, aerodynamic damages that will impact bike's aesthetic and performances. As in real life, tires stress and wear don't apply on both sides and middle equally. MotoGP™20 will implement these three areas separately and it will reproduce some real-world dynamics down to the smallest details. In each race players will be able to decide the quantity of fuel and which type of tire to use, always keeping in mind that bike physics are affected by their decisions. The overall level of simulation marks a big step forward in MotoGP™20; modern MotoGP™ bikes have very complex aerodynamic winglets that when damaged change the bikes' balance significantly. Crashing or colliding with other riders in game, may have a permanent effect on bike handling just like in a real race. Continuously looking for extreme realism, the game physics has been completely re-worked to make gameplay more technical and skill based.
Many of the features that made the success of the previous chapter of the franchise, return this year with a lot of improvements as a result of the precious feedback that Milestone received from its passionate community:
A renowned historical mode. One of the community's favourite game modes will be back in a brand-new format, with full races randomly generated that players need to win to unlock and collect the most iconic riders and bikes.
Neural AI goes 2.0. What many thought was utopic, has become a reality. Last year A.N.N.A. (an acronym for Artificial Neural Network Agent) brought a more fast, natural and fair AI. This year Milestone developers further enhanced its capabilities, to allow her to strategically manage tire and fuel consumption, as real riders do.
New Editors. Together with Stickers, Helmets, Racing Numbers and Lower-back patches, in MotoGP™20 players will also be able to customize bikes' liveries of their Custom Team, to race on track with a unique style.
The best online experience. Dedicated Servers for the Multiplayer mode have continued to enable a more reliable and fun online experience. Now we added quality of life improvements that will further enhance online gameplay in all modes: Public Matches, Private Matches and Race Director Mode.
After three successful editions, Dorna and Milestone also confirm this year's MotoGP™ eSport Championship, where players come from all over the world, with the challenge to win the World Champion title. The fourth edition of the MotoGP™ eSport Championship has a renewed formula, for more information: https://esport.motogp.com
MotoGP™20 will be released on April 23rd on PlayStation®4, Xbox One, Windows PC®/STEAM, Google Stadia and Nintendo Switch™*.