Hardware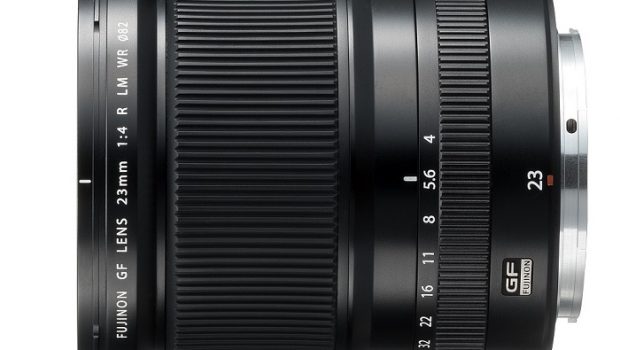 Published on April 19th, 2017 | by admin
FUJIFILM announces two new GF lenses + new series of accessories for the GFX 50S medium format camera
FUJINON GF110mmF2 R  LM WR – ideal for portraits
GF23mmF4 R LM WR – ideal for scenery and architectural photography
FUJIFILM announced today that it will release two new professional quality interchangeable GF lenses, as well as a series of new accessories for the GFX 50S medium format camera in June 2017.
The high performance FUJINON GF110mmF2 R LM WR and FUJINON GF23mmF4 R LM WR lenses are dust and weather resistant, and capable of operating in environments as cold as -10°C. Each lens has been sealed in nine areas allowing photographers to shoot with stability, even in dusty environments and light rain. They are also equipped with a linear motor, allowing for fast and quiet shooting using the autofocus.
FUJINON GF110mmF2 R LM WR lens – RRP: $4,299 (including GST)
This medium telephoto lens is ideal for portraits. With a focal length equivalent to 87mm in the 35mm format, it achieves a brightness of F2.0 when used wide open to deliver beautiful bokeh. The high resolving power of the area in focus, and the rich bokeh unique to medium format fast diameter lenses, depicts portraits with a realistic three dimensional feel.
High image quality
Complete with four ED lens elements, this high image quality lens limits chromatic aberrations by arranging the elements in a well-balanced manner before and after the aperture. By adopting an inner focusing AF system for the optimal configuration, aberration fluctuations due to changes in shooting distance are suppressed.
Beautiful bokeh
With the lens construction comprising 14 elements in nine groups – including four ED lens elements – spherical aberrations and chromatic aberrations are suppressed. Nine rounded aperture blades create a beautiful bokeh at the front and back, enabling the rich expression of out of focus areas that are unique to medium format lenses.
GF23mmF4 R LM WR lens – RRP: $3,999 (including GST)
With a focal length equivalent to 18mm in the 35mm format, this super wide angle lens is optimal for shooting landscapes and architectural photography.
Low distortion with high resolving power
With a lens construction comprising 15 elements and 12 groups – including two aspherical lenses, one super ED lens, and three ED lenses – the GF23mmF4 R LM WR is able to suppress distortion despite being a super wide-angle lens with a 99.9° angle of view. Also, thanks to the optimal arrangement of the Super ED lens and three ED lenses, chromatic aberration of magnification is thoroughly suppressed achieving high resolution performance all the way to the edges.
Nano GI coating
Nano GI coating has been applied to the lens that is effective on incident light entering it from diagonal angles due to the nature of the super wide-angle lens. Despite being a super
wide-angle lens, the occurrence of ghosting and flare is effectively suppressed.
Fast and quiet AF
By adopting an inner focusing AF system to lighten the weight of the focus lens, and using a linear motor to drive the lens elements, fast and quiet AF is achieved allowing for comfortable shooting.
The FUJINON GF110mmF2 R LM WR and GF23mmF4 R LM WR lens also feature an aperture ring that has a C position (command dial mode) to allow the lens aperture value to be changed via the command dial on the camera body. A locking mechanism has been added to the A (Auto) and C positions to prevent unintended movements of the aperture dial.
Accessories for each of the new lenses includes a lens cap, lens rear cap, lens hood and lens pouch.
New series of accessories for the GFX system – RRP:  TBA
EC-XT S, EC-XT M, EC-GFX, eyecup of EVF for GFX 50S, X-T2 and X-T1 (sold separately)
This range of eyecups effectively shields light, making it easier to see the viewfinder. The soft material also improves the fit for users shooting with the naked eye or with glasses.
View Camera Adapter G
Due for release in June 2017, the View Camera Adapter G can be used when shooting with the GFX 50S if using older FUJINON large format camera lenses, such as the CM FUJINON. The adapter is mounted in the film camera loading position of the view camera which adopts the film format of the 4 x 5 size.
FUJIFILM Australia National Product and Marketing Manager – Electronic Imaging, Alex Zitser, said there are now five GF lenses available for the GFX 50S medium format camera. Photographers can select from a range of professional lenses to accommodate their specialist genre.
"The new series of accessories created for the GFX system will also accommodate photographers who are seeking additional tools that further enhance their imaging skills," Mr Zitser said.
Recommended Retail Prices (RRP)
| | | |
| --- | --- | --- |
| Product | RRP | Availability |
| FUJINON GF110mmF2 R LM WR lens | $4,299 | June 2017 |
| FUJINON GF23mmF4 R LM WR lens | $3,999 | June 2017 |
| New series of accessories for the GFX system | TBA | June 2017 |