Events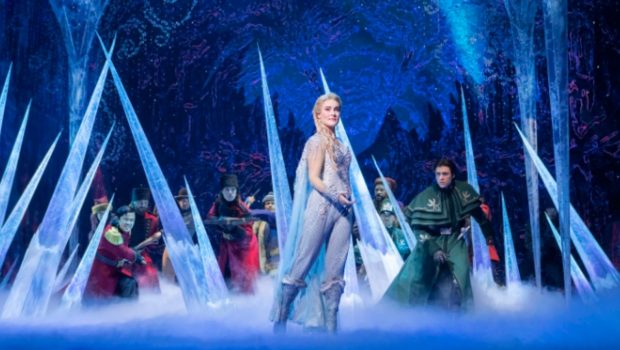 Published on July 15th, 2021 | by Andrew Bistak
Frozen the Musical Review #Melbourne
Summary: Frozen the Musical is a truly memorable and totally enjoyable experience from start to finish!
Disney's Frozen the Musical, the Broadway hit is finally here in Melbourne Australia which was sadly impacted by COVID-19, including many other live shows across the country. Thankfully Melbourne theatre goers can now experience the magic of the blockbuster animated film which has now been re-imagined for the stage as you are drawn into the wondrous story of two princesses, Elsa (Jemma Rix) and Anna (Courtney Monsma) in this modern fairy tale from Disney.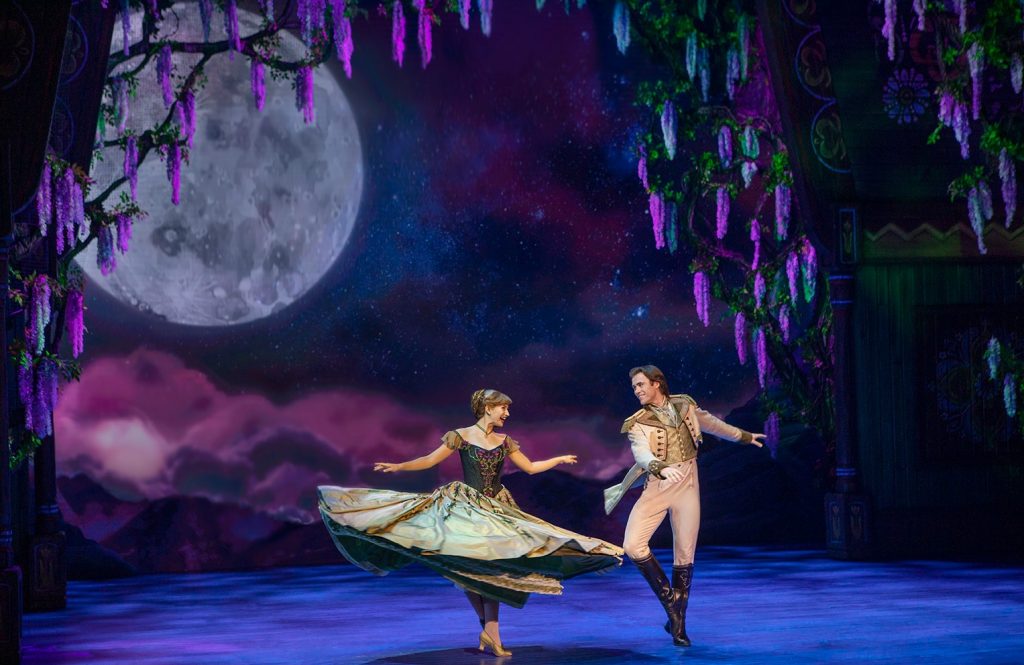 Although the story is loosely based on the 1844 fairy tale The Snow Queen by Hans Christian Andersen, the stage production has strong parallels to the 2013 animated film, however the musical adds its own elements to help with the stage rendition that will not only appeal to fans but also to newcomers. And yes, some scenes have been changed, omitted and new ones added but it does not distract from this musical spectacular that only Disney can deliver.
The first part of the musical sets the scene and characters well, particularly the transformation of Elsa into the "snow" Queen who opts for exile when she unleashes her icy powers on the city of Arendelle in anger when she forbids her sister to marry the 'man' of her dreams, Hans (Thomas McGuane). However Anna knows that her sister is not evil and goes on a journey to bring her home while Hans starts to put his deceptive plans in place in the second act to become the new ruler of Arendelle. Thomas McGuane is great as this Disney cliched princes with a damaged past as he is 13th in line to become King in his own homelands.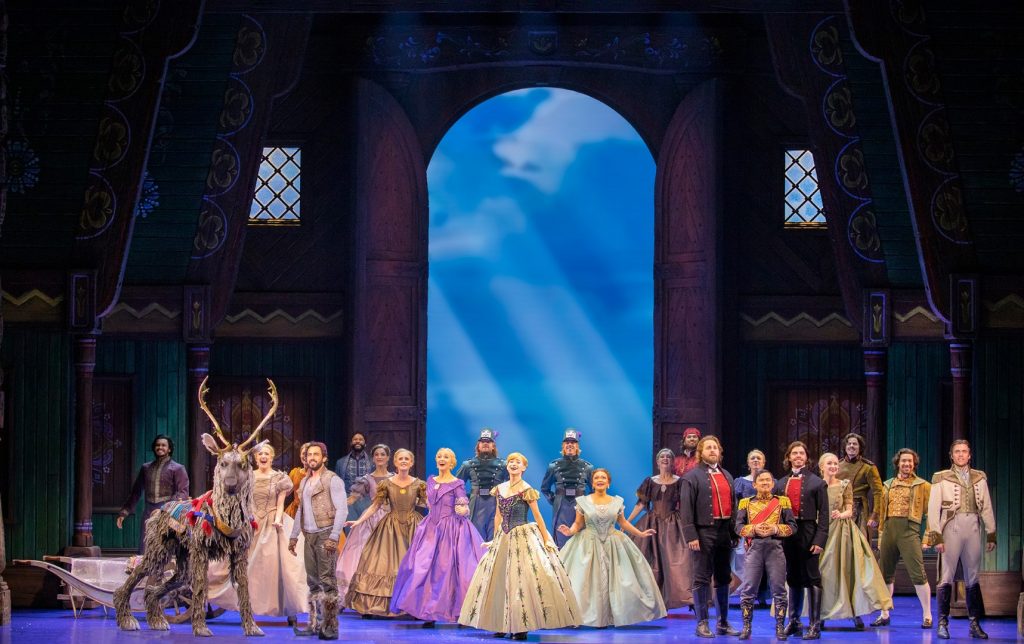 The story also visits the sisters as children with Isobel Lauber playing a young Elsa and Stella Partridge as her younger sister Anna who both have a special bond that is broken when her older sister accidentally harms her with her icy powers. As a result, Anna's parents seek the help of the Hidden Folk to not only cure her but remove her memories of the incident and unfortunately their sisterly bond is broken. With that said, the onstage chemistry between the actors as sisters at both ages is quite heart-warming and emotional at times. Needless to say, these two younger performers were fantastic, especially Stella who is perfect as the playful Anna. Of course it would not be Frozen without Kristoff (Sean Sinclair), Olaf (Matt Lee) and Sven (Jonathan Macmillan) who add to the overall enjoyment of this musical, including plenty of laugh out moments… and Aljin Abella as the annoying Duke Weselton.
Musically, Frozen the Musical is faultless and Jemma Rix is amazing as Elsa and hearing her sing Let It Go which won an Academy Award for Best Original Song in 2014 will send shivers down your spine. Further, the special effects used for this song is amazing that will not only leave you gobsmacked but you'll be wondering how did they do that mid-scene costume change for Elsa. Although Jemma pays homage to the original animated version, she adds her own unique spin to this song(s) which sounded phenomenal. Courtney Monsma as Anna is equally as good with her powerful voice, cheekiness and together, they shared the stage well that was a true treat to watch them perform and listen. As Frozen is a story about Anna, Courtney's likeability as this character really drew into this performance.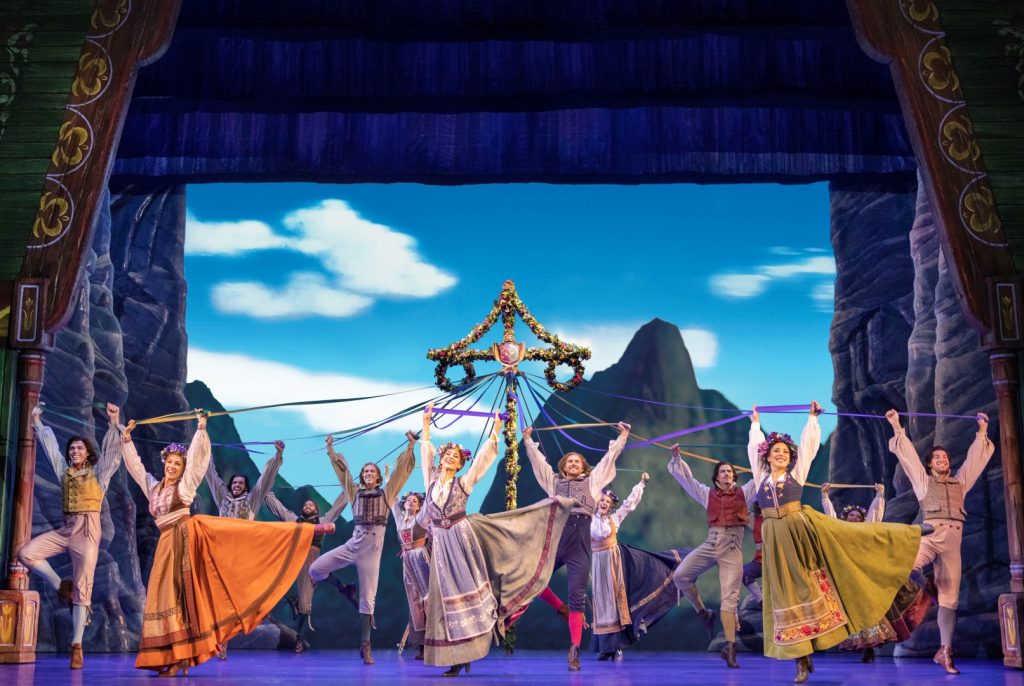 I also like how there are 12 new songs to this musical which add to the production and best of all, they were written by the original Academy Award winning song-writers. The song Monster really adds to the story that again is sung amazingly by Jemma Rix. For comedy, you cannot beat the highly entertaining song Hygee which is Frozen's very own Hakuna Matata which has its own Moulin Rouge inspired dance routine about family and friends. However it's still hard to beat the favourites such as For the First Time in Forever or Do You Want to Build a Snowman that set the bar high. Needless to say, the entire musical is a sensory experience to your body.
Furthermore, Thomas McGuane adds to the villainous Hans perfectly, including some comedy, whereas Sean Sinclair creates a more lovable persona as the loyal woodcutter Kristoff. Adding to the performance is the ensemble who all help with the illusion of the story, including their singing and perfect dance choreography that helps bring the story and music of Frozen to the stage flawlessly.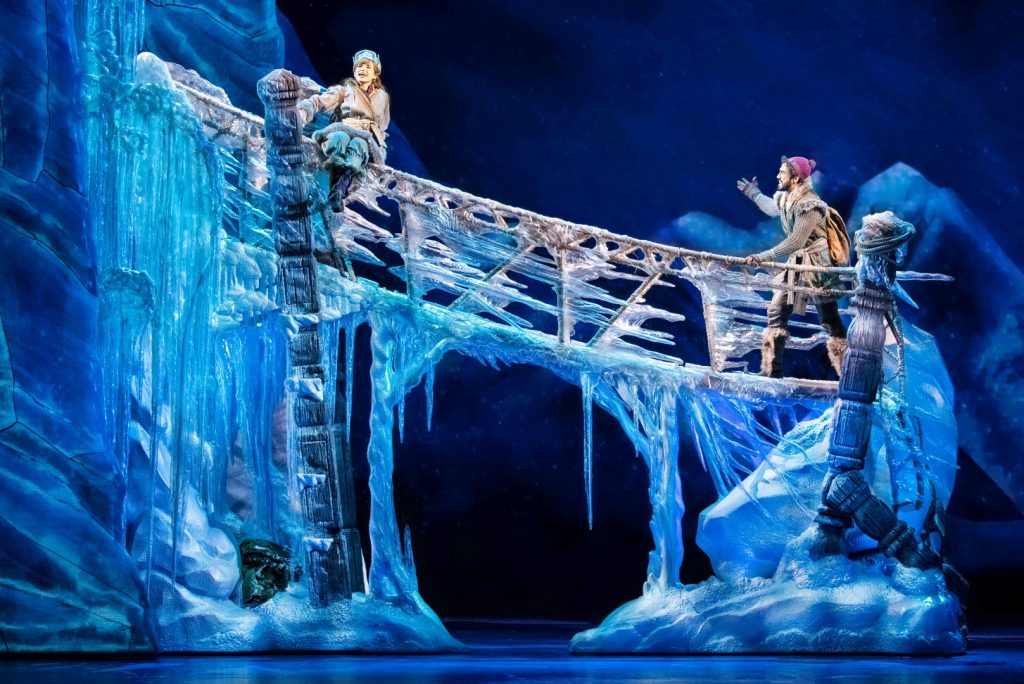 Supporting the story, cast and delightful musical numbers is the amazing set design which creates a wide gamut of different areas to help draw the audience in. At times, you feel like you are in a winter wonderland, particularly the ice palace that Elsa creates. The additional enchantments are the amazing snow and ice effects, including lighting that again feels like you are in some magical ice kingdom and seeing the stage 'freeze' over is a sight to behold. Given that, the special effects and lighting in Frozen plus set clever set design is literally some of the best ever.
Fans will also appreciate the costumes (over 440 to be precise) which have meticulously been transformed from the animated medium to live-action and Elsa's Ice Queen Dress is stunning. A special mention should be made about Matt Lee who magnificently brings the puppet of Olaf to life with his over the top singing and dancing. Initially you do see Matt controlling Olaf but as the show goes on, you sometimes forget he is there due to the quirkiness of this character but when you see him again, you can tell he is loving the role, perhaps a little too much. Then you have Johnathan Macmillan who is amazing to watchh as the reindeer Sven and how he controls this animal on arm stilts is another wow moment.
Final Thoughts?
Winter is here but thankfully Frozen will melt your heart as the Australian performance of Frozen the Musical has finally arrived in Melbourne which is a true fairy tale come to life. While the excellent cast brings the story of Elsa and Anna to life on the stage, the music, sets, choreography and special effects creates a truly memorable musical from start to finish. Needless to say, we thoroughly enjoyed this Disney musical that has easily been included in my top five musicals of all time and is the perfect panacea during these COVID-19 times.
★★★★★
Frozen the Musical
Playing now at Her Majesty's Theatre, Melbourne
Book at www.frozenthemusical.com.au
Groups 12+ email groupbookings@ticketek.com.au
Tickets from $49.50 – $199.50*
*No transaction fee for tickets purchased via Ticketek
@frozenthemusicalau #FrozenAus