News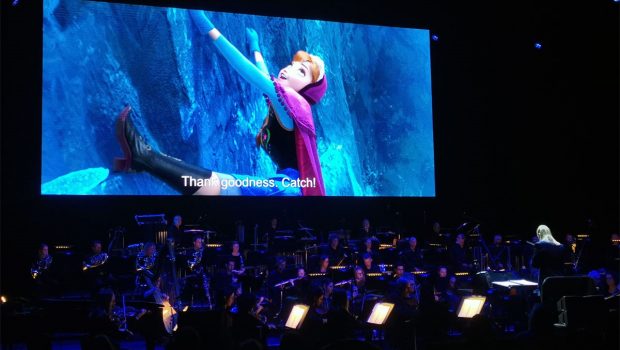 Published on June 17th, 2023 | by Andrew Bistak
Frozen in Concert Review – Melbourne Symphony Orchestra (2023) @MelbSymphony @Frozen
Summary: Frozen in Concert Review - Melbourne Symphony Orchestra is the perfect 10th anniversary rendition!
With perfect timing of Frozen's 10th anniversary and also 100 Years of Disney comes a Frozen in Concert that is performed by the prestigious Melbourne Symphony Orchestra (MSO) and led by acclaimed conductor Jessica Gethin. So what better way to celebrate this Disney blockbuster then by watching the original film on the giant screen of the Plenary at the Melbourne Convention (and) Exhibition Centre with all the music spectacularly performed by the MSO. The end result? A fantastic experience that truly brings the music of Frozen to life as the MSO orchestra and chorus meticulously enhance the soundtrack.
For the uninitiated, Frozen is the story of two sisters, Elsa (Idina Menzel) and Anna (Kristen Bell) whose special bond is broken as children, when Elsa accidentally harms her younger sister with her icy powers. As a result, Anna's parents (Jennifer Lee, Maurice LaMarche) seek the help of the Trolls to not only cure her but in order to prevent any further incidents, they wipe Anna's memories of the incident and Elsa keeps her distance growing up.
To compound their loss, they also lose their parents to a ship wreck and when reach adulthood, Elsa accidentally unleashes her power again on her coronation day that forces her to flee thanks to the sneaky Duke of Weselton (Alan Tudyk) that is made worse by Anna's new "soul-mate" Prince Hans (Santino Fontana) who wants the Kingdom of Arendelle for himself. Fortunately Anna has help from the kind hearted Kristoff (Jonathan Groff), an ice cutter plus his friendly reindeer Sven and a snowman called Olaf (Josh Gad) created by Elsa who all help bring this modern rendition of the 1844 classic fairy tale The Snow Queen by Hans Christian Andersen to a modern audience with adventure, drama, romance and blockbuster music.
Like other films presented by the MSO, Frozen is a very memorable experience and while the popular songs such as Let it Go, Love Is An Open Door or Fixer Upper flow through the Plenary like some magical spell from Arendelle, the orchestra should be commended on such an amazing performance under the equally impressive conductor that at times looked like the Sorcerer's Apprentice with her spell-like majesty.
Equally, the Chorus driven songs were just as powerful and quite emotional at times. Given the story and themes of Frozen, bringing the MSO into the formula was the perfect match as you watched the film, felt the music of the orchestra and voices of the chorus cleverly all come together in a truly climatic fashion.
Final Thoughts?
Frozen in Concert Review – Melbourne Symphony Orchestra takes the blockbuster film and turns it into a totally new experience courtesy of the talents of the MSO who deliver a flawless performance, including free goosebumps!
For more information, please visit https://www.mso.com.au