Films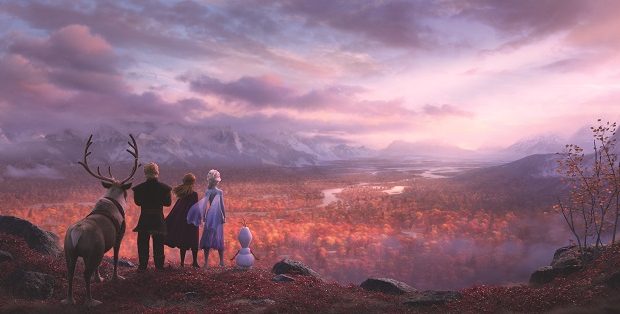 Published on November 27th, 2019 | by Nicki Newton-Plater
Frozen II – Film Review
Reviewed by Nicole Newton-Plater on the 26th of November 2019
Disney presents a film by Chris Buck and Jennifer Lee
Produced by Peter Del Vecho
Screenplay by Jennifer Lee
Starring (the voices of) Idina Menzel, Kristen Bell, Jonathan Groff, and Josh Gad
Music by Robert Lopez, Kristen Anderson-Lopez, and Christophe Beck
Cinematography by Tracy Scott Beattie and Mohit Kallianpur
Edited by Jeff Draheim
Running Time: 103 minutes
Rating: PG
Release Date: the 28th of November 2019
With its charm and stunning animation, Frozen II is an absolute delight. It also unexpectedly debunks the 'happily ever after' myth that Disney has perpetuated throughout its filmography. Instead, directors Chris Buck and Jennifer Lee have for this follow up to the 2013 phenomenon opted to deter from a predictable sequel template. Their coming of age story tackles the inner turmoil felt when wrestling with change, trusting ourselves, and finding strength to persist through dark times.
Frozen II is wonderful because despite its inherent fairy-tale nature, it is more relatable, passionate, and inspirational than imagined. Sisters Anna and Elsa are voiced again by Kristen Bell and Idina Menzel, respectively. For good reasons, they are the most popular Disney princesses with little girls of this generation. They are marketable, especially Elsa with her luscious locks and gorgeous outfits, but the feelings of the girls are real, and their issues remain incredibly human.
It is common for fairy tales to end on a high of 'and they lived happily ever after'. It is comforting and reassuring that if it is possible for Snow White, Cinderella, Aurora, Belle, Ariel, and others it might be possible for audiences too. However, it is apparent that 'happily ever after' is an unrealistic concept that has tainted our minds. Reality is filled with ups and downs that contort the pathways we create for ourselves. While Frozen gave us a 'happily ever after' ending, the sequel gifts us with the realistic notion that nothing is perfect forever and we must courageously embrace and accept change.
One of the first musical numbers in Frozen II is 'Some Things Never Change' and is sung by Kristen Bell's Princess Anna. In the same vein as 2013's 'Love is an Open Door', the song's tongue-in-cheek nature mirrors the film's direction. Both the princesses are unknowingly victims of the system. They spend a significant amount of time acting upon what they believe is right, but not true in their hearts. While this appears conventional for a family film and an idea that Disney has traditionally explored with a light touch, there are deep thoughts and ideas that remain important for children and adults.
Despite Elsa saving the day and regaining her seat as Queen of Arendelle, she still feels she does not belong and is searching for someone who can provide answers. While low self-esteem is an atypical Disney theme, it is thoroughly explored here. In Frozen, we witnessed Elsa as a young girl hidden from the world by her parents because they said she was different and dangerous. She was finally brought into the eye of the world and saved the kingdom and her sister. However, only in a fairy tale would that resolve Elsa's isolation or the thought that something was wrong with her. Thankfully, the sequel corrects this misstep. It is damaging (and unfortunately, very common) to believe that one event will cure all of one's destructive inner dialogue. We know Elsa is amazing, and Anna says to her 'I wish you could see yourself the way I see you'. However, she continues her dangerous quest to discover who she is despite Anna opposing this path that could result in change.
Change is a concept many are frightened of and will gladly avoid. While Elsa knows something within herself must change to find closure, Anna is terrified because she fears she will lose her sister again. Both Anna and Elsa were forced into change when their parents died, and their loss and grief is examined further than in the prequel. Anna speaks for the first time to Mattias (Stirling K. Brown) about her dark days and ponders how one continues through those times. It is something we all feel at some point in our lives. In earlier Disney films, including Frozen, these issues were avoided through the 'happily ever after' ending. Impressively, Frozen II dispels this myth and reminds children and adults that 'ever after' requires change and acceptance to be happy and that life always contains setbacks.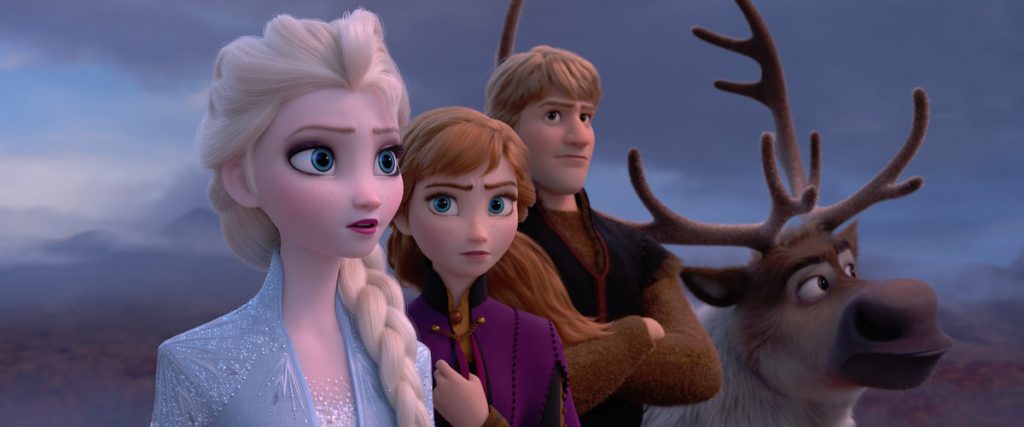 Another strong aspect is that Frozen II avoids forcing the most successful elements of the original. There are similarities, such as the sparkly and incredibly stunning visuals of the mountains and forests, as well as the inclusion of another big theme song to rival 'Let it Go'. This time Idina Menzel sings 'Into the Unknown'. Similarly, Josh Gad's Olaf was an absolute winner with audiences, and returns with the film's biggest laughs. It would have been easy to overdo his character (a flaw of the Minions following Despicable Me's success), but his screen time is measured. Another character who shines is Jonathan Groff's Kristoff. Kristoff was the good guy in Frozen, but his character and love for Anna are more developed, complete with the 'Lost in the Woods' power ballad. He steals the heart of everyone watching when he asks Anna what she needs from him, which is what everyone wants their partner to ask.
Frozen II is a wonderful follow-up to original. Rather than repeating the notion of 'happily ever after' in conventional fashion, it offers a more realistic counterpoint to its prequel where the world is imperfect, and its characters must embrace change. It also avoids the usual sequel pitfalls by refusing to overstate the most popular elements of the first movie. Instead, it continues its own story in the most relatable, moving, and human way possible for both children and adults alike.
Summary: With its charm and stunning animation, Frozen II is an absolute delight.