Events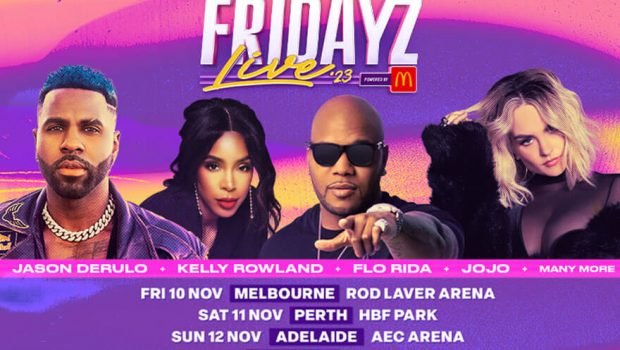 Published on November 11th, 2023 | by Tory Favro
Fridayz Live Concert Review – Rod Laver Arena, Melbourne (10/11/2023)
Summary: Last night Rod Laver Arena went OFF! Fridayz Live was an outstanding success for fans of R&B and Hip Hop
Last night, the amazing sounds of some of the greatest hip-hop and R&B acts graced the stage at Rod Laver Arena in Melbourne to the delight of a packed house in what was an uncommonly hot day for this time of year. Fridayz Live is an amazing set of artists all performing under the one roof at the one time, performed for six hours straight to the delight of punters, who showed up in their droves keen to hear some of their favourite tunes from the last couple of decades!
For a concert which, in essence took place over a six hour period, the time went super fast! The host for the evening was none other than Fatman Scoop who kept the entire crowd entertained between acts, and, in fact, whipped everyone into a frenzy when he ripped off his shirt, part way through the festivities!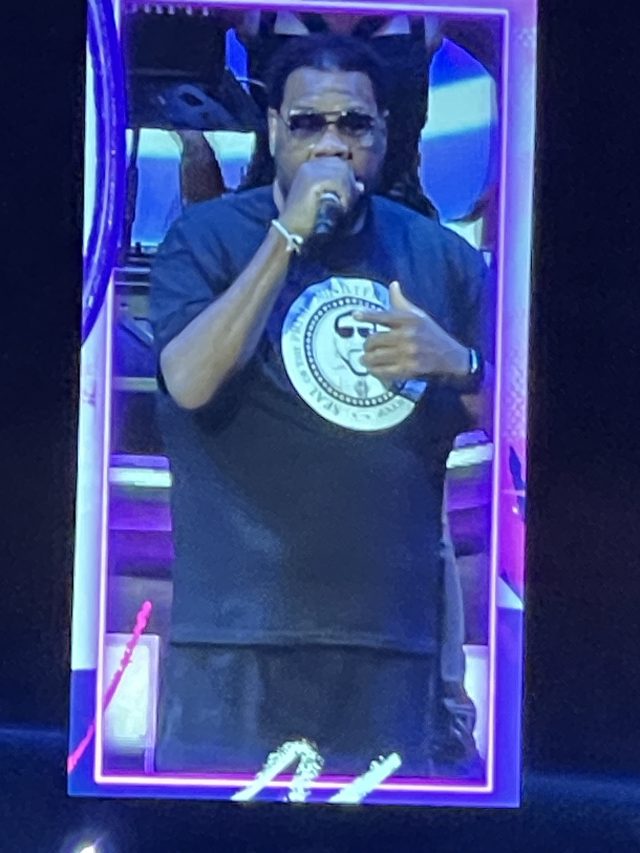 Opening for the evening was Travie McCoy who played in my opinion, a far too short set. This was purely an indication of the fantastic time that the crowd had in store for them, and pretty soon, JoJo took the stage for her half hour. This wonderful singer had a crowd eating out of the palm of her hand and keen for more.
After these two acts the heavy hitters started taking the stage, and this reviewer felt as though he had stepped back in time and was very very happy to do so 112, tore it up, performing some of the amazing hits finishing off the evening with their chart topping Peaches and Cream.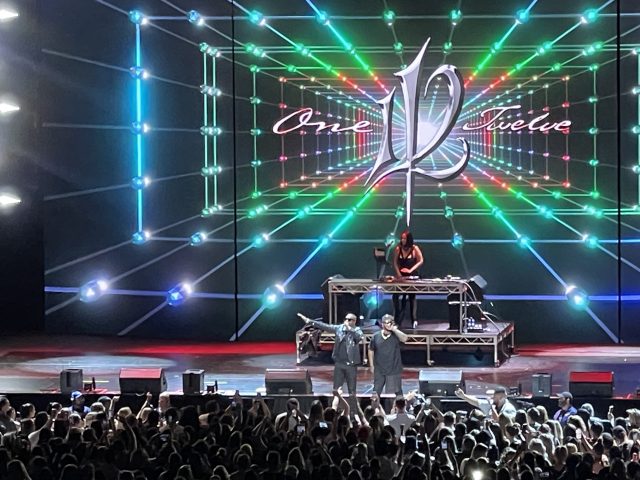 There was a short break as the stage was set up and none other than Kelly Rowland strode out and showed us just why, even after all these years, she is still the queen of R&B. The voice of an angel, Rowland belted out hits from both her solo career and her time as part of the chart topping Destiny's Child. Some of you younger people may not remember her, but this was a group that ruled, the charts for a very long time. However, it could often be argued that, even though Beyoncé most certainly has the clout particularly now, Kelly Rowland had the strongest voice.
She graced the stage for approximately 40 minutes and the crowd fell in love with her once again. Every act had a very dynamic video show playing in the background and Rowland was nothing short of spectacular. We took a break and then Kay Gee  and Vin Rock from Naughty By Nature took the stage to celebrate 50 years of hip-hop and perform a countdown that had the crowd singing along.
This is the utter beauty of Fridayz Live; the celebration of the music that we all love in a venue made for these kinds of performances. The sound quality of Rod Laver Arena was sensational. The venue is very accommodating, and everyone there was united by their love of the music that was being played. After doing half of the countdown none other than the power trio, Boyz II Men hit the stage and smashed out an amazing set.
You do forget just how talented these people are, and how they have been entertaining us for over 30 years. They've certainly earned their place in music history and proved that they have earned their chops by singing pitch perfect renditions of the hits of yesteryear.
We've now hit the second half of the evening, and once again our Naughty By Nature 50 years of hip-hop countdown hosts hit the stage and were playing videos of songs that we all knew and could sing to, though to be honest I did feel like I was the only one singing Straight out of Compton when it was played. I've always had a massive love for N.W.A. However, Fatman Scoop took the stage with the boys who then treated us to an amazing rendition of their seminal hit Hip-Hop Hooray which quite possibly was the absolute highlight of my night to see this perform live in front of me was very special indeed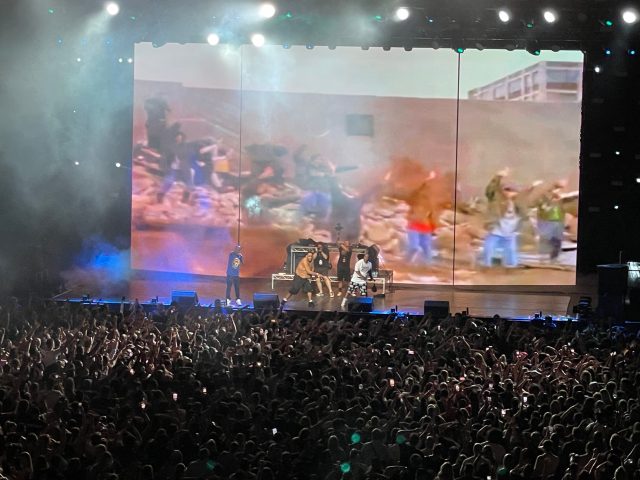 Our next act kicked the party feeling into high gear with none other than Flo Rida smashing the stage with his party anthems and infectious invigorating songs. Flo Rida still has it in spades, and rocked the stage, quite frankly, more than anyone else that night. For me, this was indeed the highlight in terms of a feelgood performance, fuelled by party anthems, that I most certainly remember getting on the dancefloor to over the years. Flo Rida made the Melbourne crowd part of his extended party family, and descended the stage and performed in the middle of the crowd on the shoulders of another grown man, and punching out some amazing party anthems. Hit after hit assailed our ears and the crowd loved every second of it. It is very humbling when you consider the lineup that we experienced last night, and how many acts we saw over the six hour period. Events like this are very special indeed, especially when it comes to the fact that you can tick off that you have seen so many quality acts all in one venue at the one time under such amazing circumstances.
There was a short DJ set by Havana Brown who kept the party going as the stage was set up for the headliner, Jason Derulo.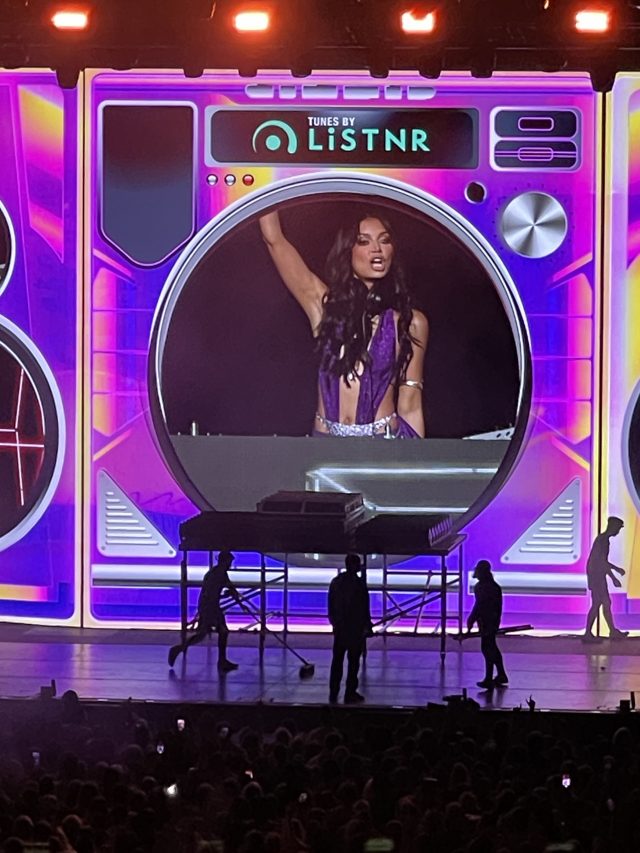 Derulo had a jam-packed performance that lasted for just over an hour filled with his many, many hits. Multiple costume changes, dances and a beautiful video design playing in the background were all integral parts of his performance, and of course the crowd sang along and loved every moment. The entire night was an absolute success and while some view this as purely a hits of yesteryear, Fridayz, Live proves time and time again that the songs are just as important now as they were when they came out originally. The ability to feel something when a song is playing should never be underestimated, and that's exactly what happened last night; pure joy filled Rod Laver Arena for six hours straight, and that is certainly something to brag about.
If you miss these performances do yourself a favour and try to see these acts when they are performing, either as solo acts, or if they come out again for another concert, such as this. Fridayz Live was a stunning success that left the crowd so very happy, and everyone left with a huge smile on their faces. Every single artist was incredible and brought their own unique signature to the stage and left us feeling very different things.
A massive thank you to the Fridayz Live promotion team for bringing this stunning show to the incredible Rod Laver Arena. If I was to indicate any disappointment in the evening, it was simply that as soon as the concert looked like it was wrapping up, Jason Derulo was speaking to a predominantly empty stadium as he thanked everyone for coming.
Personally, I felt that Melbourne was quite disrespectful in leaving before the show had wrapped up properly. These artists leave it all on the stage to entertain, and the fact that Derulo was thanking an arena which was more than half empty, by the time the last notes of his last song had played was something that left a bit of a bitter taste in my mouth. These artists deserve a lot better than that, and I did feel that the Melbourne audience let them down a little by doing so. I know it was a very hot night, and of course leaving a venue such as this can be a pain, but they all deserved a packed house until the very end of the evening.
I genuinely enjoyed every single moment of this concert. At no stage did I feel that it ran for too long; in fact, I felt that some of the acts could've gone a little bit longer. However, I acknowledge the fact that not everyone can sit in a chair, or stand down on the floor for more time than what was currently available to us last night. The show was an absolutely stunning success, and my horrible photos do absolutely no justice to the evening. If you were there, I hope you had a fantastic evening, and if you missed out, I hope that this review helped capture some of the magic of the night that I was fortunate enough to experience.
Tory Favro.