News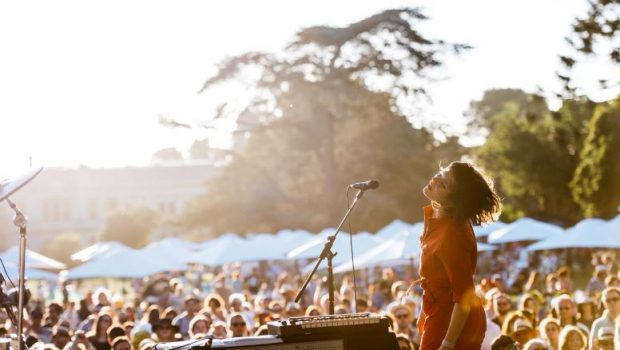 Published on October 4th, 2016 | by admin
So Frenchy So Chic In The Park returns in 2017 – A summer French escape of music, food and friends + Early Bird offer details
Boasting an eclectic energy that is highly contagious, DELUXE promise to bring the groove to So Frenchy. Hailing from Aix-en-Provence, where they started out as humble buskers, this six-piece has gone on to perform at sell-out shows Europe-wide, garnering fans with an indie-cool sound that blurs pop, hip-hop, funk, soul and big band elements with joy. Simply put, dancing is guaranteed.
Heady, suave, and downright sexy, THE LIMIÑANAS is another six-piece with songs in both English and French, played with the sensuality of sixties French pop and the fuzzy darkness of American art rock. Think Serge Gainsbourg meets The Velvet Underground. Their fans include Jack White and Primal Scream, and they've collaborated with Joy Division and New Order's Peter Hook. Australian audiences are sure to also fall under their hypnotic spell this summer. Brittany-born, Paris-based BERTRAND BELIN is a writer, actor, poet and funk-folk musician.
He wears many hats, but we are proud to showcase his smooth crooner-meets-dandy tones on stage. Belin has five albums behind him, with songs as cinematic as they are catchy, and are best enjoyed with a fresh summer cocktail on the grass. NOUVELLE VAGUE is practically So Frenchy royalty, and they are extremely excited to be touring here again after five years. They'll be adding songs from their latest album "I could be happy" to their classic repertoire of chilled-out covers of new wave classics like "Love Will Tear Us Apart" (Joy Division), "Guns of Brixton" (The Clash), "The Killing Moon" (Echo & The Bunnymen), with vocalists on this tour including crowd favourites Melanie Pain, Liset Alea and Elodie Frégé.
Pre-order a hamper from Ed Dixon in Melbourne or Simmone Logue in Sydney to enjoy delights on the day such as quiche with buttery crème fraiche pastry, salad jardinière, goose egg meringues as well as charcuterie, cheese platters and several vegetarian and gluten free options. There will be plenty of other tempting treats on the day too from a curated selection of Frenchy artisans serving oysters, foie gras, raclette, crêpes, macarons, ice cream and much more. And what garden party would be complete without Champagne? The finest from Laurent Perrier will be chilled and flowing all day, as will French beer, rosé from Provence, reds and whites from Bordeaux, and special cocktails at the SFSC vintage caravan
If the tunes aren't to the taste of your enfants, there will be face painting, incredible bubble artists, drumming classes and lawn games like pétanque and croquet to keep them entertained.
All the details are on the website. This year promises to be the biggest, the best, and the Frenchiest yet. Spread the love, and we'll see you there, mes amis. This year's So Frenchy image is by the talented Oslo-based artist, Esra Røise. Distinguished by elegance, playfulness and romanticism, her drawings capture the spirit of what it is like to feel young, free and living in the moment. That's also the So Frenchy philosophy. Esra's clients include Vogue, Stella McCartney and Wallpaper.