Events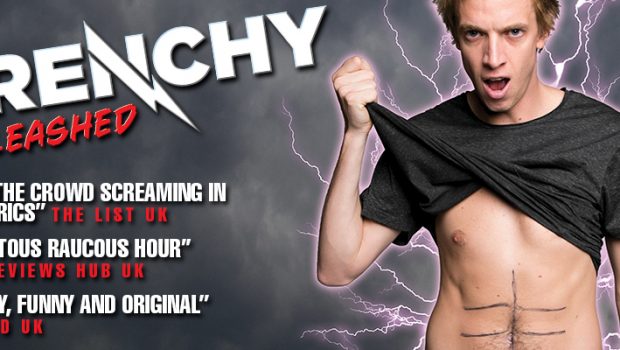 Published on August 11th, 2017 | by admin
FRENCHY | Announces 17-date national tour + encore Adelaide show this September – November | Tickets on sale no
Comedy and social media sensation Frenchy spent the first half of the year performing his new stand-up show Frenchy Unleashed to sold out crowds at Adelaide Fringe Festival, Brisbane Comedy Festival, Melbourne International Comedy Festival, Sydney Comedy Festival and New Zealand Comedy Festival. Now it's greater Australia's turn to catch this comedy superstar live on stage!
Frenchy's 17-date regional tour kicks off on Thursday 21 September at  Geelong Performing Arts Centre, going on to Brisbane, Wollongong, Gosford, Newcastle, Hobart, Albury, Canberra, Cairns, Townsville, Mackay, Bendigo, Coffs Harbour, Gold Coast and Sunshine Coast before wrapping up at Darwin Entertainment Centre on Saturday 4 November.
After the huge success of his Adelaide Fringe run earlier this year, Frenchy will be returning to Adelaide for an encore performance at the Rhino Room on Saturday 7 October.
★★★★¾ 'A boisterous and entertaining banger of a live show.' – Impulse Gamer
'Filthy, funny and original.' – The Herald (UK)
'The young Aussie larrikin is so much more than a social media star.' – Hidden City Secrets
A prolific writer, Frenchy writes and creates original YouTube content to upload to his channel weekly. In 2015, Frenchy and his musical collaborator Zach Gervais released their debut single Friendzone – which hit the iTunes Top 50 within 48 hours of its release, peaking at #26 and overtaking artists such as Sia and Drake along the way.
Last year, Frenchy's narrative comedy web-series The Australiana Hostel was one of five recipients of Google and Screen Australia's 'Skip Ahead' initiative- a program which awards winners up to a quarter of a million dollars to help fund and produce original narrative-based content made specifically for global audiences. The darkly funny series has been described as "If the chaos of Fawlty Towers was in the hands of the Inbetweeners and constantly reviewed online."
★★★★ 'Frenchy is a natural gift to the world, even if the world may be in shock for what it is about to receive.' – FringeReview (UK)
'Frenchy is a wicked mix of self-deprecating humour and self-confidence. Think sick jokes with moral undertones, allowing the audience to connect with Frenchy on a personal level while addressing important current social issues…unlikely role model Frenchy is a master of the stage' – Weekend Notes
'Sublimely unexpected…had the audience in stitches' – Reviews Hub (UK)
With his charming, self-deprecating humour Frenchy has achieved critical acclaim and sold out seasons across Australia, New Zealand and the UK. Don't miss your chance to see the "riotous, raucous" (The Reviews Hub, UK) Frenchy unleashed upon Australia this September through November!
FRENCHY
SEPTEMBER-NOVEMBER 2017
Presented by Frontier Comedy
Tickets on sale now 
Thu 21 Sep (8:00pm)
Geelong Performing Arts Centre, Geelong, VIC (All Ages)
gpac.org.au | Ph: 03 5225 1200
Fri 22 Sep (8:00pm)
The Old Museum, Brisbane, QLD (18+)
oldmuseum.org | Ph: 07 3257 4089
Sat 23 Sep (8:00pm)
Illawarra Performing Arts Centre, Wollongong, NSW (All Ages)
merrigong.com.au | Ph: 02 4224 5999
Thu 28 Sep (8:00pm)
Laycock Street Theatre, Gosford, NSW (All Ages)
gosford.nsw.gov.au/theatres | Ph: 02 4323 3233
Fri 29 Sep (8:30pm)
Lizotte's, Newcastle, NSW (All Ages)
lizottes.com.au | Ph:  02 4956 2066
Sat 30 Sep (8:00pm)
Theatre Royal, Hobart, TAS (All Ages)
theatreroyal.com.au | Ph: 03 6233 2299
Thu 5 Oct (8:00pm)
Albury Entertainment Centre, Albury, NSW (All Ages)
alburyentertainmentcentre.com.au | Ph: 02 6043 5610
Fri 6 Oct (8:00pm)
ANU Bar, Canberra, ACT (All Ages)
moshtix.com.au | Ph: 02 9199 6666
Sat 7 Oct (7:00pm)
Rhino Room, Adelaide, SA (All Ages)
adelaidecomedy.com
Thu 12 Oct (8:00pm)
Brothers Leagues Club, Cairns, QLD (18+)
brotherscairns.com.au
Fri 13 Oct (8:30pm)
Kirwan Tavern, Townsville, QLD (18+)
oztix.com.au | Ph: 1300 762 545
Sat 14 Oct (8:30pm)
Mt Pleasant Tavern, Mackay, QLD (18+)
oztix.com.au | Ph: 1300 762 545
Sat 21 Oct (8:00pm)
Capital Theatre, Bendigo, VIC (All Ages)
thecapital.com.au | Ph: 03 5434 6100
Thu 26 Oct (8:00pm)
C.Ex Coffs, Coffs Harbour, NSW (18+)
cex.com.au | Ph: 02 6652 3888
Fri 27 Oct (8:00pm)
Sharks Club, Gold Coast, QLD (18+)
moshtix.com.au | Ph: 02 9199 6666
Sat 28 Oct (8:00pm)
Villa Noosa, Sunshine Coast, QLD (18+)
moshtix.com.au | Ph: 02 9199 6666
Sat 4 Nov (8:00pm)
Darwin Entertainment Centre, Darwin, NT (All Ages)
yourcentre.com.au | Ph: 08 8980 3333
This show is recommended for patrons aged 15+