Games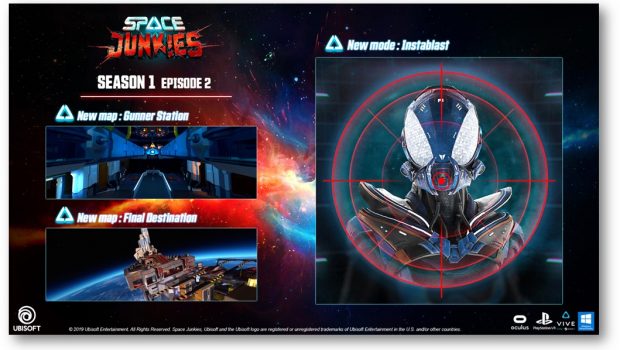 Published on May 30th, 2019 | by Admin
FREE SPACE JUNKIES™ UPDATE INTRODUCES NEW MODE, TWO MAPS, NOW AVAILABLE
SYDNEY, AUSTRALIA — May 30, 2019 — Today, Ubisoft® announced that the second free post-launch update for Space Junkies™, its zero-gravity VR arcade shooter, is now available on PlayStation®VR, Oculus Rift, HTC Vive and Windows Mixed Reality headsets.
Season #1 Episode 2 introduces a variety of brand new content:
In "Instablast" mode, all players are given the same weapon and only need one shot to take down their opponents. Players will need to approach opponents carefully and strategically as weapons will need to be reloaded after every shot!
Two new maps, "Final Destination" and "Gunner Station"
In addition to the latest content, PlayStation Move controllers and smooth rotation is now supported in Space Junkies. 3dRudder, the foot-based motion controller, is also available for early access users on PSVR, Oculus Rift, HTC Vive and Windows Mixed Reality. 3dRudder enables full locomotion of the feet, allowing players to move in all directions with more precision and speed. Players can now focus hand controls on grabbing weapons, shooting down enemies while using a shield or hitting opponents with a laser sword.
Space Junkies is continuing to introduce free content updates throughout Season 1 including new game modes, characters, maps, and many more surprises. New content will drop through a season-based approach, each season containing four episodes for a period of 16 weeks.
For the latest news about Space Junkies, please visit spacejunkiesgame.com. For the latest about other Ubisoft games, please visit news.ubisoft.com.