News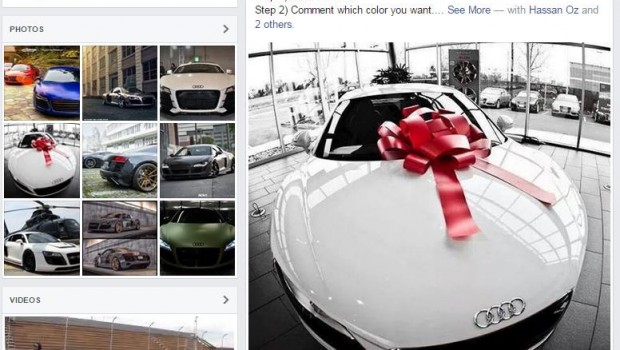 Published on November 21st, 2014 | by admin
Thousands Fall Each Hour for 'Free Audi R8' Facebook Scam
Sydney, Australia, 21st November 2014- More than 200,000 Facebook users have fallen prey to a like-farming scam promising two free Audi R8 cars with thousands joining the victim list each hour, according to antivirus software provider Bitdefender.
Depicting an Audi R8 in a race against a Nissan GT-R, the bait spreads on fraudulent web pages and among Audi communities targeting car lovers with malicious videos.
Bitdefender has detected a javascript within the websites hosting the videos as JS:Trojan.JS.Likejack.A used for clickjacking hidden commercials. At the time of analysis, the misleading Audi page had gathered 179,551 likes and 211,736 shares.
The number of victims is growing by the thousands with most users enrolled in the free Audi R8 "giveaway" from the US, Denmark, the UK, Australia, Malaysia, Germany and South Africa.
Senior E-Threat Analyst, Bogdan Botezatu says like-farming Facebook pages use the high number of fans to launch other fraudulent activities such as malware and survey scams – now to a greatly expanded audience. The database of unwary users can also be sold on the black market and used for more targeted attacks.
To increase the sense of urgency and persuade users to spread the scam further as soon as possible, scammers announced a deadline of November 20th for their fake competition.
"2 Lucky Winners Will Be Announced On November 20," the bait message reads. Scammers also explain the "contest" rules. Besides liking the free Audi R8 post, users competing for the German luxury car should name their desired colour and share the message on their timelines.
Bitdefender has reported the malicious web page to Facebook, and warns users against entering competitions not hosted on official company pages.
A recent Bitdefender study on the top five baits spreading on Facebook in the last two years showed fake giveaways represent 16.51 per cent of all scams flooding the social network.