Games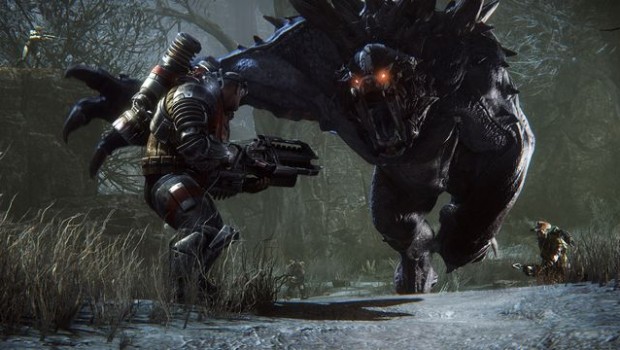 Published on May 27th, 2015 | by admin
Free 'Arena Mode' Coming to Evolve™ Today
Battle to the death with intense, nonstop action in all-new game mode that changes how Evolve is played 
Join the conversation on Twitter using the hashtag #4v1
Sydney, Australia – May 27, 2015 – 2K and Turtle Rock Studios announced today that Arena Mode is coming to Evolve™, the 4v1 shooter featuring four Hunters cooperatively fighting to take down a single-player controlled Monster, as a free update. In Arena Mode, players head straight into an epic fight as one Monster battles a team of four Hunters to the death in intense, best-of-three matches set in fixed arenas. Arena Mode is completely free on all platforms and will be available to all Evolve players today.
"Arena Mode adds a completely new way to play Evolve by bringing players straight into frenetic, heart-pounding battles," said Chris Ashton, co-founder and design director at Turtle Rock Studios. "Our goal is to provide players with the most entertaining gameplay experience possible, and Arena Mode provides nonstop combat for those who want nothing but action."
In Arena Mode, five fixed arenas are placed on 14 of Evolve's maps for a total of 70 locations to brawl. A Stage 2 Monster player spawns into an arena against a team of four Hunters, and the two sides immediately battle to the death. The round ends when the Monster or the team of Hunters is eliminated, and the next round takes place in a new fixed arena on the same map. The first side to win two rounds is victorious in the best-of-three Arena Mode match.
In addition to today's Arena Mode announcement, the Evolve Proving Grounds Tournament is also underway. Played exclusively on Xbox One, the all-in-one games and entertainment system from Microsoft, the Evolve Proving Grounds Tournament is produced by ESL, the world's largest esports company. The European Semifinals took place at ESL's Cologne, Germany studio on May 24, 2015. The North American Semifinals will take place at ESL's Burbank, Calif. Studio on May 31, 2015. The top two teams from each regional semifinal will compete in the Global Finale in Los Angeles on June 17, 2015 for a piece of the $100,000 prize pool. The Evolve Proving Grounds Tournament Grand Finale will take place in front of a live studio audience at Club Nokia in Los Angeles on June 17, 2015 and will be broadcast live on Twitch at http://twitch.tv/EvolveGame.
For more information on the Evolve Proving Grounds Tournament, visit http://play.eslgaming.com/evolve/xbox/evolve-one/major/proving-grounds.
Evolve is now available worldwide for Xbox One, PlayStation®4 system, and Windows PC. Evolve is rated MA15+ in Australia and R13 in New Zealand. For more information on Evolve, watch us on Twitch, follow us on Twitter, become a fan on Facebook, subscribe on YouTube and visit http://www.EvolveGame.com.