Comics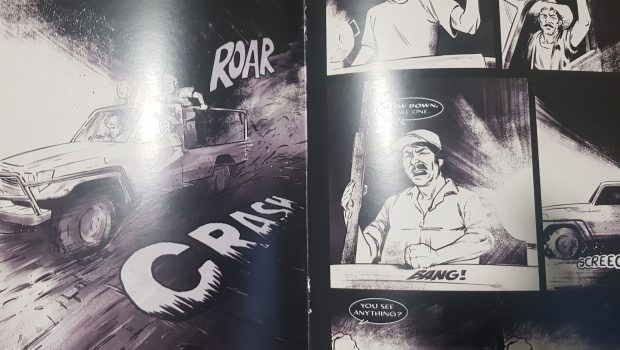 Published on March 6th, 2022 | by Tim Chuma
Frankie's Ozploitation (2021) Review
Summary: Two horror stories based on non-exploitation Ozploitation horror films worth a look if you are into the genre
I picked this one up from one of the artist stalls at Supanova Melbourne 2022 as it jumped out at me when I was working past and was something different to a lot of the artwork and comics on display as it was original and not really based on anime or something already published.
The concept is based around a haunted drive in showing grindhouse double features. This one is a double bill of Day of the Taipan and The Min Min. They are two separate stories with no link between them and slightly different art styles.
I did enjoy the art style as it had a lot of space and was unique with the characters having room to move on the page and it was easy to understand what was going on.
The writing is what you would expect from an Ozploitation horror themed movie so is a bit over the top and not meant to be based on reality.
I would recommend this one if you are a fan of Ozploitation and horror movies and want something different in a graphic novel than the usual superhero stories.
Comic details:
Writer: Aaron Harvie
Story: Chris Badenoch
Storyboard: Chris Badenoch
Pencils: Adrien Dorman
Inking: Adrien Dorman, Chris Wood
Colours: Chris Badenoch, Chris Wood
Lettering: Chris Badenoch
Publisher: Badharvie