Films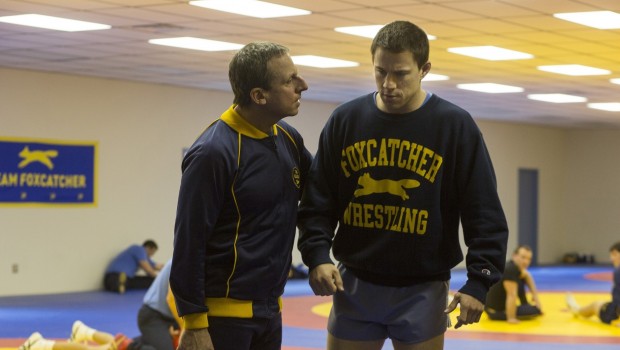 Published on January 26th, 2015 | by Damien Straker
Foxcatcher – Film Review
Reviewed by Damien Straker on January 26th, 2015
Roadshow presents a film by Bennett Miller
Produced by Bennett Miller, Megan Ellison, Jon Kilik and Anthony Bregman
Written by E. Max Frye and Dan Futterman
Starring: Channing Tatum, Steve Carell, Mark Ruffalo and Vanessa Redgrave
Music by Rob Simonsen and West Dylan Thordson
Cinematography Greig Fraser
Edited by Stuart Levy, Conor O'Neill and Jay Cassidy
Running Time: 134 minutes
Rating: M
Release Date: January 29th, 2015
Foxcatcher is a great near-miss. There is more than half a strong film here, with powerful performances. But it also fails to capitalise on its ideological goals as the biopic tiptoes around its subject. Bennett Miller's fourth feature after Moneyball and Capote resists openly declaring its real life subject John du Pont was a homosexual. John du Pont belonged to the wealthy American family, whose legacy grew from their involvement during the Civil War making gunpowder and industrial products like coal, gas and chemicals. A family mansion, designed to resemble Thomas Jefferson's Monticello plantation, was built in Newtown Square, Pennsylvania. Set on this farming property, the film is about du Pont's relationship during the 80s and 90s with wrestler Mark Schultz (played by Channing Tatum). It heavily implies but is never forthright about sexual tension between the two men. Could having Schultz as one of the associate producers invited caution? Was Channing Tatum's heartthrob image at risk? Despite forgoing sexual politics, the film's successes are due to multilayered storytelling and strong, naturalistic acting. Its narrative sustains complexity, even though a crucial piece of psychology is missing.
The opening scenes, taking place in the late 1980s, are vivid. Mark Schultz has won gold at the Olympics for wrestling but is now living an unglamorous life, eating junk food and giving motivational speeches to school children for money. He and his brother David (Mark Ruffalo) have a tenuous relationship. Illustrating their understated rivalry is when Mark reminds someone they're both Olympic medallists. Their wrestling session against each other is Biblical, like Cain and Abel in singlets, and climaxes with David's nose being bloodied. While Mark is alone and isolated, David is surrounded by his wife and two children whom he supports. Mark's fortune changes when unexpectedly invited to the Du Pont estate. Inside the mansion, a wide shot imposes the wealth and grandeur of the building and stresses Mark's economic displacement. Why has Mark been called here? The director Bennett Miller is skillful with conveying exposition visually, using images not dialogue, and silently builds interesting story hooks.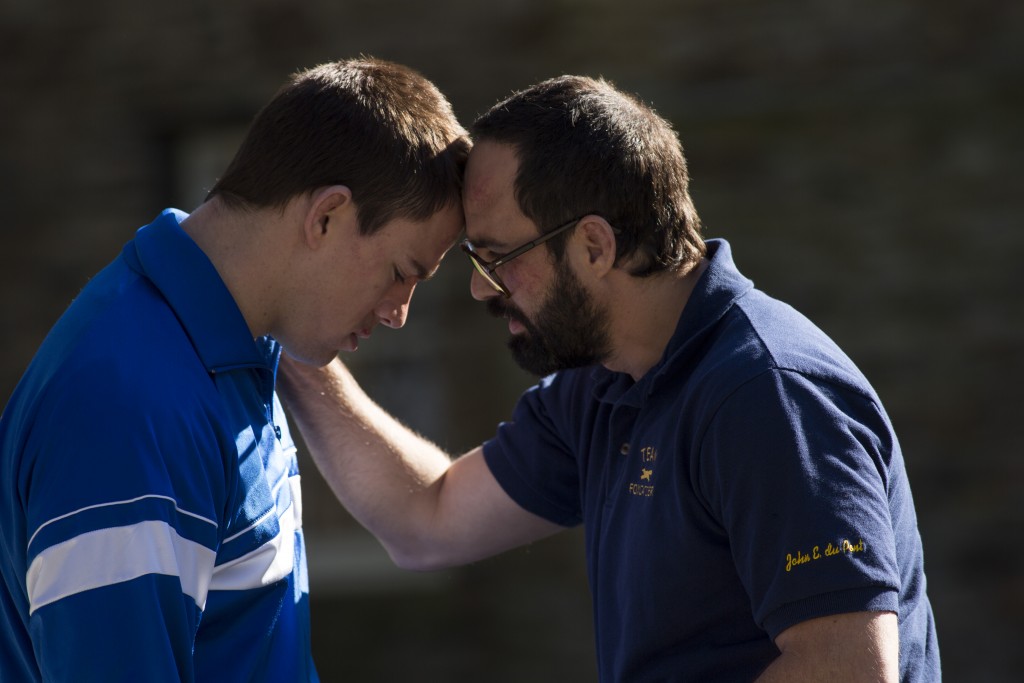 In their first meeting John du Pont (Steve Carell) effortlessly reads Mark's insecurities and fears. He tells the young man he wants to restore America's stature and pride in sports by competing at the next Olympics with a winning wrestling team. Mark is swayed by patriotism and personal glory but the film unites these characters as lonely individuals, removed from their families. Du Pont finds it almost impossible to convince David to join them because of his family commitments, a significant thematic point. Further, du Pont is revealed as detached from his own mother (a quiet Vanessa Redgrave). She loves horses and hates wrestling. He longs to win her approval of himself, not the sport. In some quietly funny scenes, he postures for her by pretending to coach the team and jogging before the cameras. The unspoken reason for winning her approval seems to be his sexual orientation. Du Pont's tragedy is trying to be a coach, a brother, a father and a lover for Mark all at once until losing control. Perhaps this was to prove he could inhabit these roles outside his upper class structure, since a major ghost was how as a child his mother paid someone to be his best friend.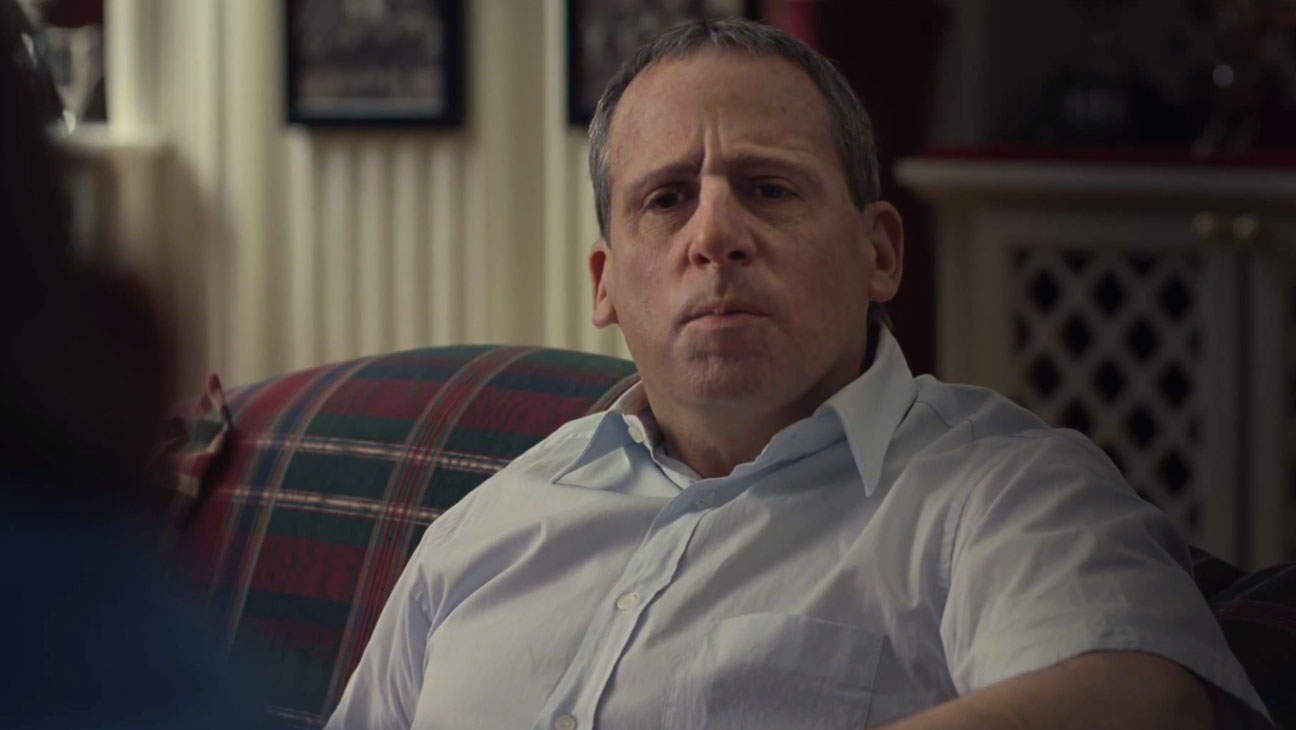 In one of his first dramatic roles, comedian Steve Carell plays du Pont as highly measured, mimicking his staccato speech patterns, but also applying sunken and cold physicality. The actor described du Pont on The Charlie Ross Show as lonely, sad and someone who wanted to be a leader of men. At first his performance seems almost too hidden or contained. But his performance engages more once we understand the character's contradictions. Throughout this sometimes haunting and quiet film he tempers du Pont's insecurities and general eeriness with glimpses of humour. Carell's signature character in The Office Michael Scott was a fool but also needy, desperate for friends and a hopeless leader. His casting draws unexpected symmetry between these roles. Channing Tatum is more than his equal. His expressive, tormented performance immediately projects the differences in exteriors between du Pont and Mark. He is strong in finding Mark's weaknesses, his lack of self-belief and confidence. Mark Ruffalo is also solid as his brother David, who upholds a different set of values as a family man. Both he and Tatum most resemble their real-life counterparts. Carell's prosthetic nose makeup is convincing but in photos the real du Pont looked gaunt and thinner, due to his mental instability.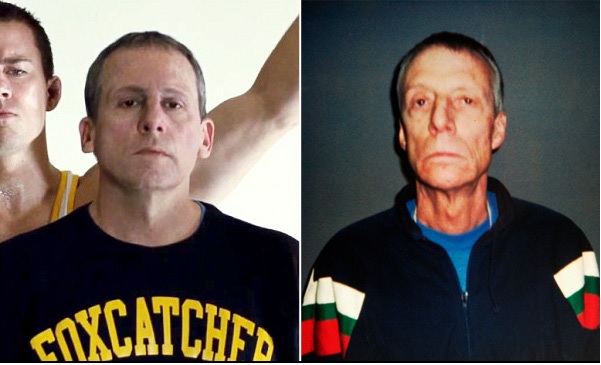 While Foxcatcher is a formidable character study, like du Pont the narrative struggles to break free of its legacy. The story framework of a young man taken under the wing of an older male and drawn into a web of fame, drugs and confused sexuality, is starting to wane. As Mark becomes more reliant on cocaine and his relationship with du Pont grows weirder and opaque, Foxcatcher's thematic content is comparable to films like Boogie Nights, Magic Mike (which starred Tatum) and Behind the Candelabra. Unlike Candelabra, Foxcatcher isn't transparent about sexuality of its main characters. No one truly knows if du Pont was gay but in the film a sexual relationship with Mark is highly implicit, especially through the wrestling motif and a night-time training scene. Resisting conclusions seems like a failure to be bold. Following the real Mark Schultz's response to the film on Twitter is like reading one of those choose your own adventure storybooks. He first used social media to stress his disdain for Miller, calling him scum and a liar, taking exception with his representation and describing the relationships as fictional. In regards to homoerotic subtext he wrote: "Leaving the audience with a feeling that somehow there could have been a sexual relationship between du Pont and I is a sickening and insulting lie". Recently, he reversed his entire attitude towards the film by calling it a miracle and stated: "Bennett Miller is the greatest director ever".  Maybe it's true when they say some films demand a second viewing.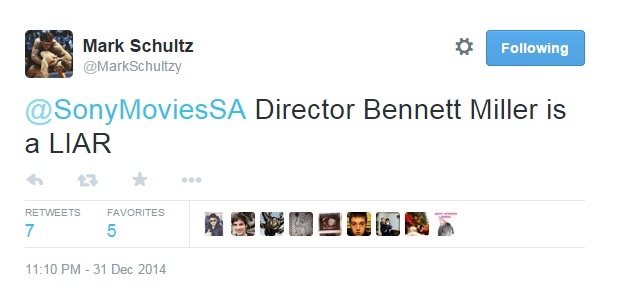 Foxcatcher's screenplay by E. Max Frye and Dan Futterman starts with a clean, singular narrative line, but the fluidity of the early scenes eventually dissolves. The second half feels fragmented, burdened by juggling the perspectives of all three men once David visits the property. Mark's point of view, exclusive in the first half, becomes less imperative in guiding the narrative. Further, the tragedy of du Pont recalls the simplicity of The Social Network. The coda is how money fails to buy either friends or happiness. Both films are about the failure of the American Dream. They are contemporary films but also old fashioned, anti-capitalist parables where money corrupts the soul and destroys relationships. But until the end the individual parts of the film, like the way conflict is generated between the characters and the glimpses of humour, are invaluable. While lacking transparency at times and perhaps authenticity, it's the moments of greatness and the quality of the actors which take home the gold.
Summary: While lacking transparency at times and perhaps authenticity, it's the moments of greatness and the quality of the actors which take home the gold.