Blu-ray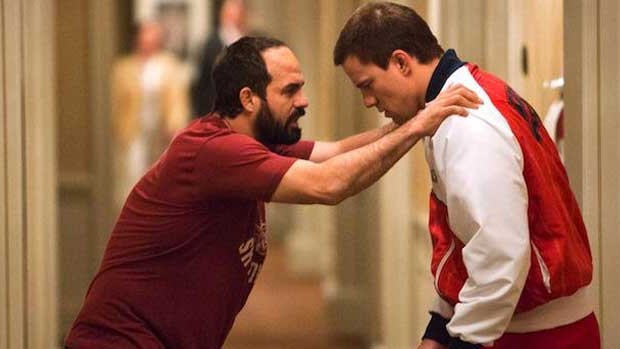 Published on June 17th, 2015 | by Rob Mammone
Foxcatcher Blu-ray Review
Summary: Foxcatcher is a compelling movie on Blu-ray that draws you in with the power of the acting performances
The drive to win and succeed in America is picked apart in this movie directed by Bennett Miller.  Channing Tatum stars as Mark Schultz, a gold medal winning wrestler searching for meaning in his life after the adulation of the crowd has faded.  The money and fame that comes to sportsmen in other, more popular competitions hasn't flowed down to wrestling, where Schultz is reduced to giving speeches for beer money in an effort to barely live an average lifestyle.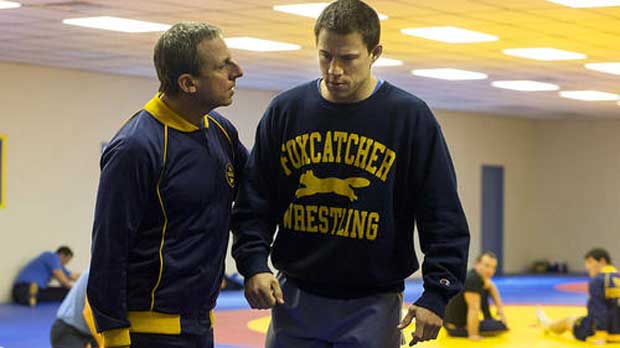 His brother, Dave, played with great heart and steadiness by Mark Ruffalo, forms the emotional centre of the movie.  Balanced, where his brother is unbalanced, and centred on his family whereas Mark struggles alone in a world he can barely understand, Dave provides a moral centre to the chaos that engulfs his brother.
Steve Carrel is John e du Pont, the self-described 'Golden Eagle', wealthy beyond the dreams of avarice, and a man who has everything but has accomplished nothing in his life.  He uses his wealth and political connections to inveigle himself in with organisations that ordinarily wouldn't have anything to do with as odd a man as he deep down truly is.
It's easier to describe the events of Foxcatcher than it is to describe what the movie is actually about.  While it is about the relationship between two brothers and the poison that Carrell's du Pont brings to it, it is also a savage indictment about the vast moral emptiness that great wealth brings.  It's a straight ahead tale of the establishment of a wrestling school as well as a tragedy about the death of a good man at the hands of a man whose slow drift into insanity is acutely displayed by Carrell.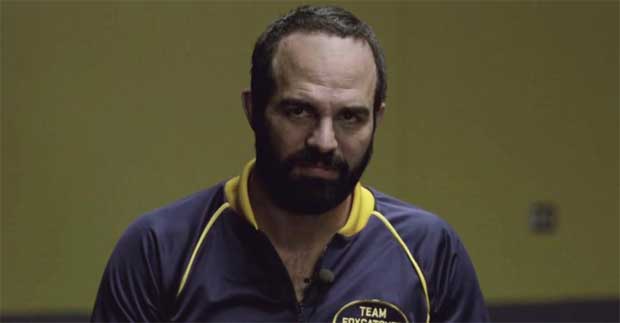 Largely set in the countryside, Foxcatcher has an autumnal feel to it, set amidst rolling fields with large expanses of forests as a backdrop.  It is beautifully shot, the frame filled with a vast expanse of nature, which the petty fumblings of the human actors play against.  Matching the sense of vast forces at play, the pacing of the movie is languorous.  It isn't in any hurry to get from A-Z, with long stretches of the movie playing out without the intrusion of dialogue.   Tatum, Ruffalo and Carrell fill those silences with their performances, which are always unfussy, studied and riveting.
While Tatum brings the glamour, and Ruffalo brings the acting chops, it is Carrell who draws the eye.  Almost unrecognisable beneath prosthetics designed to make him more closely match the man he portrays, Carrell's slightly detached performance conveys a vague sense of menace that gradually coalesces into full-blown psychopathy.  Du Pont may seem a fool, with his childish interest in playing policeman or demanding and receiving pieces of military hardware, but beneath the fatherly demeanour is a burning resentment fuelled by his mother's disdain that eventually breaks out into madness.
Like the previous movie your reviewer watched for Impulse Gamer, American Sniper, Sienna Miller as Ruffalo's wife plays the token role of supportive and long suffering wife.  Unless you're a female comedienne, it seems today in Hollywood that leading roles for females are few and far between.  Your reviewer is unsure how and why they put up with it, but their patience and forbearance is greater than his.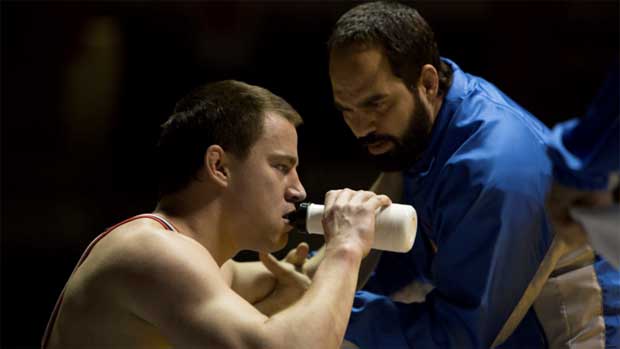 In summary, Foxcatcher is a compelling movie that draws you in with the power of the acting performances, as they portray men fighting against forces greater than themselves.  In an era where movies are all about movement and fast pacing, it's a joy to watch a movie that has a solid feel for itself, and that allows its central characters to come to life off the page.  4/5
Visual:  the soft autumnal tones suit the character of the movie and the era it is set.  Shades of colour and subdued hues are shown to great effect on this blu ray release.  That said, there is no softness to the image which has a peculiar luminosity all of its own. 5/5
Sound:  a sparse score is used to great effect.  Dialogue is rich and clear.  4/5
Special Features:  a short package of Deleted Scenes enable a glimpse of some more character depth for Ruffalo and Tatum, but as with all such non-included imagery, it overall adds nothing to the movie.  A short Making of featurette features interviews with all the main participants on either side of the camera, telling a truncated tale of the movie's genesis and how the leads approached their roles.  Illuminating and always interesting to see some of the bigger acting beasts of Hollywood in reflective moods.  4/5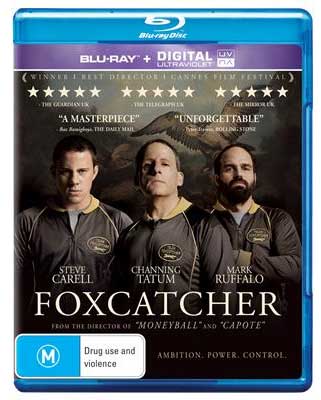 Blu-ray Details
Director – Bennett Miller
Actors – Steve Carell/Channing Tatum/Mark Ruffalo/Sienna Miller/Vanessa Redgrave/Anthony Michael Hall
Film Genre – Drama
Label – Roadshow
Audio – English (DTS-HD 5.1)
Subtitles – English
Running Time – 134
Aspect Ratio – 1.85:1
Region Coding – B (Blu-Ray)
TV Standard – PAL
Rating – M
Year of Release – 2014
Primary Format – Movies/TV – Blu-Ray