Games
Published on August 8th, 2023 | by Adrian Gunning
Four out of five Aussies play video games, do you?
Roll over footy! 81% of all Australians now play video games according to new data from the Australia Plays 2023 report, a research series spanning 18 years conducted by peak industry body Interactive Games & Entertainment Association (IGEA) in conjunction with Bond University. This is a 14% increase in two years from the renamed Digital Australia 2022 report. The report aims to explore the demographics and behaviours of video game players in Australia and their attitudes towards games. While only 56% of Australians tuned into the AFL Finals on Fox and Seven, according to the AFL 2022 annual report, over 80% are tuning into video games.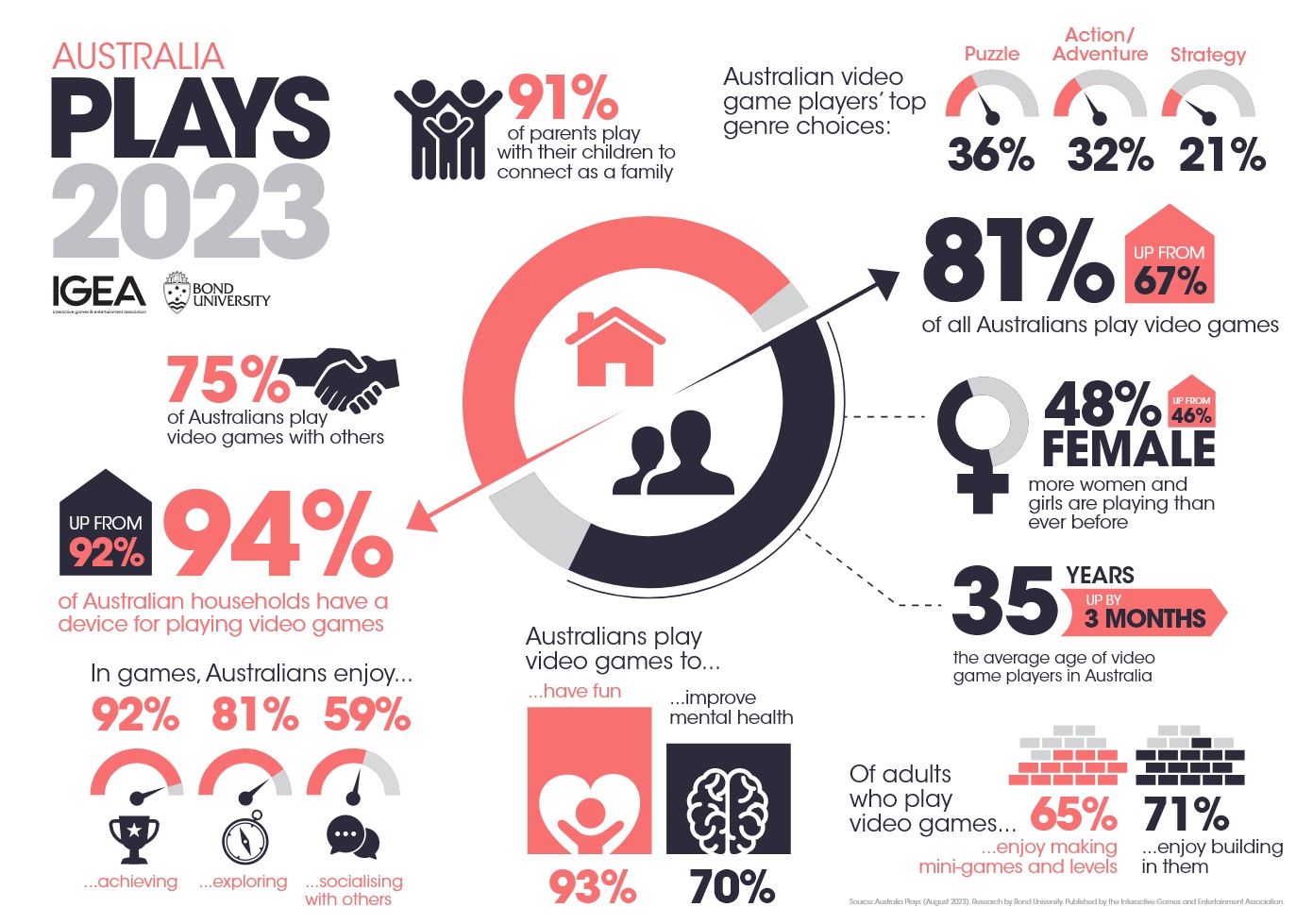 "With 94% of Australian households having at least one device to play video games, there is no denying the significance of video games in the lives of everyday Aussies. 91% of parents are using video games to connect with their children, supporting cognitive growth and providing important family bonding time," said Dr. Jeffrey Brand, Professor at Bond University and author of the report.
Dr. Brand continued, "Additionally, we saw more women playing games than ever before with 48% of Australian gamers being female, up 2% on the previous report, with women over 65 more likely to play video games than elderly men. Aussie gamers over 65 play to be challenged and improve their mental health, with a focus on mental stimulation and fighting dementia. Video games offer something for everyone – anyone can be a gamer, not just children and students, but parents, grandparents, your coworkers, and your boss."
"Australia Plays 2023 proves that Australia is a nation that loves to play, achieve, connect, and learn through video games," said Ron Curry, CEO of IGEA. "Over 80% of the population is now engaging with video games, making it clear that video games have become a part of everyday life. Over 90% of Australian gamers say they find joy in video games, as is reflected by our successful local industry. Video games have proven to be very important to this country's economy, as can be seen by the recently released consumer video games sales data in Australia."
The Australia Plays report continues to bust stereotypes, with the average gamer at 35 years of age, of any gender, who has been playing video games for 11 years, and plays for roughly 90 minutes at a time. Aussie gamers are playing to create feelings of enjoyment, nurture mental health, to socialise with others, attend in-game events, and more.
Highlights from the Australia Plays report include:
81% of all Australians play video games (up from 67%)
94% of Australian households have a device for playing video games (up from 92%)

76% of game households have 2 or more devices for playing games

48% female – more women and girls are playing than ever before (up from 46%)

After age 55, Australian women play more video games than Australian men

35 years – the average age of video game players in Australia
75% of Australians play video games with others
91% of parents play with their children to connect as a family
Australians play video games to:

91% – Create feelings of enjoyment
82% – Bring joy to their lives
66% – Nurture mental health

In games, Australians enjoy:

92% – Achieving
81% – Exploring
59% – Socialising with others

Of adults who play video games:

71% enjoy building in-game
65% enjoy making mini-games and levels
54% enjoy attending in-game events

Australian video game players' top genre choices:

36% – Puzzle
32% – Action/Adventure
21% – Strategy

Australians over 65 years play to be challenged and improve mental health
Top benefits of video games for ageing well according to Australian adults:

Increasing mental stimulation
Promoting mindfulness
Fighting dementia