Hardware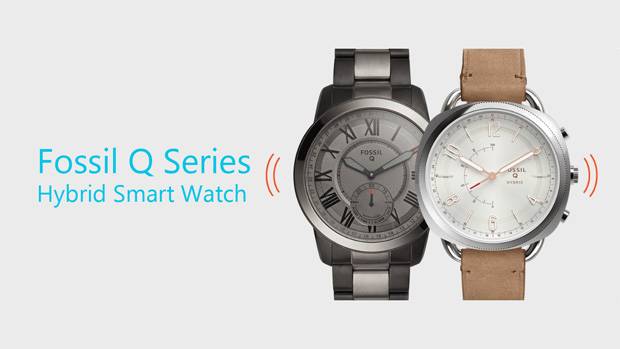 Published on April 22nd, 2018 | by James Wright
Fossil Q Hybrid Smartwatch Review (2018)
Summary: Fossil Q Hybrid Smartwatch is more than just a hybrid!
This elegant time piece, the Fossil Q Hybrid Smartwatch may look like a traditional wristwatch but in actual fact, it features smartwatch technology in its humble yet luxurious design. There is a twist however as Creators Fossil label this watch a hybrid smartwatch as it sits between a regular watch and a smartwatch.
So what exactly does this mean?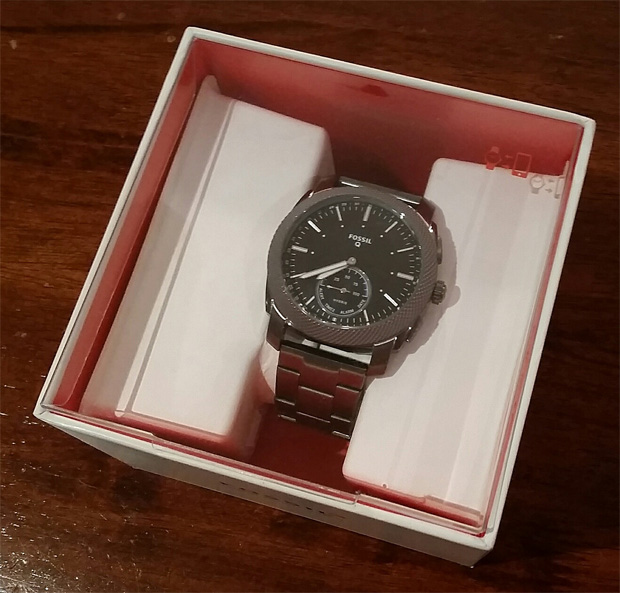 This means that it gives the user access to smartphone notifications such as e-mails or social media messages and it even allows you to control some elements of your smartphone like the ability to take a picture by using the button on the watch and even control your music and other applications. As it's a hybrid (and this is a fantastic selling point), the battery life of this device could last between 6 to 12 months, depending on usage.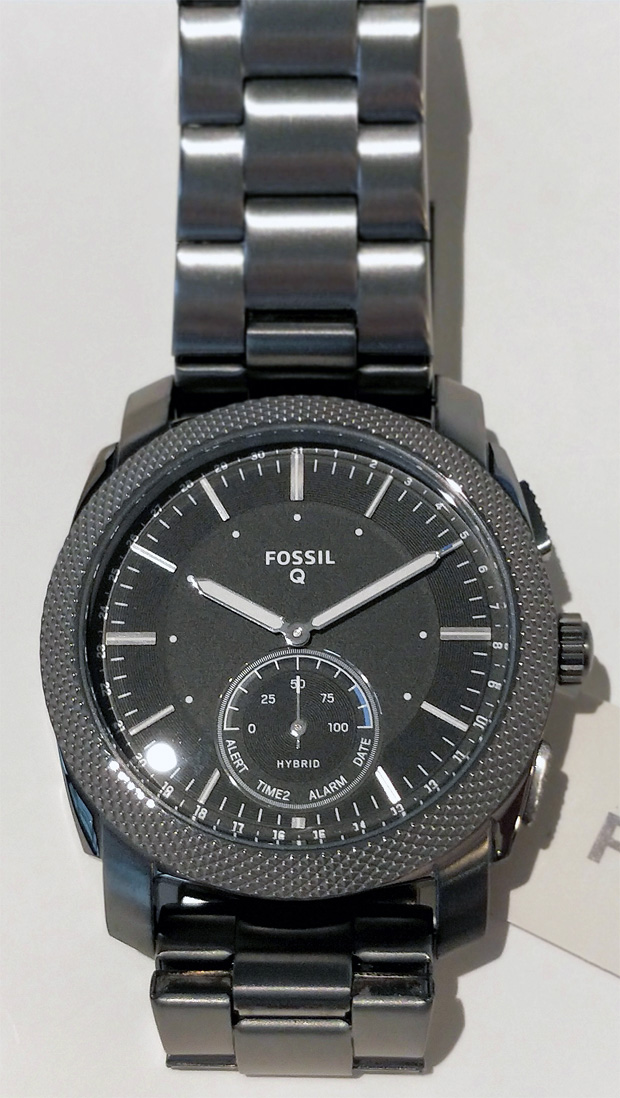 The first thing that you notice about the Fossil Q Hybrid Smartwatch is its upmarket design and its overall quality build which comes with a 2-year limited warranty. Due to the metallic stainless steel band, it's quite a heavy watch compared to a smartwatch, however it does allow for interchangeable bands, not to mention is water resistant of up to 50metres… oh… there's also lots of different faces available from Fossil as well!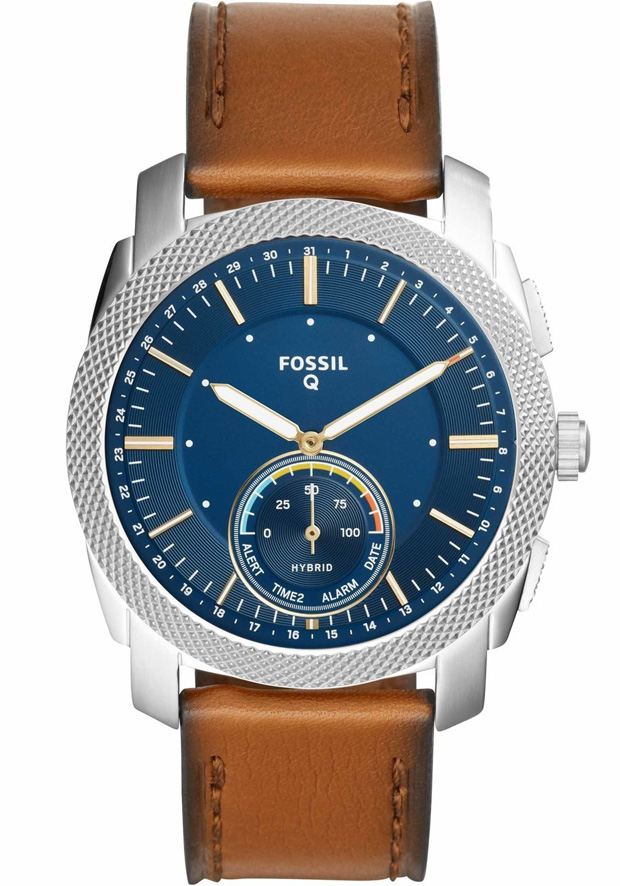 The connectivity of the Fossil Q Hybrid Smartwatch is Bluetooth Smart Enabled (4.1 Low Energy) and is compatible with Android OS 5.0+ and iPhone 5/iOS 9.0 devices. Add in a sleep tracker, step tracker plus calories burned (via the app) and this nicely rounds out the features of this stylish hybrid smartwatch. For those who are at the gym, you can even control your music via the watch and travellers will be pleased to know that through the app, it automatically updates the timezone and you can have two time zones.
The installation process of the Fossil Q Hybrid Smartwatch on our android device was a very simplistic process. The first element is to download Fossil Q app from Google Play or the Apple Store which takes you through the pairing process by holding down the middle button, including setting up the device. This entire process took just a few minutes and we were up and running in no time.
Unlike a smartwatch, this hybrid uses the standard watch face to inform the user. For example, I set the number 12 to my partner so when she called and the Fossil Q Hybrid vibrated, it would move the hand to 12 which let me know it was her calling. So as it moves the hands to this number, it will stay there for a few seconds which gives you just enough time. As you can set alerts to multiple numbers like Social Media or SMS, it can get a little challenging if you use every number but hey… it's great for memory. Another handy feature is that you can even tweak the vibration of the watch.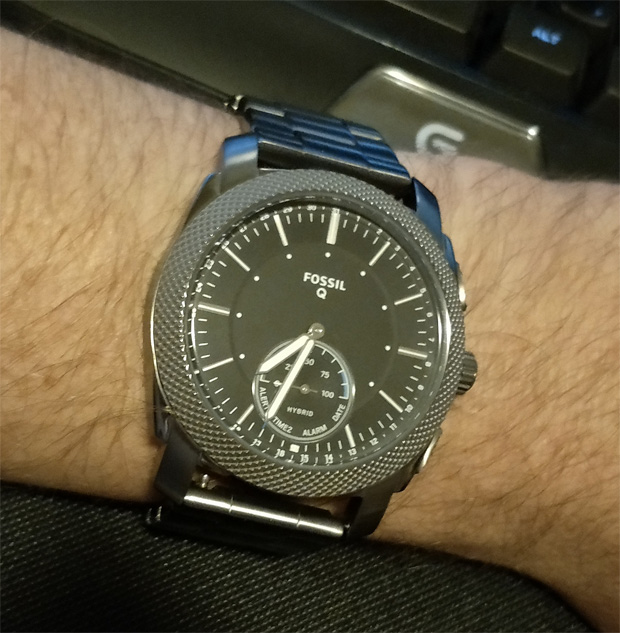 For health and as mentioned, Fossil have included a  sleep tracker plus the ability to set goals like drink more water or start moving. It may not be a FitBit but it does provide you with the right amount of motivation to monitor your health and fitness in this luxurious hybrid smartwatch. However where all the magic occurs for the Fossil Q Hybrid is in the app which is quite easy to use and includes statistics and other useful features to get the most out of the product.
Final Thoughts?
The Fossil Q Hybrid Smartwatch is a great alternative to a mainstream smartwatch, however unlike these devices it offers unparalleled style when it comes to appearance. It links to your smartphone well and not only gives you control over that device but offers notifications and other useful elements like sleep tracking, a step counter and other James Bond-like functionality to really make you stand out from the crowd… including making your brain think as to what each number has been assigned to!
Q FEATURES
SMARTPHONE NOTIFICATIONS
Be notified of important texts, calls and updates—all from your wrist.
MULTIPLE TIME ZONES
Keep track of the local time and the time in another part of the world.
ALARM CLOCK
Set an alarm for wake-ups and workouts (and every reminder in between).
RING YOUR PHONE
Can't find your phone? Fossil Q can tell your smartphone to play an audible alert so you can find it fast.
WIRELESS SYNCING
Automatically syncs to your phone so you can keep tabs on your activity and notifications without ever pushing a button.
ACTIVITY TRACKING
Track your everyday accomplishments: steps, distance (select styles only) and calories burned.
CUSTOMIZABLE

WATCH

STRAPS
Match your Fossil Q to your look in seconds with interchangeable straps.
WATER RESISTANT (50M)
With a water rating of 5ATM, you can wear your Fossil Q in the shower or when you swim.
TAKE A PHOTO
Take a photo with your phone camera app or Snapchat.
CUSTOM GOAL SETTING
Exercise. Drink more water. Eat better. Whatever your goal, your Fossil Q has what you need to make it happen.
AUTO-UPDATE TIME/DATE
When traveling to another time zone, your Fossil Q automatically updates to the correct local date and time.
CONTROL YOUR MUSIC
Control your music with your phone's selected music player whether it's Spotify, Pandora, Soundcloud, Google Play, iTunes or Apple Music.
CHARGING NOT REQUIRED
Your Fossil Q is always on and always connected with a battery life up to one year (varies by product and usage).
SLEEP TRACKING
Monitor your sleep duration and quality.
Q SPECIFICATIONS

TECH DETAILS
Sensors: Accelerometer
Compatibility: Android™ OS 5.0+, iPhone 5/iOS 9.0+, Smartphone App
Connectivity: Bluetooth® Smart Enabled / 4.1 Low Energy
Battery Type: CR2430
Battery Life: Up to 1 Year??
What's In the Box: Quick Start Guide
MOVEMENT
Functions: Take a Picture / Control Your Music / Sleep Tracker / Step Tracker / Interchangeable

Watch

Band
Movement Type: Quartz
FUNCTIONALITY
Outside Temperature: No
Heart Rate: No
Activity Tracker: Built In Fitness Tracker
Touchscreen: No
Notifications: Social Media / Text / Email / App Alerts / Multiple Time Zones / Alarm Clock / Calendar Alerts
Timer: No
Text and Voice: No
Sleep Tracking: Yes
CASE
Case Color: Smoke
Case Size: 45mm
Case Shape: Round
Case Thickness: 13mm
ADDITIONAL DETAILS
Collection: Q Machine
Warranty: 2 Year Limited
Water Resistant: 5 ATM
Interchangeable: Yes
Interchangeable Compatibility: 24mm
Eligible for Gift Wrap: No
Origin: Imported
Eligible for International Shipping: Yes
STRAP
Closure: Single Pusher Foldover Clasp
Strap Color: Smoke
Circumference: 200+/- 5mm
Strap Width: 24mm
Strap Material: Stainless Steel