Xbox Series X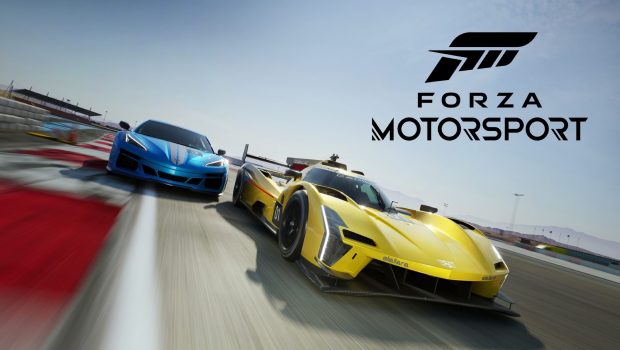 Published on November 11th, 2023 | by James Davie
FORZA Motorsport Review (XSX, PC)
Summary: After such a protracted gestation period, FORZA Motorsport has returned in pleasing fashion, capably delivering petrolheads a fantastic and rejuvenated circuit racing game experience.
Welcome back FORZA Motorsport! The last time we saw you, you were doused in microtransactions and your most notable new feature was gas-guzzling trucks. Now you've returned for the first time in six years and instead of proudly boasting the number 8 next to your name, you choose to forego numbers and pretend you're the 2005 FORZA Motorsport all over again. First there's Mortal Kombat turning 1 again, and now you're doing the exact same thing without a numeral attached!
To spare any confusion, this latest FORZA Motorsport is indeed a re-engineered franchise reboot, jettisoning the excess of previous instalments by focusing squarely on the cars and the racing of those cars around tracks that have proper nouns like Spa, Laguna Seca and Circuit De La Sarthe. There's plenty to get your teeth lodged into here, but is this new FORZA Motorsport a truly renovated and refreshing franchise reboot, or is the bodywork all scratched, chipped and dented?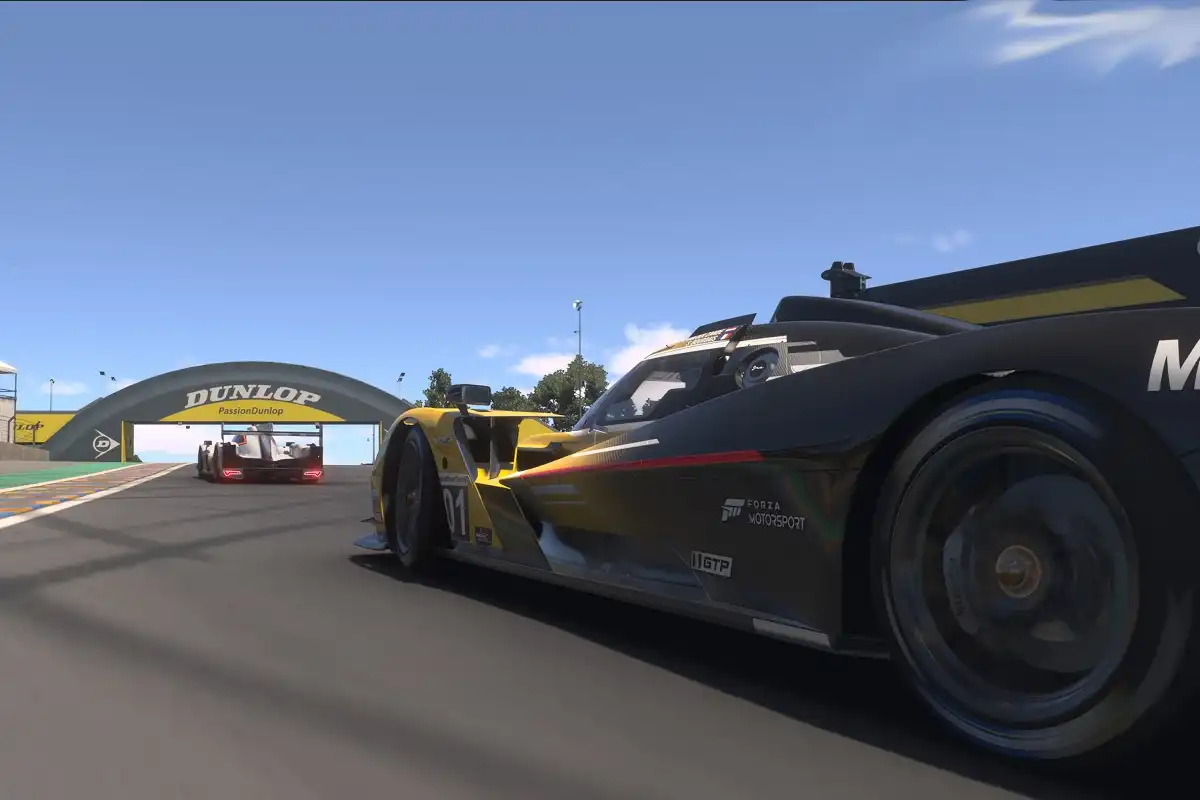 This new Forza Motorsport adopts a back to basics approach to motor-racing that allows you to get behind the wheel of a catalogue of cars from a wide-range of manufacturers from Japanese staples such as Honda and Nissan, Italian icons such as Ferrari and Alpha Romeo, German manufacturers like Porsche and Volkswagen, and muscly American outfits like Ford, Chevrolet and Dodge. There are over 500 cars to drive in FORZA Motorsport, an exhaustive list that'll keep you busy and finding new favourites for a while to come.
The career mode is where most of your time in single player is spent, and is where you'll predominantly earn credits to buy newer and faster cars. The overarching network is known as The Builders Cup, and the series of races you run are known as 'Tours,' which are a list of events spanning all the various types spanning history,  from the Modern series where all the faster and sportier variants can be found, to the Enthusiast Tour, plonking you into Mazda MX-5s and the German line of manufacturers, Power Tour where all those glorious American powerhouses can be found, and lastly the Legacy Tour has your race-ready rose-tinted specs at the ready, taking on the classics of the 80s and 90s.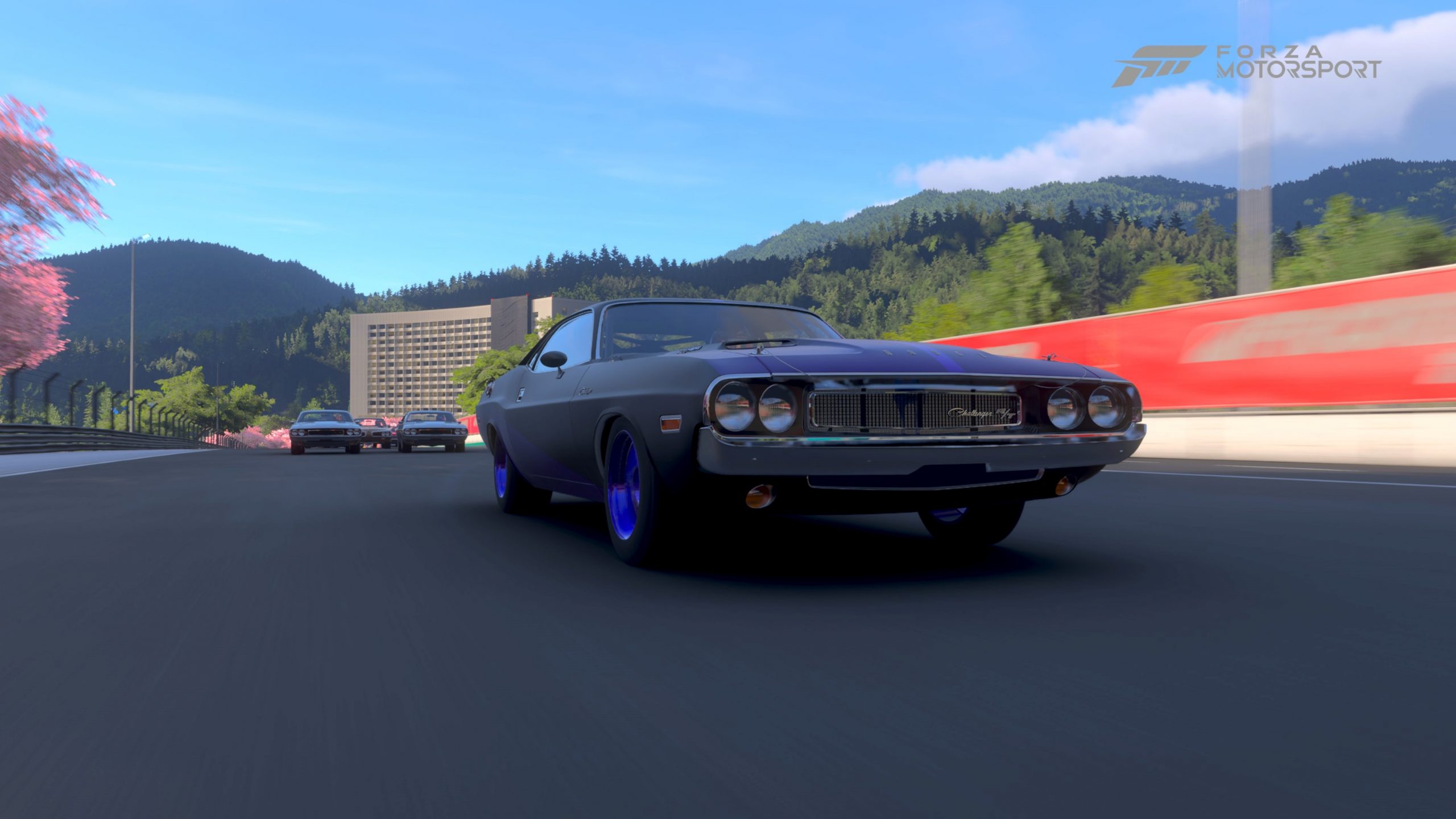 Presentational aspects of FORZA Motorsport are lacking and disappointingly cut and dry. Besides a brief introduction to each tour, there are no further zesty video packages or an exciting sense of history and prestige. Yes, this new FORZA Motorsport isn't punting for the celebratory excess of Gran Turismo 7, but it could've done with a flavour of its own, y'know like FORZA Motorsport had with Jeremy Clarkson and the Top Gear Test Track minigames, but this latest effort only cares about you in a car and racing around a litany of circuits, preferably by forcing you to engage in a few practice laps beforehand, but thankfully you can skip these in the pre-race menu if you want to.
What isn't so avoidable are the one-dimensional race around a circuit. Primarily there's one kind of race-event in career and it's all about the lap-after-lap trudge that can become groan-worthy and uneventful on lower difficulties. This is remedied a bit if you decide to race on more demanding difficulty settings where you're going to be busier trying to beat the competition, but all you want to do is race on the easiest option, you'll find every race lacking in thrills. The reason FORZA Horizon is such a beloved alternative is because there's plenty of variety, but the career in FORZA Motorsport is too bogged down in uneventfulness and unimaginative racing that it all gets quite stale after an hour or two.
For this FORZA re-christening, value is placed on not only purchasable cars, but the level of each car, meaning this latest entry is a literal CarPG, where every new motor you buy starts at level 1 and the more you spend time driving it, the more it levels up. The problem is there aren't any tangible or worthwhile rewards for gaining levels outside of manufacture discounts and new engine parts, meaning that grind necessitation is at a premium, and the rate that cars level up is insubstantial too, usually bolstering up in small chunks the longer you race. The cap maxes out at level 50 for every car, but if you want to raise your level fast without playing the game, there's an autodrive option in the accessibility menu that can alleviate grinding, though it's troublesome to know the best way to reach the level summit for each car is to take your hands off the Series X controller.
Unsurprisingly for a FORZA Motorsport outing, the car handling is sublime and nuanced to the utmost degree. The mighty vrooming growls of ultra-slick American Muscle behemoths brings that pleasing bent of heaviness comparable to riding a bloodthirsty Jaguar around the circuit. Contrastingly, the gentle movement of compacts and Coupes delivers a small but scuttling demeanor with maneuverability and slickness at their core. Speed demons roar in a manner of the most vicious vertebrates, but as ferocious as they are when ripping down straights, you gotta tame them carefully by pulling on their leashes until they reach manageable speeds to caress apexes and turn corners snugly.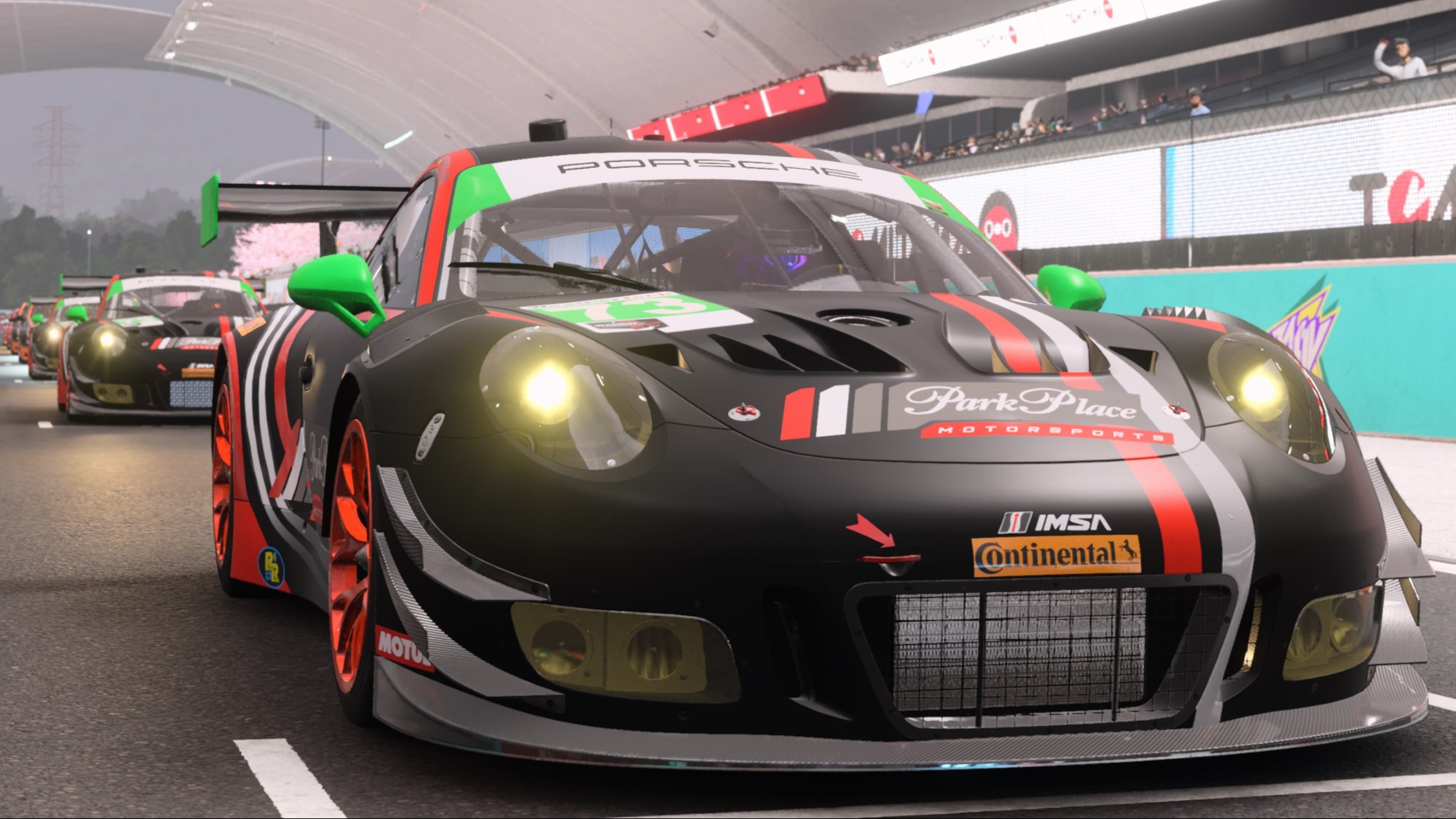 The competition on-track puts you up against a maximum of 23 A.I drivers which can be reduced in the pre-race options menu if desired. This bunch aren't to be trifled with, as they aren't willing to stick to your rear bumper the whole race, they want to tear past you swiftly and zoom off into the distance as you're left croaking on their tyre smoke. Suffices to say they know how to race and be competitive, so take them seriously or you're going to be caught in a blitzkrieg of surprise and a haze of disappointment if you find yourself losing position after position helplessly.
The star of the FORZA Motorsport show has to be the dynamic and unpredictable weather. Races really feel like poetry when pathetic fallacy rolls in to change the mood of a race in a flash of lightening. Seriously, there are moments in FORZA Motorsport that encroach on horror when you're coasting merrily along in first way out in front on the Le Mans track, then all of a sudden the black clouds roll in, rain starts teeming down, and before you know it the sparkling glistening glow of the sunshine turns into a gloomy and gritty spook show, where you struggle to see in front of you with only the racing line guiding you, your sense of confidence and control starts to wain, and every corner becomes a challenge of perseverance and precision.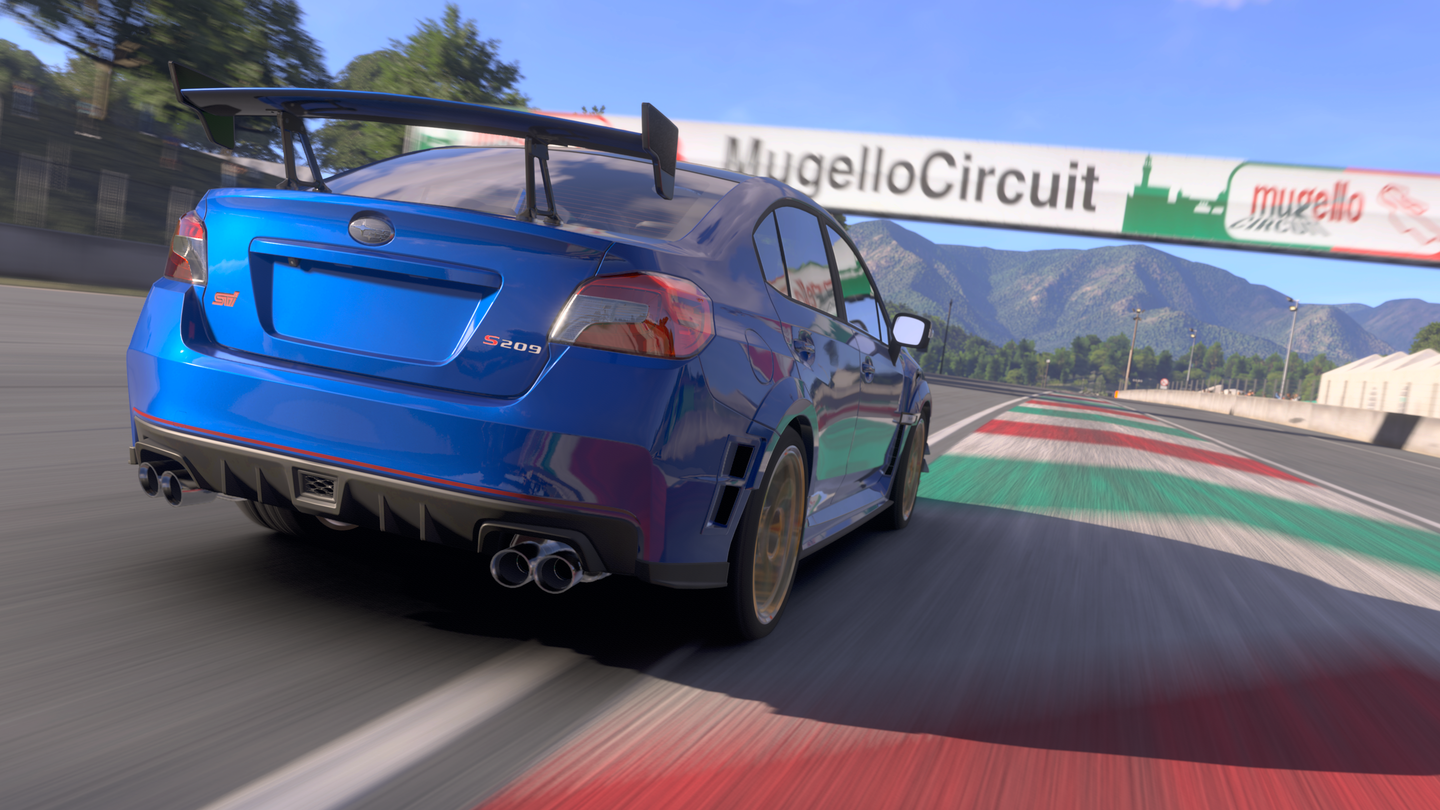 Wet weather terrorizes the handling model in the best possible way. The pouring rain leaves patches of puddles on the track and if your wheels happen to tread through them, the balance of the car shifts, and if you're really not careful you'll find yourself helplessly aquaplaning. Sure, aquaplaning has been featured since FORZA Motorsport 6, but with all the unpredictable weather variables at play now, FORZA Motorsport has become the most expressive racing game out there to include diverse and behaviorally erratic weather.
Gameplay customisation is another improvement to accommodate your racing experience in FORZA Motorsport. Besides the expected tweaks to accessibility such as racing lines, ABS breaks, traction control, steering and breaking assists, you'll be rewarded with increasing payouts if you choose to place yourself lower on the grid. This means the more adversaries you overtake during the race, the greater your rewards. FORZA Motorsport prides itself on getting you to be competitive so you can accrue enough credits to grab the speedier demons the game has to offer, which is a recipe to keep you invested.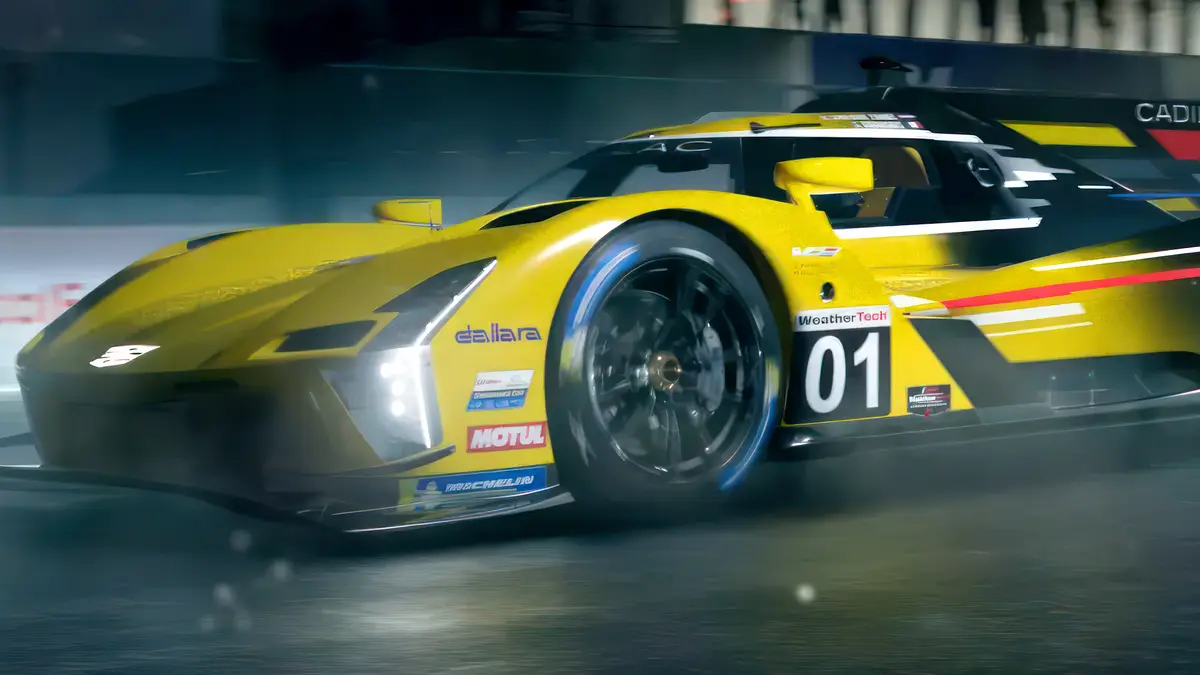 Final Thoughts?
After such a protracted gestation period, FORZA Motorsport has returned in pleasing fashion, capably delivering petrolheads a fantastic and rejuvenated circuit racing game experience. There are a some dents and scrapes in its bodywork from a tepid career mode and its general air of familiarity which saps it of feeling like a true reboot, but with fantastic handling, the best weather system in any racing game, and plenty of cars spanning a variety of disciplines to sink your time into, FORZA Motorsport is ultimately a successful return for the franchise, but could've done with a tad more innovation rather than sticking to the tried and true formula. Still, get out there and race it's been a long time coming.