Games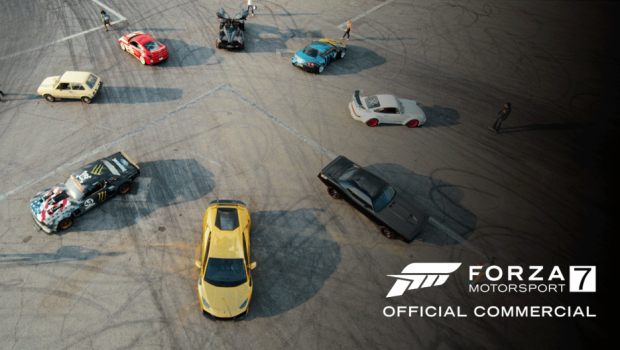 Published on September 8th, 2017 | by Admin
Forza Motorsport 7 Has Gone Gold with Demo Arriving Sept. 19
Forza Motorsport 7 Commercial – 'Musical Cars'
The new commercial for Forza Motorsport 7 pits competitors against each other in a reimagination of musical chairs, where chairs have been replaced with some of the world's most coveted cars. Comedian and CarCast host Adam Corolla, professional driver Ken Block, and a group of passionate gamers bring the concept to life as they scramble toward an incredible lineup of cars including a Pagani Huarya, Porsche Cayman GT4, Plymouth Barracuda, Nissan GT-R and Block's own custom-built Ford Mustang "Hoonicorn" (included in the Hoonigan Car Pack for free when you digitally preorder Forza Motorsport 7). From casual gamers to seasoned vets, the commercial invites racers of all stripes to experience the pure fun of the biggest Forza Motorsport game to date. What happens when the music stops? Watch the video to find out.
Forza Motorsport 7 Demo – Sept. 19
The official demo for Forza Motorsport 7 is coming for both Xbox One and Windows 10 PC. The demo features three unique racing experiences in Forza Motorsport 7, showcasing the depth and breadth of the experiences available in the game. Drive the Forza Motorsport 7 cover car – the Porsche 911 GT2 RS – to the brand-new Dubai circuit and experience the thrill of navigating the Jebel Hafeet Pass, one of the most famous driving roads in the world. Or, pilot the massive Mercedes-Benz Tankpool racing truck to victory at the high-speed Mugello circuit in Italy.
For drivers who want the ultimate test, the Nissan NISMO GT-R LM is available for a race at the Nürburgring Grand Prix circuit. Here, fans will be challenged to handle the 'Ring's complex corners and elevation changes, while also tackling the dynamic track conditions that will make racing in Forza Motorsport 7 so breathtaking. Racing through rainstorms laced with thunder and lightning make for a visual showcase and for a challenge like no other – where dynamic puddles grow and shrink with the intensity of the rain.
The Forza Motorsport 7 demo will feature assists that will allow players to dial in the difficulty the way they see fit; and for PC players there will performance options to adjust the experience to each player's PC performance capabilities. For the full list of PC specs supported by Forza Motorsport 7, check out our recent story on ForzaMotorsport.net.
Download and play the Forza Motorsport 7 demo for free when it races onto Xbox One and PCs Sept. 19. See you on the track!