Games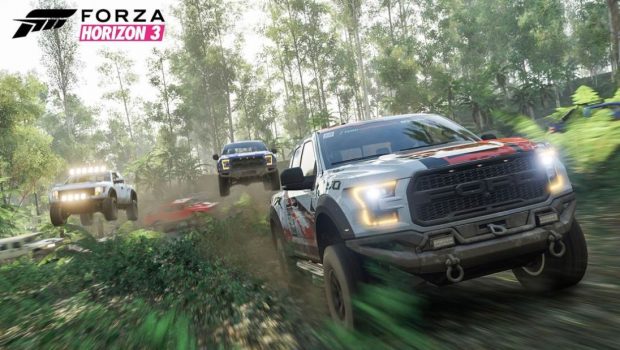 Published on September 13th, 2016 | by admin
Forza Horizon 3 Soundtrack Revealed Featuring Aussie Artists, Demo Available Now
Test Drive the Forza Horizon 3 Demo Today
We are just a couple of weeks away from the launch of Forza Horizon 3! Forza Horizon 3 launches globally for Xbox One and Windows 10 PC on Sept. 27, and those who pre-ordered the Ultimate Edition will drive early on Sept. 23. However, you won't need to wait long to begin your Australian adventure, because the free Forza Horizon 3 demo launches today on Xbox One!
In Forza Horizon 3, you're the boss of the Horizon Festival – the biggest and best cars and music festival in the world. Your goal is to expand the festival to new locations throughout Australia and you'll get your first taste of what that experience is like in the demo. Along the way, you'll be able to explore a portion of Forza Horizon 3's map, while taking a guided tour through some of the best features that the game has to offer.
Your tour Down Under begins in classic Horizon fashion – with beautiful scenery, great driving roads, and awesome vehicles. From the moment the action begins, you are unmistakably in Australia, with all of its awe-inspiring beauty and tremendous environmental diversity. You'll blast along ocean-side roads, and race on the beach alongside the famed Twelve Apostles landmarks. You'll grab ludicrous air off of danger sign jumps buried deep in the Australian rainforests, and have a chance to get sideways through Drift Zones in Byron Bay. Once you've finished all the events in the demo, you'll be able to hop online and join your fellow Forza friends in an online free-roam session to explore the demo's map together.
The drivable vehicles in the Forza Horizon 3 demo are a "who's who" of automotive hotness. Of course, you'll be spending time in one of the game's cover cars, the Lamborghini Centenario. Along the way you'll also get to drive more than one dune buggy, a rough-and-ready trophy truck and your choice from cars such as the BMW M4 Coupe, the Ford Shelby GT350R, as well as that Australian legend in the making, the 2014 HSV Limited Edition GEN-F GTS Maloo. And remember: this is just a small sample of the more than 350 cars that will be available for you to collect, customize, and race in the full version of the game.
Your time as the boss of the Horizon Festival is almost here. Grab the Forza Horizon 3 demo today, get to know a bit of your new Australian home, and be ready to the host the automotive party of the year when Forza Horizon 3 launches on September 27.
Drive to the Music You Love in Forza Horizon 3 with Groove
The Forza Horizon series always gives players the chance to drive to the music they love, and today we're excited to unveil that Forza Horizon 3 is taking it to an all-new level!
The Forza Horizon 3 original soundtrack features a broader musical selection than any Horizon game before with nearly 150 songs across eight, in-game radio stations. On top of returning favourites like Horizon Pulse and Horizon Bass Arena, several new stations add new and classic hits from genres across hip hop, indie rock, punk/metal, and of course, classical music.
There's even more to the Forza Horizon 3 music experience than a sweet soundtrack. Now, for the first time ever, you can rock music you choose as you drive the Horizon with a Groove Music Pass on Xbox One or PC.
New to Groove? Test drive millions of songs with zero obligations. Our 14-day, no-credit-card trial gives you nonstop music, plus playlists, artist radio, and more – all for the low cost of free. With Forza Horizon 3 and Groove, it's all about playing what you love – one press of the button and you're on the way.
Check out the Forza Horizon 3 music stations and full track list via the Xbox Wire, a selection of Australian tracks from the Future Classic Radio station in game are outlined below.
Some restrictions may apply, visit https://www.microsoft.com/groove to learn more.
Microsoft Groove Music For access to millions of songs, stream music from your Groove Music playlists directly into the game.
Future Classic Radio What better way to drive around Australia than listening to a Future Classic station? This full service Australian independent music company features music from local and international artists and is bringing Forza Horizon 3 players sounds from Flume, Chet Faker, Flight Facilities, and more.
"Real Talk" by Anna Lunoe and Touch Sensitive
"Heirloom" by Basenji
"Dekire feat. Oscar Key Sung (Bodhi Remix) " by Charles Murdoch
"1998" by Chet Faker
"Goddess" by Chrome Sparks
"Crave You (feat. Giselle)" by Flight Facilities
"Sunshine feat. Reggie Watts" by Flight Facilities
"Never Be Like You (feat. Kai)" by Flume
"Sleepless (feat Jezzabel Doran)" by Flume
"Just A Lover" by Hayden James
"Beta" by HWLS
"O B 1" by Jagwar Ma
"Bird Of Prey" by karma Kid
"Peace (Radio Edit)" by Kenton Slash Demon
"Jungle" by Panama
"The Worry (Andras Dub)" by Seekae
"Pizza Guy" by Touch Sensitive
"Heartburn (Felix Cartal Remix)" by Wafia
"Flash Drive (feat Baby)" by Wave Racer
"Avocado Galaxy" by World Champion
The check out the full list of tracks and radio stations which feature in the game, check out the Xbox Wire.