Events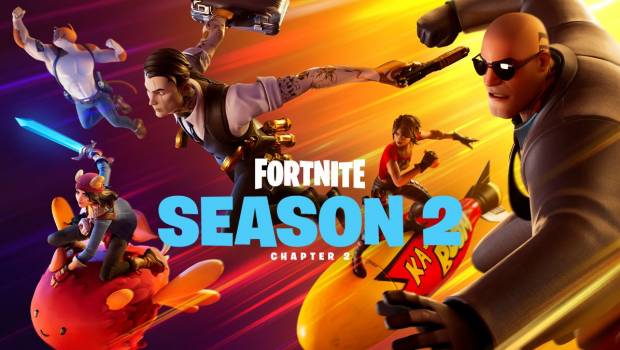 Published on February 29th, 2020 | by Admin
Fortnite Monthly Recap – February 2020
Fortnite's Island has been taken over by covert operatives – Ghost and Shadow – in Fortnite Chapter 2 – Season 2, which launched on 20 February!
Discover exotic new locations on the island, neutralise henchmen guards and face off against their leader to snag unique and powerful weapons to help turn the tide in your favour. New gadgets like Decoy Grenades, Proximity Mines and Creeping Cardboard will help you surprise your rivals. The new season is just getting started, so keep an eye out for exciting updates!
A new season also means new Battle Pass. Players can purchase the Season 2 Battle Pass now for 950 V-Bucks and then play to unlock 100 levels of rewards, including all-new customisation choices through missions that unlock an optional Ghost or Shadow outfit variant, plus new bonus features unique to Battle Pass outfits – there's a cat/human character, what more can we say. Players also receive 1,500 V-Bucks back throughout the Battle Pass levels.
You might also have noticed a certain 'Merc with a Mouth' in the Battle Pass trailer below.
Read more information about Chapter 2 – Season 2 here.
Top Fortnite competitors from Australia and New Zealand took on some of the best players in the world across two days of intense action in the Fortnite Summer Smash at the Australian Open 2020, live from Margaret Court Arena on 1-2 February.
Brisbane local Leevi 'Breso' Breslin beat 89 other players from 11 countries to win the Solos competitions and take home $100,000 of the $400,000 Solos prize pool. Breslin also became the first controller player to win a Fortnite LAN event, with previous winners using mouse and keyboard.
Australian trio MrFreshAsian, Lachlan and musician Enschway won the Pro-Am tournament. This was the second victory for MrFreshAsian who won the Pro-Am in 2019 when he partnered with musician Jacko 'JXN' Brazier. A total of $100,000 was donated to charities of players' choice. MrFreshAsian chose to donate his $10,000 in winnings to The Hunger Project.
Love and War, the first big Fortnite event of 2020, introduced a new community-made Search and Destroy Limited Time Mode to the game. Two teams of six faced off in attack and defend rounds trying to plant and defuse explosives. At the beginning of each round, players could use in-game gold they'd accumulated to purchase new weapons and equipment.
Players could also complete Love and War challenges to unlock free cosmetic rewards such as wraps, pickaxes, back bling and emotes.
Love and War ended on 17 February, but the Search and Destroy maps are still playable in Fortnite's Creative Mode which continues to see more maps and game types created by players. You can try out the maps yourself with the map codes below:
Factory: 1821-4783-3483
Cove: 6504-5976-2958
Streets: 6430-0910-1845
Read more about the Love and War event here and the latest Creative update here.
Harley Quinn, Gotham City's iconic Maiden of Mayhem, arrived in Fortnite in February. From 7 February to 18 February, the Harley Quinn bundle was available for purchase, which included the Harley Quinn Outfit and Harley Hitter and Punchline Pickaxes.
Players who purchased the Harley Quinn Outfit could complete challenges that transformed her from Lil Monster XoXo Harley to Always Fantabulous Harley.
Read more about Fortnite's latest pop culture partnership here.