Events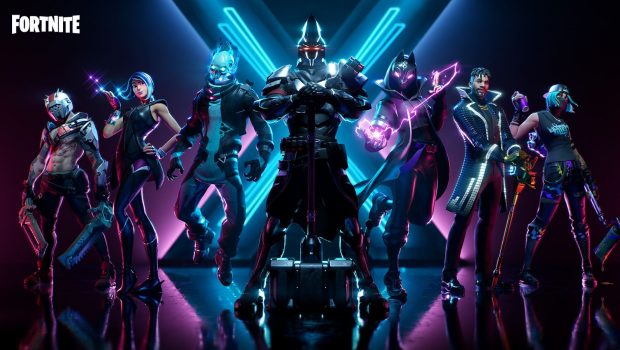 Published on September 3rd, 2019 | by Admin
Fortnite Monthly Recap – August
Season X (pronounced "ex") arrived in August, bringing with it many changes to the Island. Locations once thought to be lost have begun to reappear on the island, but they aren't the same as they once were!
Rift Zones are popping up all over the island, bringing back old fan-favourite locations with a twist! Dusty Depot, the popular location from the original map has returned. Retail Row is also back, but is now occupied by bargain-crazed Fiends. Neo-Tilted has returned much further back, now a Wild West settlement called Tilted Town which has a mysterious veil which prevents players from building.
There's sure to be many new surprises as Season X progresses!
A new Season also means the debut of the Season X Battle Pass, featuring over 100 exclusive rewards ready for players to unlock, including the X-Lord and Catalyst Outfits which are unlocked instantly when you purchase the Battle Pass.
The Fortnite Community Asset Pack has been updated with art from Season X, you can download it here.
Read more about Season X here.
The Fortnite Champion Series (FNCS) kicked off on 17 August, following the hugely successful Fortnite World Cup. The next step in competitive Fortnite for 2019, the FNCS runs similar to the Fortnite World Cup Online Opens, featuring a three-round Trios event each weekend for five weeks. The top team each week from each region, including Oceania, will advance to the Season X Finals. The Finals will be held online for each region on 20 to 22 September to crown the Season X Champions!
Series Points will also be awarded based on each team's final placement every week during the FNCS to determine team placement on the Series Leaderboard. The top performers on this leaderboard will also advance to the Season Finals. This format has been implemented to value consistency over the course of the season.
Season X will feature US$10 million (approximately AU$14.7 million) across all regions and competitions within the FNCS, including dedicated prize pools each weekend!
Read more about the FNCS here.
The inhabitants of Pandora have found their way to Fortnite! Until September 10, a new Pandora Rift Zone will be available for players to explore in Fortnite. The Pandora Rift Zone features a unique art style and has a unique gameplay mechanic in which player's shields regenerate if they go long enough without taking damage!
During the event, players can complete themed Challenges for free rewards such as the Mayhem Wrap, Vault Hunter Banner, Psycho Spray and Crunk Bunny Spray.
The Pandora Prefab will also be available in Fortnite Creative so players can create their own maps and share them on Instagram, Twitter and Reddit using #FortniteXMayhem.
Read more about #FortniteXMayhem here.
On 31 August and 1 September, Fortnite fans at the Melbourne Esports Open had the opportunity to compete for a share of $15,000 AUD in Fortnite Open Tournaments which ran across the weekend! Some lucky fans also played in the Charity Showmatch with their favourite creators from ANZ!
Congratulations to all the winners!
The Junk Rift is a throwable item that breaks on contact and spawns a large object (such as the dinosaur in the video above) in the sky that plummets to the ground. It's great for quickly destroying structures!
Expect more items that shake up Fortnite's gameplay as Season X continues!
Read more about the Junk Rift here.
Throughout August, some of the creative modes featured in the Fortnite World Cup were playable as Limited Time Modes (LTMs).
Sky Station Showdown (2535-1148-3971) requires squads to capture zones to score points, utilising Infinity Blades to fend off other squads.
Junkyard Juke (1113-6823-4725) is a prop hunt variant that sees teams turning into pieces of junk and sneaking to the incinerator in the middle of the map to score points while one team hunts for them.
World Run (3229-4676-3571) is a death run map featuring eight lanes. Duos have to be the first team to collect 30 coins!
All of these maps are playable for all players through Creative mode!
Read more about the LTMs here.