Books
Published on July 1st, 2015 | by Andrew Bistak
Forgotten Ways for Modern Days Book Review
Summary: Forgotten Ways for Modern Days is truly an amazing tome of information in leading a more natural life with knowledge from yesterday
4.5
Alchemy for beginners!
Written by Rachelle Blondel, Forgotten Ways for Modern Days is an insightful and very useful book about kitchen cures and household lore for a natural home and garden that uses the tools of yesterday for today. Each recipe in the book contains a blurb about the intended product, what ingredients you need and then a step by step instruction guide in creating it.
Forgotten Ways for Modern Days also contains a forward by writer, blogger and artist Tif Fussell (Footie Angel) who briefly discusses the wisdom passed down through the ages and how with Rachelle's knowledge, she has revitalised these forgotten days of yesterday. As this books channels the knowledge of our ancestors, Blondel does an excellent job at collating this information into a very easy to understand guide of creating a plethora of remedies, creations and tools to assist with modern living such as keeping our kitchens cleaned, revitalising our health or even looking better.
The book itself is split into seven different and insightful sections that include Cleaning, Laundry, Kitchen, Around the House, In the Garden, Natural Health and Natural Beauty. So depending on what you're after, it's quite easy to find a solution. For example, recipes include things like Beeswax Furniture Polish, Household Stain Powder, how to make a Market Day Tote Bag, Homemade Paint, Nettle & Chamomile Hair Rinse and even Homemade Apple Cider Vinegar.
Without giving away too much, the book also gives the reader some useful advice like what to do with eggshells. Amazingly, eggshells help clean glass, prevents slugs from eating your plants, is used to make calcium supplements and even helps seeds grow faster. If you want to find something really fast, the index easily allows you to hunt down those powerful formulas like using vinegar to not only clean your dog but even kill weeds and best of all, everything is natural!
Final Thoughts?
Rachelle Blondel should be commended on compiling such an informative book about the forgotten ways of yesterday as she discloses some amazing information that only our grandmothers knew. More importantly, it's very easy to follow, instructions are quite concise and everything that is made from this book is safe for not just us but our pets, home and the environment.
Recommended!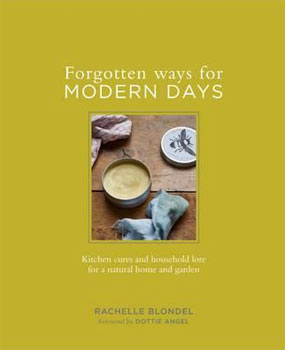 Format: Hardcover
Genre: Home / Lifestyle
Language: English
Number Of Pages: 176
Available: 1st July 2015
Price: $29.99AUD
Reviewer: Andrew Bistak