Events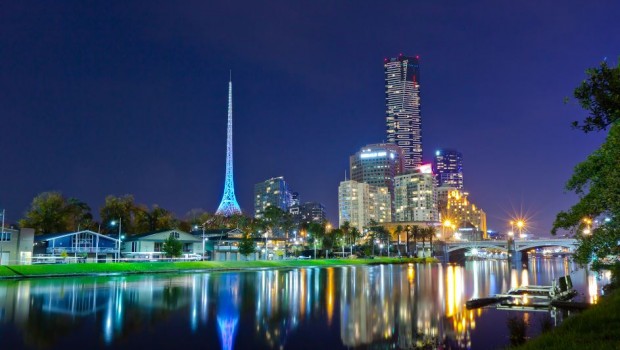 Published on October 17th, 2016 | by Admin
Forecast predicts a hot and steamy Midsumma at Arts Centre Melbourne
MELBOURNE, MONDAY 17 OCTOBER 2016 – From international queer royalty to Melbourne's most wanted, Arts Centre Melbourne has assembled a Midsumma line-up to frock up and wig out to in 2017.
Over three weeks from mid-January, catch some of the world's most notorious and outrageous performers – a rogue troupe of notorious misfits and glorious wits who will be setting up camp throughout the venue.
Prepare for salacious showstoppers and filthy laughs, showcasing performers who will defy the expectations of even the most jaded. Catch the cream of London's cabaret club scene: Nigerian-born baritone Le Gateau Chocolat and alt-drag megastar Jonny Woo team up for a two-handed love letter to musical theatre, while cult diva Ursula Martinez bares her soul and more in a new show as acclaimed as it is fearless. Be bowled over as Ireland's accidental national treasure, drag queen Panti Bliss teaches Australia a thing or two about marriage equality.
Thomas Jaspers will also be running his now infamous Rhonda Butchmore tours throughout the duration of the festival and Dolly Diamond will take up residency in the official festival hub, The (Piano) Barre, with guest appearances every Monday evening.
Brace yourself – Midsumma is coming, with a line-up including:
A Night at the Musicals starring Le Gateau Chocolat and Jonny Woo: Fairfax Studio, 17 –22 January 2017
A Night at the Musicals sees UK drag icon Jonny Woo teaming up with Olivier-winning star of La Clique and La Soirée, Le Gateau Chocolat, for an evening of unadulterated musical theatre nonsense.
A Night at the Musicals is a tortured love letter to the glorious genre of musical theatre. From Les Mis to The Lion King, Cabaret to Annie… no musical is safe!
"A sensational display of glitzy self-expression with A-class wit" – In-Daily
Finucane & Smith's Glory Box: Lucky 13: Fairfax Studio, 24 – 29 January 2017
Finucane & Smith's Glory Box: Lucky 13 is a melting pot of cabaret, dance and transcendent glamour – an explosive variety show sure to entertain.
Dice-rolling divas, ace-in-the-hole aerialists, pokerfaced prima donnas and backroom ballerinas take to Arts Centre Melbourne's Fairfax stage in this rock'n'roll Russian roulette, all lead by Melbourne's own unquenchable Queen of Hearts, Moira Finucane – returning to Melbourne after dazzling the world – and produced by renowned international cabaret and theatre provocateurs Finucane & Smith.
Take a gamble on the glamazons that have been wowing 'em worldwide for thirteen years. At Glory Box: Lucky 13 everyone's a winner, baby.
"Jaw dropping, feisty, seductive, dynamic… Unmissable" ★★★★★ – Edinburgh Guide
Ash Flanders: Playing to Win: Fairfax Studio, 27 – 29 January 2017
Following a highly successful 2015 Melbourne Cabaret Festival season, Ash Flanders' Playing to Win returns with an updated exorcism of shame from the Green Room Award winning team that brought you Special Victim (Ash Flanders, director Stephen Nicolazzo and musical director David Barclay).
With his band at the ready, whimsical nuisance Flanders (Lilith: The Jungle Girl, Meme Girls, co-founder of Sisters Grimm) dares you to step into the ring with him, as he blends together a darkly funny mix of song and story, pop culture and personal tragedy.
"Ash Flanders can do anything… see him before he really is too famous for a small room" ★★★★ – The Age
Ursula Martinez: Free Admission: Fairfax Studio, 31 January – 5 February 2017
First-rate provocateur Ursula Martinez is back on her dirty soapbox for Midsumma, baring her soul (and possibly more) in Free Admission, which sees her building a real brick wall between herself and the audience, armed with side-splitting zingers and brain-bending truths.
An original cast member of circus-cabaret phenomena La Soirée, Ursula is an Olivier Award winning performer most famous for subverting the striptease in her outrageous magic striptease act 'Hanky Panky'.
Join Ursula Martinez for a truly unique performance as she simultaneously reveals more, and yet less, of herself.
"…Funny, tongue-in-cheek, heartfelt and emotional" ★★★★ – The Guardian
Panti: High Heels in Low Places: Fairfax Studio, 2 – 4 February 2017
Panti Bliss, the gender-discombobulating Queen of Ireland, will hilariously and poignantly, trace her journey from small-town boy to the national treasure she is today in High Heels in Low Places.
Here she exposes the stories behind the make-up – from performance giant to the accidental activist she became after her speech about homophobia went viral around the world, caused a parliamentary meltdown, was remixed by Pet Shop Boys and fed into Ireland's marriage equality referendum success.
"A wise, hilarious, foul-mouthed jolt to the system" ★★★★ – Time Out
Tickets on sale from Monday 17 October at www.artscentremelbourne.com.au.
For more information about Arts Centre Melbourne visit artscentremelbourne.com.au or phone 1300 182 183. Become a fan of Arts Centre Melbourne on Facebook or follow @artscentremelb on Twitter or @artscentremelbourne on Instagram.