Films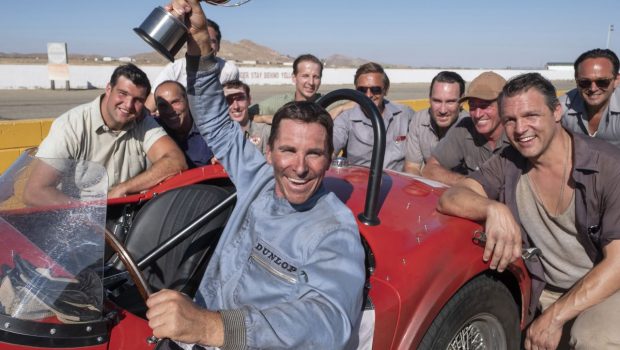 Published on November 20th, 2019 | by Tim Chuma
Ford v Ferrari Film Review (2019)
Summary: The battle of Ford vs. Ferrari told from the perspective of the two men who helped win the race for Ford. Matt Damon gets set on fire.
In quite the dramatic opening set during the 1959 Le Mans 24 hour Race Caroll Shelby (MATT DAMON!)  gets set on fire, but still goes on to win the race. This was to be his last race as he is diagnosed with a heart condition.
Wanting to increase sales and in typical American arrogance the Ford motor company tries to buy out Ferrari but is turned down cold. Enzo Ferrari also insult Henry Ford II by saying "You are not Henry Ford, you are Henry Ford II" so it becomes a dick size war.
It was interesting that they would leave in the scenes that would make a major corporation look bad. The whole "art vs commerce" thing comes up several times with the toadying executives at Ford laughing "we spend more on toilet paper" about Ferrari's product showing that they do not understand the philosophy behind the company they are trying to take on at all.
Shelby and his racing driver Ken Miles (Christian Bale) are shown racing together, but Miles is so difficult to work with it costs them a racing team deal. I did enjoy the scene when the wrench gets thrown and smashes the windscreen.
My favourite character in the movie is Ken's partner Mollie (Caitriona Balfe) who acts like a normal person amongst all this bravado. She actually scares Ken with her driving when she gets upset that he is pretending he doesn't want to drive when he does. Also the scene when she gets out a folding chair to watch Ken and Shelby have a wrestle on the lawn and offers them a Coke after they have finished.
What makes this movie different to a lot of more recent films is that you can tell they actually went out and filmed on real life tracks with real cars. Although not the original cars as they are now museum pieces worth millions of dollars and not the actual Le Mans circuit as it is different these days. The grand stands at the track were built on a track and all the original signage matched up to what was at the race.
Steve McQueen does get a mention in this movie but it is different to the 1971 movie where they filmed at the actual race with him playing a driver. I did like the earlier scenes of Ken yelling out to the drivers that he is going to pass them. He always seems to be with a mug of tea in his hand when he is not racing. Not too sure about the need for the British quips "you dirty stopout!" to prove his nationality but it was enjoyable. There were several New Zealand drivers in those races but they seem more Australian for some reason?
The 1964 Le Mans is not mentioned at all and the 1965 happens off screen although it was a pretty interesting race by all accounts. It was one of the first races to have live satellite coverage but the vision failed so it was back to audio only.
Although the events of the 1966 race are dramatized, you can still see pretty much how it happened.  Teams often arrange what order their drivers are to finish in so it is not as big as they make out in the movie. Even the most rock star drivers still have to have an actual team to race with so it is not anything special that Ken changes his mind and decides to follow orders for once.
There are several books and a documentary on the races around this period if you want to dig further. I would recommend this movie even if you are not that big into racing and are just a fan of the actors involved as it is a great story.
Film Details
Director: James Mangold
Starring: Matt Damon, Christian Bale, Caitriona Balfe, Tracy Letts, Remo Girone, Josh Lucas