Films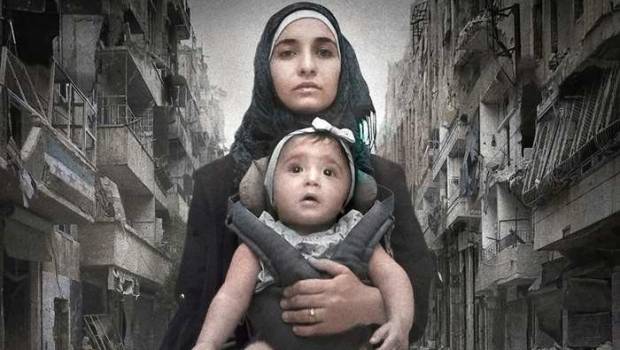 Published on February 16th, 2020 | by Damien Straker
For Sama – Film Review
Reviewed by Damien Straker on the 16th of February 2020
Umbrella Entertainment by Waad Al-Kateab and Edward Watts
Produced by Waad Al-Kateab
Starring Waad Al-Kateab, Hamza Al-Kateab, and Sama Al-Kateab
Music by Nainita Desai
Cinematography Waad Al-Kateab
Edited by Chloe Lambourne and Simon McMahon
Rating: MA15+
Running Time: 85 minutes
Release Date: the 6th of February 2020
For Sama was nominated at this year's Oscars for Best Documentary Feature but lost to the excellent film American Factory. However, it was not nominated for Best Cinematography. This is a strange omission because For Sama contains some of the most confronting and immediate photography in modern film history. Its raw, dizzying camerawork is a result of being mostly filmed on handheld devices by Waad Al-Kateab. She is the film's co-director and the major subject of this Syrian-set documentary. According to one of her Youtube videos, she used her phone because it was illegal to film with a regular camera and a phone made it easier for her to edit and post content online.
English filmmaker Edward Watts shares directing credits with Al-Kateab on this extremely confronting but essential film. It is comprised of five years of Al-Kateab's life in the city of Aleppo. The power and intimacy of its sound and imagery is terribly moving. It is a pivotal historical document that resists probing the country's politics and the suppression by Bashar al-Assad, Islamic fighters, and the Russian military. Instead, it is a ground-level exposé of ordinary people becoming victims of war. It takes place from 2011 through to The Battle of Aleppo, which was fought from 2012–2016.
The story of Waad Al-Kateab's life opens during a distressing moment where she is filming herself frantically leaving a building. It is under fire from a bombing raid. She races between corridors and different rooms looking for her baby girl, Sama, who she left with one of the residents. Immediately, the authenticity and verisimilitude of the documentary surpasses the artifice of cinematic fiction. The stakes and the emotion are amplified because we know that real lives are under threat.
Fortunately, she finds Sama and in reverse we learn how she fell in love with a doctor, Hamza Al-Kateab, and became pregnant with their child. The film is told from a combination of Al-Kateab's mobile phone, a handheld camera, and from drones she borrowed. Over five-hundred hours of footage was smuggled out of Syria and then she spent another two years with Watts editing the footage.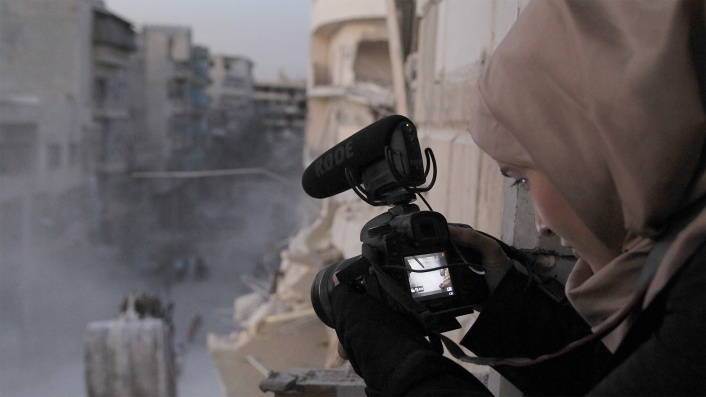 The arrangement of the content humanises the terrible moral dilemmas the couple confronted together. To stay in Aleppo meant facing the likelihood of death, particularly when hospitals were attacked and destroyed by shelling. However, leaving when Hamza could treat people and Al-Kateab could continue documenting the atrocities for the world to see was, in their eyes, cowardly.
For Sama contains some of the most distressing content in any recent film. The story's visual language oscillates between images of intimacy and danger. One of the most incredible sights is a long shot where Al-Kateab photographs the sky as bombs spiral towards the city. The sounds of the shells dropping is deafening and particularly chilling. Occasionally, there are scenes of warmth, such as when we see children in the area painting a bus together. Yet it is upsetting when small children can identify weapons, including cluster bombs. It is incomprehensible how it has become a staple of their everyday lives.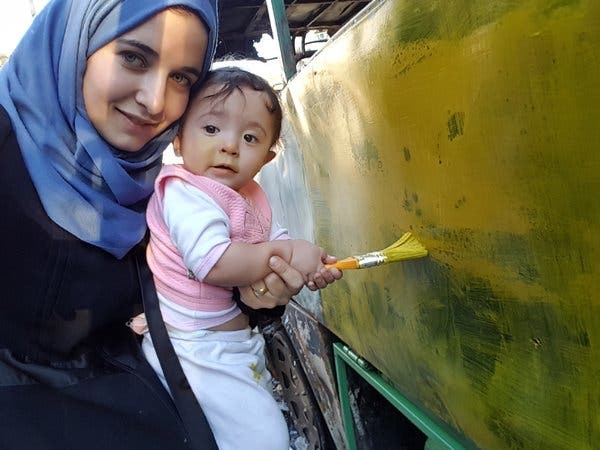 It is confronting when Al-Kateab's camera peers inside hospital rooms overflowing with injuries from the bombings. Nothing prepares you for the intimacy of one of the film's most difficult and intense scenes. In this particularly gutting moment, a pregnant woman is rushed inside after being wounded. The doctors perform an emergency caesarean operation on her. When they remove the baby, it is not breathing, and its skin is blue. What happens next is so remarkable it drew an audible response from the audience. It is unforgettable because the moment is real, and life and death are precariously staged.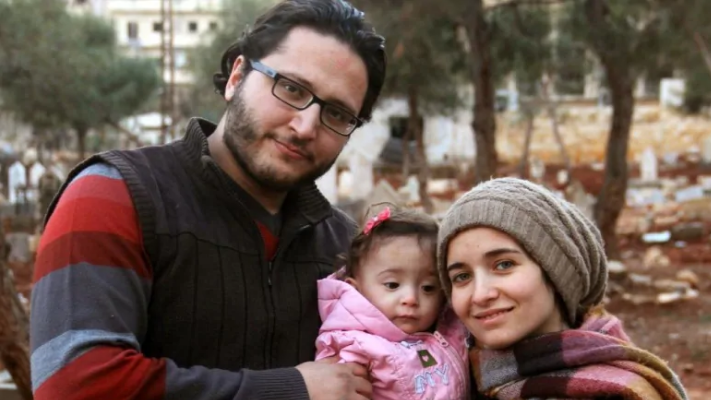 As expected, there is precious little levity abound, which illustrates the bleakness within the city. The lightest the film becomes is when a blast ruins Hamza's garden and he grumbles, 'bloody Assad!' In another moment the older men talk about Assad's long neck and quip that it is like a giraffe and will grant him a long life. It is also quietly humorous when some men counter a power outage in their building by using a discarded weapon as a heater because it is still warm. Yet For Sama is mostly a terribly sad display brimming with physical and internalised pain. At one point, Al-Kateab's narration begrudges bringing a child into this conflict and says she hopes she will earn forgiveness.
In For Sama it is mentioned that 'there is no time to grieve in Aleppo'. This is what makes the film unquestionably powerful. Each day the people living there are forced to work and raise their children while bombs drop around them and they become spectators of death. It is a modern tragedy seeing people desensitised to the carnage, including children, while they are obliged to live out their ordinary lives. Seeing and hearing their day-to-day experiences firsthand makes for distressing cinema. It is also an essential documentation of what is happening to other people in the world who are just like us, but through no fault of their own are forced into the most terrifying and impossible circumstances.
Summary: It is an essential documentation of what is happening to other people in the world who are just like us, but through no fault of their own are forced into the most terrifying and impossible circumstances.