Games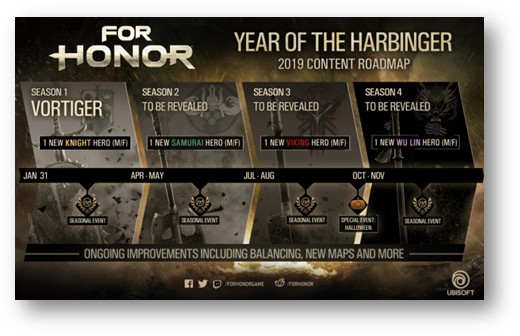 Published on December 19th, 2018 | by Admin
FOR HONOR Announces Year Three, Year Of The Harbinger
SYDNEY, Australia — December 19, 2018 — Ubisoft has announced that For Honor® will continue its momentum with a third year of content, including four seasonal updates themed around the Year of the Harbinger. The content roadmap for the upcoming year includes four new Heroes, new maps, regular gameplay balance updates as well as several seasonal in-game events offering players new ways to enjoy For Honor. The Year of the Harbinger will officially kick off on January 31 with the new Season, Vortiger, which will introduce a new yet-to-be announced Knight Hero as well as a new map. Further details about Year 3 content will be unveiled progressively throughout 2019, including seasonal events.
For players looking to enhance their For Honor experience, purchasing the For Honor Year 3 Pass gives owners instant access to each new hero with seven days early access exclusivity. For all other For Honor players, heroes will be available to be unlocked after the seven days of early access by using in-game Steel, with each Hero valued at 15,000 Steel. The Year 3 Pass also offers the following content that is unlocked at purchase: five Scavenger Crates, 30 days of Champion Status, and a special "Thunderbolt and Frightening effect" that can be applied on all Heroes.
Newcomers willing to experience everything For Honor has to offer can purchase the For Honor Complete Edition, which includes the base game, the Year 1 Heroes Bundle, the Marching Fire Expansion and the upcoming Year 3 Pass. Both the Year 3 Pass and For Honor Complete Edition are available on PlayStation®4 computer entertainment system, the Xbox One family of devices and Windows PC starting today.
For Honor enters Year 3 coming off a strong second year, which has seen the game reach the 15 million players' milestone following the introduction of dedicated servers, the release of its biggest content update to date in For Honor: Marching Fire as well as several key updates driven by community feedback. With a roster of 22 Heroes including the recently launched Wu Lin Heroes, as well as seven multiplayer modes, a story campaign and an unlimited PvE mode for Marching Fire owners, For Honor offers a variety of content for those looking to storm the battlefield.
Developed by Ubisoft Montreal in collaboration with other Ubisoft studios,* For Honor offers an engaging campaign and thrilling multiplayer modes. Players embody warriors of the three great factions – the bold Knights, the brutal Vikings, the deadly Samurai and the fearsome Wu Lin – fighting to the death on intense and believable melee battlefields. The Art of Battle, the game's innovative combat system that puts players in total control of their warriors, allows them to utilize the unique skills and combat style of each Hero to vanquish all enemies who stand in their way.
For more information about For Honor, please visit forhonorgame.com and follow us on Facebook at facebook.com/forhonorgame and on Twitter at twitter.com/forhonorgame.