Games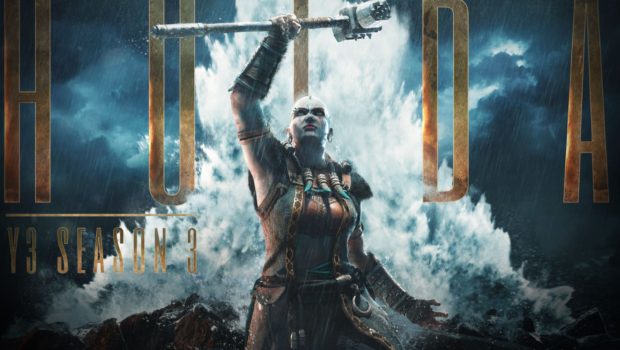 Published on July 24th, 2019 | by Admin
For Honor® Announces Year 3 Season 3: Hulda, With The New Hero, "Jormungandr"
Today, Ubisoft announced that the Jormungandr, a new feral warrior, will be joining the Viking Faction of For Honor® with the launch of Year 3, Season 3: Hulda for PlayStation®4 computer entertainment system, the Xbox One family of devices and Windows PC. Owners of the Year 3 pass will be immediately able to play as the Jormungandr starting August 1 at 12pm PT, while all other players can gain access to the new Hero on August 8 at 11am PT for 15,000 Steel.
The Jormungandr are Viking sectarians who wear their devotion to the Great Serpent, after whom they are named, on their scarred bodies. Led by Hulda or Gretar, respectively the female and male version of the New Hero, the Jormungandr aims at crushing the weak before Ragnarok comes, as they believe only the most worthy must remain for the Great Battle. Wielding their mighty War Hamarr during fights, they cull their opponents with their powerful attacks.
All players will have the chance to wield their weapons on a new Breach map, the Viking fortress of Storr Stronghold, included in the upcoming Season. Following in the footsteps of previous gameplay updates, Year 3 Season 3 will also further balance the roster with new Hero updates to the Nobushi, Shinobi, Orochi, and many other Heroes.
To get an exclusive first look at Year 3 Season 3, tune in on the special Warrior's Den livestream on Thursday, July 25 at 9am PT, on the For Honor Twitch channel at https://www.twitch.tv/forhonorgame.
For those looking to receive seven days of exclusive access to new Year 3 Heroes at the time of their launch, along with other additional rewards, the Year 3 Pass is now available and is included in the For Honor Complete Edition.
For Honor will also be available on Uplay+, Ubisoft's subscription service for Windows PC. More details on Uplay+ can be found at Uplay.com*.
Developed by Ubisoft Montreal in collaboration with other Ubisoft studios,* For Honor offers an engaging campaign and thrilling multiplayer modes. Players embody warriors of the four great factions – the bold Knights, the brutal Vikings, the deadly Samurai and the fearsome Wu Lin – fighting to the death on intense and believable melee battlefields. The Art of Battle, the game's innovative combat system that puts players in total control of their warriors, allows them to utilize the unique skills and combat style of each Hero to vanquish all enemies who stand in their way.
For more information about For Honor, please visit forhonorgame.com and follow us on Facebook at facebook.com/forhonorgame and on Twitter at twitter.com/forhonorgame.
For the latest about For Honor and other Ubisoft games, please visit news.ubisoft.com.
*Terms and conditions apply, including platform, age and territorial restrictions.