Films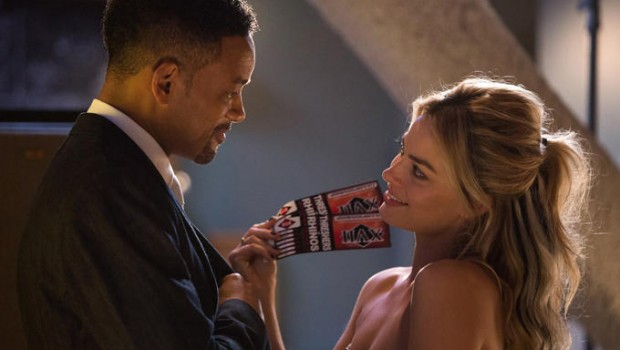 Published on March 4th, 2015 | by Curtis Mayfield
Focus – Film Review
Reviewed by Curtis Mayfield M-H on February 19th, 2015
Roadshow Films presents a film by Glenn Ficarra and John Requa
Written by Glenn Ficarra and John Requa
Produced by Denise Di Novi
Starring: Will Smith, Margot Robbie, Rodrigo Santoro and Adrian Martinez
Music by Nick Urata
Cinematography: Xavier Pérez Grobet
Edited by Jan Kovac
Running Time: 104 minutes
Rating: MA15+
Release Date: March 5th, 2015
The pressure is on. The showbiz weight is falling down on not only the characters of the film Focus but also on its two main actors. The two leading players in this film may be at polar opposites of their respective careers but both are feeling the heat to keep up with Hollywood standards at the moment. Will Smith, 46 years old, has been floundering with his choice of sci-fi roles for the last 7 or so years. Though his talent has not been diminished one bit over his career, his selection in movie roles can be questioned. Then there's Australian actress Margot Robbie, 24. She's a newbie to Hollywood with her breakout performance in last year's The Wolf of Wall Street. She has a long way to go before becoming a household name but seems to be on the right path. The fictional burdens their characters are feeling are another thing all together. In Focus, Smith plays Nicky, a suave con man that has a silver tongue and is amazingly dressed (but then again how else are movie conmen supposed to appear right?). Right off the bat Nicky meets saucy Jess (Robbie), who uses her sweetness to catch flies and take them for all they're worth. These two are meant for each other right? End of story and roll credits. Well not quite. See the thing about a movie that's filled with con artists is that nobody can be trusted. What seems like the end of the film at around the 40-minute mark turns into a betrayal with Jess crying tears and Nicky leaving her behind…for no clear reason. But the question is: can co-writers and directors Glenn Ficarra and John Requa be relied upon with our time and money? The answer is kind of.
What we're given with Focus is a slick story that's well polished and over the top. What we're not given is a cast of likeable characters. It's extremely difficult to root for two gorgeous creatures that not only rip off the very (very!) rich but also everyday people. Nothing is sacred to Nicky or his crew of 20 or so con men and women who work shifts stealing everything from wallets to camera lenses (yep) to rings from people in crowded areas. By this point things have become a lot less sleek and sexy and a whole lot more slimy when watching these people. Smith is of course his charming self. So much so that it looks like he was on autopilot the whole way through this movie. The guy has been playing the fast talking player since the 90s but can we get some variety please Fresh Prince? Robbie plays her part convincingly enough but the two lack any real chemistry that this script demands. There are jokes and clever banter sprinkled throughout the screenplay but Smith and Robbie seem to miss every mark. The only people who show the gift of humour are Adrian Martinez and (surprisingly) BD Wong, though these two do not share any scenes together. It's a shame the directors couldn't drum up the same allure between Smith and Robbie like they did with previous actors on past gems like Crazy, Stupid, Love.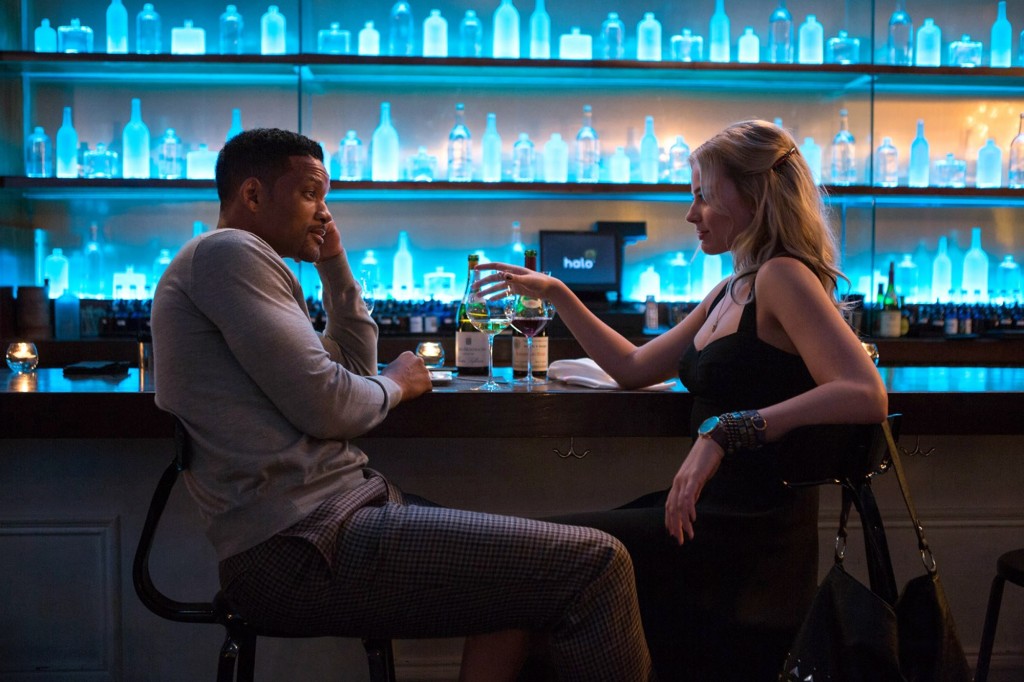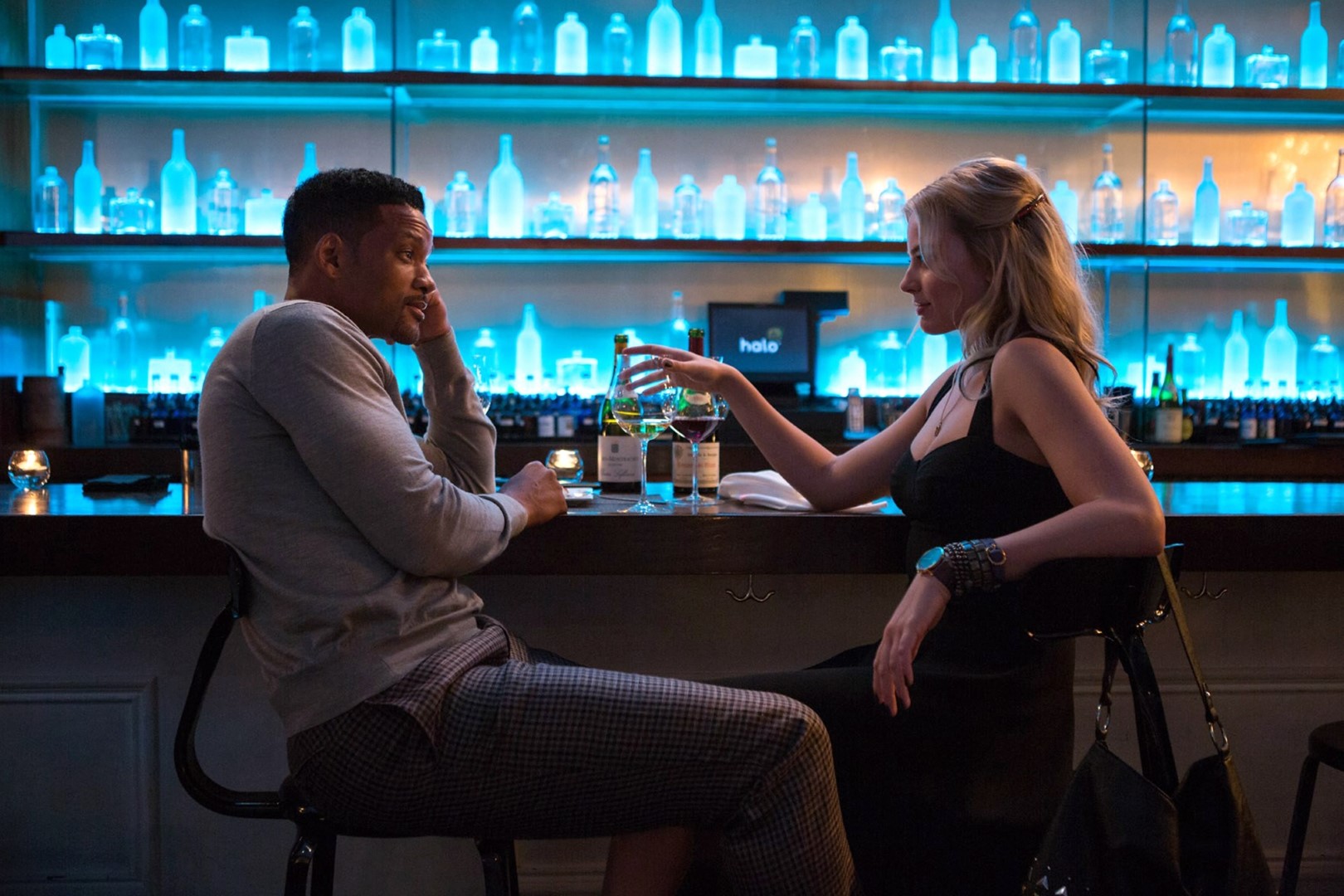 In fact the most interesting scene doesn't concentrate on any of the main actors too heavily. The scene that deserves the most attention has a hired goon wearing a neck brace and mouth guard intentionally crashing his car into another. The scene is built upon perfectly while the psychedelic song "White Bird" by Beautiful Day is playing. This is the very hard to find gem in this movie. Of course the plot isn't all about ripping off the little people. Like all heist/con movies there is always the big pay off; the one where the main characters make enough money to run off to a tropical island and live out their days. This is where the story jumps three years and we're introduced to the uber rich Garriga (Rodrigo Santoro). He is Nicky's next target and will pay off big. Garriga is a racecar owner and Nicky promises to deliver him a formulated technology that will help his cars go faster. All Nicky has to do is steal said formula from the disgustingly Australian McEwen (Robert Taylor). All of Taylor's Aussieness doesn't exactly meld into a Hollywood film with settings like New Orleans and Buenos Aires but he still does a good job portraying Garriga's business rival. Nicky's plan is to pit these two billionaires against each other while he pretends to be working for both sides. By this point Jess is in full femme fatale mood and puts a spanner in the works. When we all come to this stage of the movie it's hard to summon any empathy for these characters let alone care about them. Again the entertainment comes from another side role. Gerald McRaney's Owens plays bodyguard to Garriga and has some of the best lines that will actually make you cheer for him more than the two dullest points of this film. Think Mike from Breaking Bad, a grizzled veteran who knows more than anyone else in the film. Perhaps a spinoff would be more successful.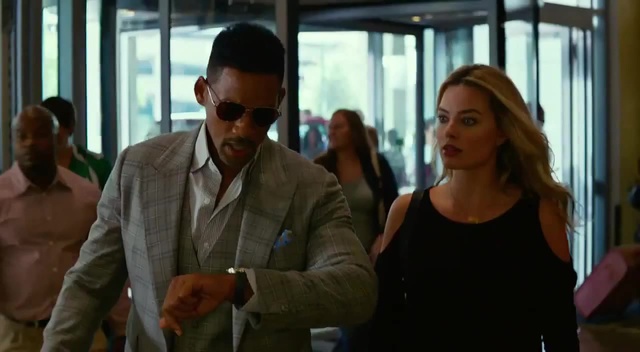 It's not all bad though with the occasional twist in the plot to keep you from falling asleep every 20 minutes thrown in with some interesting side characters. It's just a sad sight to see the once great Will Smith choose dud after dud though. The film does show that Margot Robbie can stand on her own two while sparring with Hollywood's best. She just has to prove her potential first by getting a chance to take on a role with more meat on it. Focus is an uncharismatic film that talks at the viewers in a fast and cocky way. By the end of it you'll probably feel conned out of your time and money.
Summary: By the end of it you'll probably feel conned out of your time and money.