Films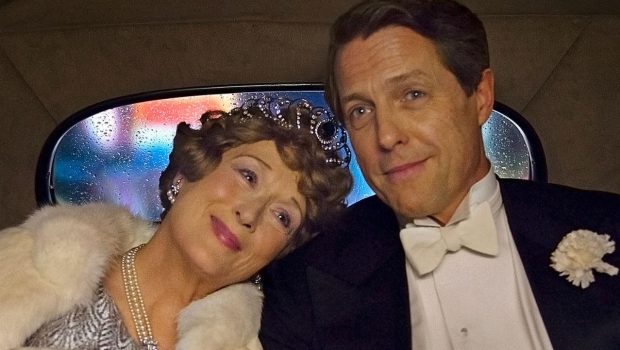 Published on May 8th, 2016 | by Damien Straker
Florence Foster Jenkins – Film Review
Reviewed by Damien Straker on the 8th of May 2016
eOne presents a film by Stephen Frears
Produced by Michael Kuhn and Tracey Seaward
Written by Nicholas Martin
Starring: Meryl Streep, Hugh Grant, Simon Helberg, Rebecca Ferguson and Nina Arianda
Music by Alexandre Desplat
Cinematography Danny Cohen
Edited by Valerio Bonelli
Rating: PG
Running Time: 110 minutes
Release Date: the 5th of May 2016
There are two irreversible points that make Florence Foster Jenkins a failure. The major drawback is that Florence is trailing the French comedy-drama Marguerite, which is an impeccable comedy-drama heavily inspired by, ironically, the worst opera singer in history, Florence Foster Jenkins herself. The French film and this official American biopic are telling the same life story, meaning it's impossible not to compare them. But as Roger Ebert once famously said: "It's not what a film is about, but how it's about". On that note, these two films are worlds apart in their execution. Marguerite is a comic-tragic story because in-between its laugh-out-loud, eye-watering moments, its dramatic ambitions are to explore and enrich the feelings of its central character. By establishing its dramatic context first and then injecting the comedy it the scenes, it ensures we don't laugh aimlessly at a wounded character but thoroughly understand her pain. It is also economical with its storytelling, which is lacking in this film by director Stephen Frears. Casting Marguerite aside, Florence is on its own terms a misfire of style and tone. The film winks too heavily at the audience rather than letting the comedy seep into the drama. By turning the comedy dial to ten, it doesn't leave room for us to breathe, laugh and be surprised by Florence's terrible singing. Despite its big cast, it's upstaged by the French film and can't stand tall because of its own weaknesses.
Having seen Marguerite just prior to this film, much of the same plotting is echoed here, bar the sizable differences in the time periods and the settings. Florence is set in America in the 1940s, with Meryl Streep as the wealthy title character, a terrible opera singer surrounded by people who won't tell her the truth. One of her biggest supporters is her husband St Clair Bayfield (Hugh Grant) but he is also having an affair with another woman and desperate to keep his own status afloat by accompanying Florence on the stage. To help her prepare to sing for the soldiers returning home, he interviews a number of piano players. Eventually, he chooses Cosme McMoon (The Big Bang Theories' Simon Helberg), a weedy and shy pianist, who knows Florence is an awful singer but can't say anything because she's keeping him employed. While Florence is secretly everyone's joke, she's also terribly ill. She has syphilis and has lost all of her own hair. Her condition means that she and St Clair don't have a sexual relationship or even live together. Their arrangement invites him to cheat on Florence but as the ridicule from the public grows stronger, especially after the record she makes leaks, he starts to feel for his wife and shields her from discovering the humiliating truth.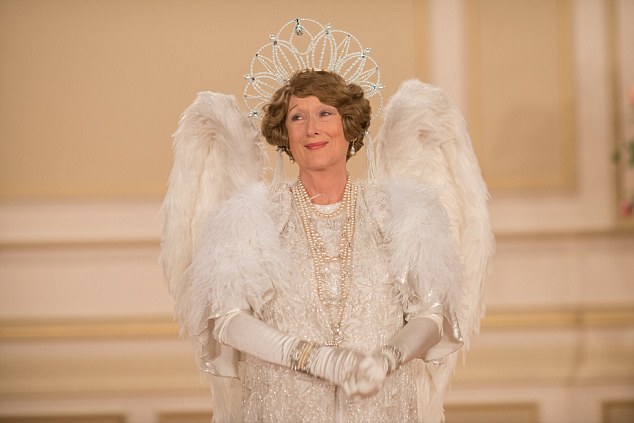 English director Stephen Frears has made strong films about important women in the past, in particular The Queen and Philomena, but Florence isn't in their league. Tonally, it's as though Frears and his actors thought that we wouldn't laugh unless this was set at the broadest pitch. None of the actors can keep a straight face, a huge staple of good comedy, including Streep, whose overwrought and hyperactive energy leaves little room for nuance or genuine feelings. Only one scene in which Florence talks about death being her companion her entire life reminds us of how talented Streep is and the wounded interior she should have brought to Florence. By allowing the performances to force the humour onto us early on, it doesn't leave room to surprise us with the excruciating noise of Florence's singing. Whereas Marguerite successfully places its comedy against highbrow French culture, this film tries to constantly nudge and bludgeon you into laughing. Despite how similar the story components are—the squeaky voice, the cheating husband, the man hired to help with her music, the concert setup, the wrath of the critics—Florence is an awfully clumsy understudy. What Marguerite packs into one early setup takes Frears multiple sequences to dramatise. Meanwhile, other pivotal story points, such as St Claire's backstory and his relationship arrangement with Florence, are lumped out in exposition-heavy dialogue so Cosme merely becomes the audience's earpiece.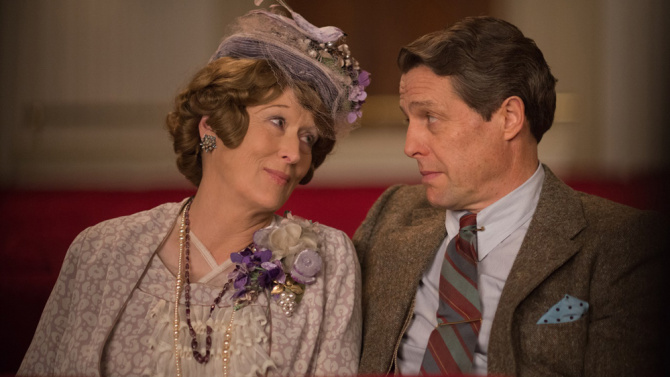 Comparing the differences in storytelling between the two films exposes how European cinema is more respectful of the audience's intelligence. In Marguerite, we see her husband having an affair with a woman and the two of them are alone together for almost the entirety of the film, which is enough to raise our dread levels. In Frears' movie, Florence comes to St Clair's house unexpectedly, forcing one of the women to hide and then try to sneak out the front door without being seen. This is a cliché situation that is robbed of humour and suspense. Likewise, it typifies how American movies over explain points of conflict rather than allowing images to resonate with us as we absorb their implications. The clichés are its supports because Florence has few surprise tunes it can play. The script gives little edge to the side characters for example, leaving a strong comedian like Simon Helberg as nothing but a nervous wreck. There's very little of the black edge, weirdness or nastiness of the characters of Marguerite. With its formal properties, it is also terribly self-conscious of own stylisation. The glossiness of the film subtracts the tension of the war period, instead giving America the appearance of a shiny comic book—a desperate reminder that the audience isn't seeing things and that this is most certainly, absolutely, underlined in red pen, a period film.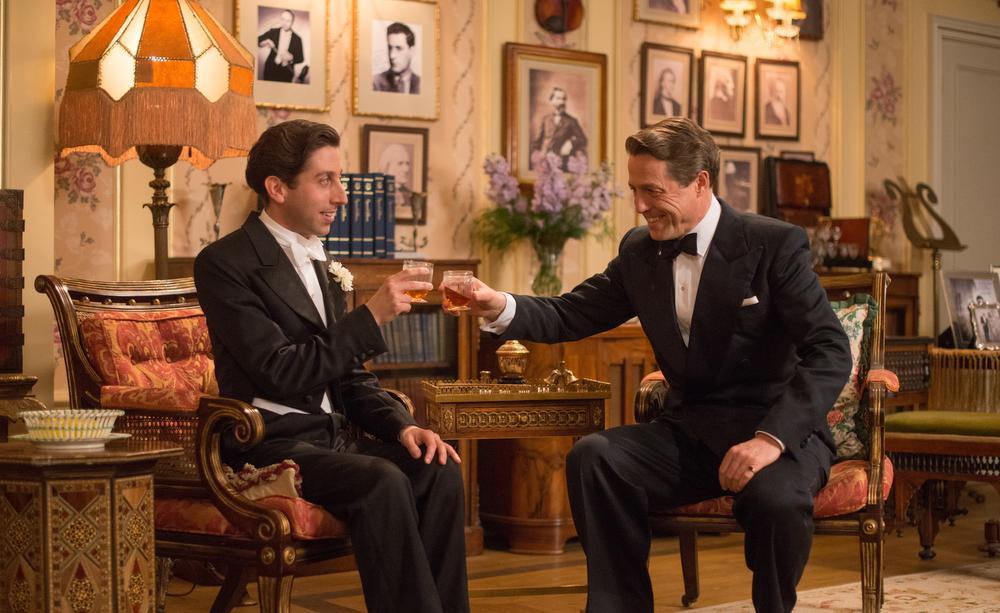 Florence Foster Jenkins is determined to shape its story into a crowd-pleaser but suffers from overexcited, uncontrolled performances and clumsy on the nose scripting. It also lacks Marguerite's serious dramatic heights that remind us that while we're laughing hysterically, we're seeing a person deeply passionate about music, who doesn't care about talent when her desire to be noticed becomes her very soul. Comparatively, this film was so determined to make me laugh that I resisted its comedy and was appalled at the watered-down treatment of a story I had already seen. After a character literally stands up in the middle of a concert, telling everyone in a thick Jersey accent to give Florence a chance, there is no clearer way the film can telegraph its generic message of "try your best, even if you are the world's worst singer". Contrastingly, Marguerite's conclusion is weird, flawed, frustrating and also far more provocative about the meaning of suffering. But even if I hadn't seen the French film, I wouldn't have enjoyed Florence because of the obviousness of the treatment and its refusal to let us think for ourselves, or even laugh without the prompts from the actors. There is one definitive version of this story and this isn't the right one.
Summary: Florence Foster Jenkins is determined to shape its story into a crowd-pleaser but suffers from overexcited, uncontrolled performances and clumsy on the nose scripting.