Games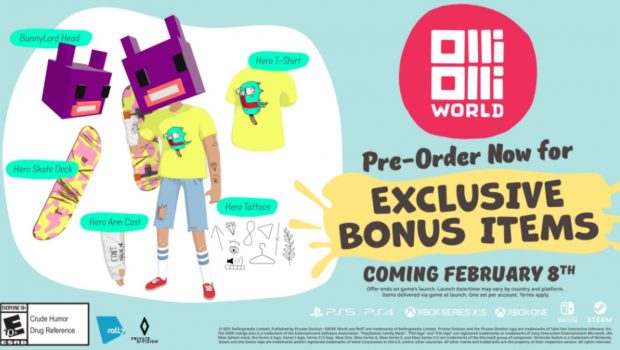 Published on December 16th, 2021 | by Adrian Gunning
Flip Through Radlandia When OlliOlli World Launches On February 8. Pre-orders Now Live
Today, Roll7 and Private Division announced that OlliOlli World, the latest in the critically-acclaimed OlliOlli series, will be released on February 8 digitally for PlayStation 5 and PlayStation 4, the Xbox Series X|S and Xbox One consoles, Nintendo Switch, and PC (via Steam). The base version of the game can be purchased for $44.95.
OlliOlli World will also feature a diverse and rich customization suite so that players can play as whoever they wish to be. Those who pre-order the game will receive the following bonus digital cosmetics:
Bunnylord Head
Hero T-Shirt
Hero Skate Deck
Hero Tattoos
Hero Arm Cast
OlliOlli World follows a cast of colorful characters through a vibrant world known as Radlandia as they flip, flow, pop, and grind on their search for mystical skate gods on a quest for Gnarvana. With its gorgeous animated 2.5D artstyle, flow-state driven gameplay, challenging side-quests, and multiple paths for players to choose, OlliOlli World is a must-play adventure for both skateboarding and platforming fans.
You can catch a glimpse of OlliOlli World by watching the new Gameplay Overview trailer here: https://www.youtube.com/watch?v=IopOsBOMF2Y
In addition to its exciting campaign mode, OlliOlli World also features two asynchronous multiplayer modes: Gnarvana League and Gnarvana Portal. Gnarvana League pits players with similar skills to compete for the highest score, earning new cosmetics for their characters the more they play. Gnarvana Portal allows players to create unique procedurally generated levels based on a selection of parameters, like style, difficulty, and length. Each creation comes with a unique postcode which can then be shared with anyone in the world enabling players to compete against each other, also cross-platform
Also announced today, OlliOlli World will receive two expansions following its release. The first, Void Riders, will release in Summer 2022 and will contain a new biome, levels, characters, as well as new gameplay and customization items. The second expansion will release in Fall 2022, and more details to come regarding these expansions in the future.
Players can also purchase OlliOlli World Rad Edition, a deluxe version of the game available for $66.95 that includes the following:
OlliOlli World base game
Both of OlliOlli World's expansions
"Close Encounter Skate Deck" digital cosmetic item
Players of the base edition will be able to buy the expansions separately.