Comics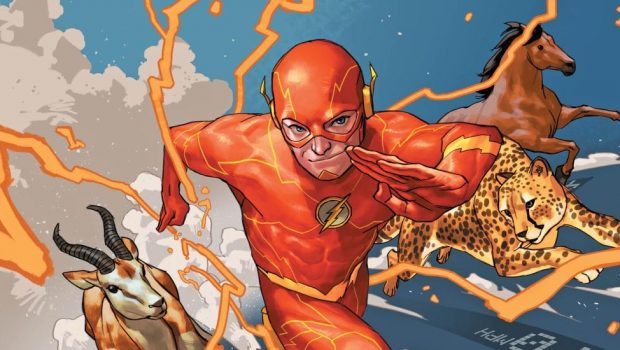 Published on September 10th, 2019 | by Matt Fischer
FLASH #77 REVIEW
Summary: The Flash is starting to lag again.
SPOILERS INHERENT IN REVIEW
Now that Barry has finally found his happy place, it's tie for the rest of the cast to seem like they are in a Zack Snyder film (and before I continue, I love Zack Snyder). Every time this comic takes two steps forward, it takes at least one back.
The Black Flash is trying to kill Steadfast but Barry interrupts him once again. In a nice little sequence, Avery, Kid Flash, and Barry play a little game of guess who's got Steadfast and gets away. While Avery and Wallace don't come right out and say they believe in Barry, they are a tad more receptive to his ideas, which means we are not going to have sit through 10 plus issues of Teen angst. Unfortunately, the users of the forces are not all that receptive. While Fuerza (strength force) is willing to help Barry, its not until Steadfast talks her into it. Barry's bad streak is going to affect these characters for a long time.
While that's not a bad thing (everybody does deserve some character development), that does give me the feeling that everybody is just going to be a flippin' jerk to him for ages and that's annoying as all get out. They go and pick up Psych who of course doesn't trust Barry. After he reads his mind and sees the Black Flash, he takes control of Steadfast's mind and has him fire on Fuerza.
The story is already starting to lag again. Let's just get the damn team together already and get to the death of the speed force.
I miss Bart.
3 out of 5.