Games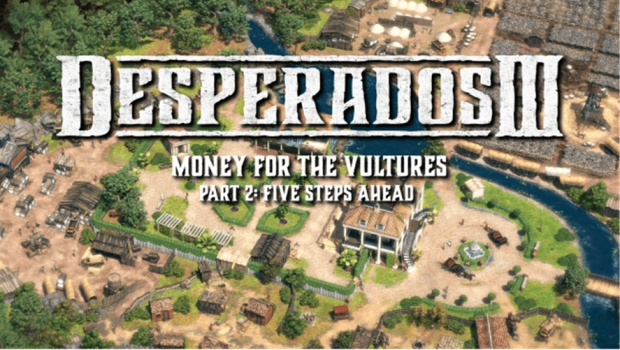 Published on October 7th, 2020 | by Adrian Gunning
Five Steps to Glory: Next Desperados III DLC adds Second New Mission
A brand new mission comes to Desperados III with the second DLC of the Desperados III Season Pass. The story continues in "Money for the Vultures Part II: Five Steps Ahead." The gang returns to Louisiana to challenge a new member of the DeVitt family. Explore a brand new location in the Bayou State, reunite with Isabelle for more Voodoo shenanigans and face off against a mastermind worthy of your talents.
The new mission comes as part of the Desperados III Season Pass and is also sold separately. The mission is available now.
Desperados III is available now on PC, Xbox One™ and PlayStation®4.
The Season Pass is available for PC and consoles, please check your preferred platform for pricing.

Check out our entire vendor's tray here: https://desperadosgame.com/#order-here

About Desperados III
Desperados III is a story-driven, hardcore tactical stealth game, set in a ruthless Wild West scenario. In this long-awaited prequel to the beloved classic Desperados: Wanted Dead or Alive, John Cooper will join forces with the runaway bride Kate, the shady hitman Doc McCoy, the giant trapper Hector, and Isabelle, a mysterious lady from New Orleans. On Cooper's quest for redemption, his adventures lead him and his gang from rural towns, over swamps and riverbanks, and finally to a dramatic showdown worthy of Wild West legends.
Play smart if you want to succeed. A good plan can make the difference between survival and finding yourself at the business end of a pistol. Combine your team's special skills to overcome each tough challenge in your own style.
Features
Play five unique characters, each with a very particular set of skills
Experience true freedom of choice with countless different ways to overcome any obstacle
Defeat large groups of enemies with careful planning and execution
Witness the glory of classic Wild West scenarios like frontier towns, mysterious swamps, sprawling modern cities, and many more
Choose between non-lethal and deadly attacks, stealth and blazing guns
Adjust the game to your playstyle with various difficulty settings and special replay challenges
The Showdown mode allows you to pause the game anytime and react to ambushes or surprise attacks
For more information on the game, please visit: https://desperadosgame.com/