Hardware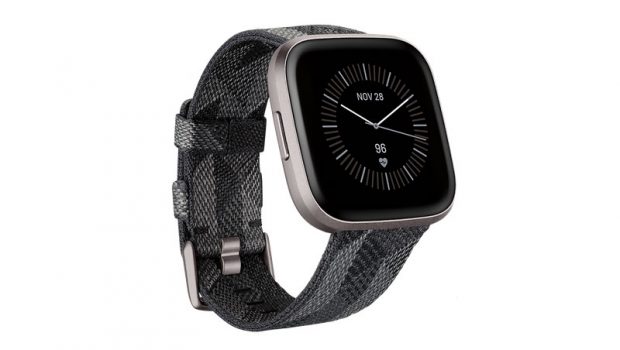 Published on October 14th, 2019 | by Lisa Marie
Fitbit Versa 2 Review
Summary: The Fitbit Versa 2 provides you with everything you need to get your health back on track plus some very useful smart watch features!
4.7
Aesthetically healthy!
Welcome to the Fitbit Versa 2 "Mark II", the second installment of this popular smart activity tracker from Fitbit! While the original Versa was an impressive device, Fitbit have fine-tuned this device to offer another great product from this company with this hybrid fitness smart watch.
Fitbit Versa 2 Special Edition Highlights
Includes the Special Edition jacquard woven band plus, an extra classic silicone band so you get two looks in one.
Get personalized health and fitness guidance with a 3-month free trial of Fitbit Premium
Use Amazon Alexa Built-in to check weather, set reminders and do more from your watch
In-app Sleep Score helps you better understand your sleep quality
Track heart rate 24/7 and see your trends over time in the Fitbit app
Control Spotify plus store & play 300+ songs
Get call, text, calendar and smartphone app notifications when your phone is nearby
With always-on more, your information's just a quick glance away during workouts
Works around the clock with 5+ day battery life. Varies with use and other factors
Make secure purchases right from your wrist using Fitbit Pay
At its heart and like its predecessor, the Fitbit Versa 2 is more smart activity tracker opposed to smart watch but it does have smartwatch capabilities and besides the excellent fitness tracking, the feature that we were most excited for was the inclusion of Alexa! That's right, you can now "Ask Alexa" on this Fitbit device.
Furthermore and compared to the original Versa, Fitbit have redefined its design on the Versa 2 and while it does look like the first instalment, there are subtle changes that at the end of the day, gives you more watch that is also faster. Given that, it's probably one of the nicest looking smart watches around and elegance definitely sums up its pleasing aesthetics.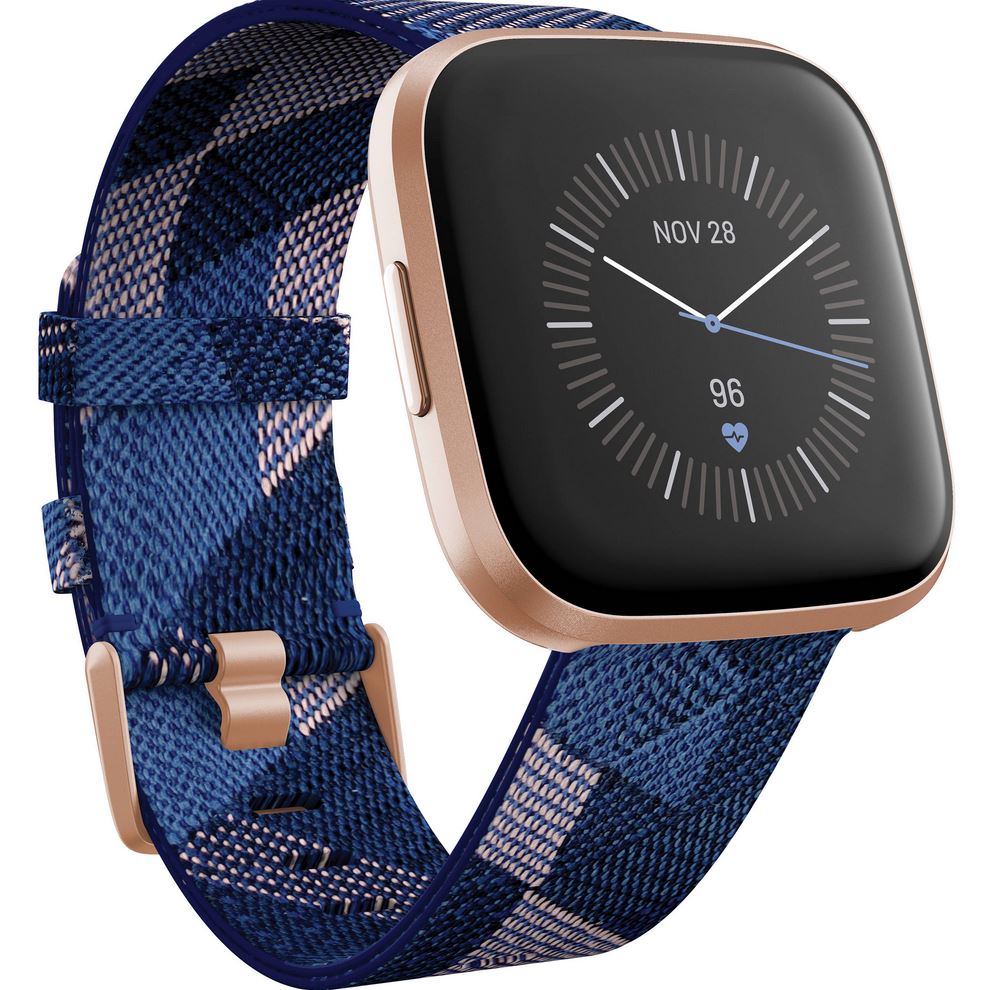 With that said, the Fitbit Versa 2 is aimed at the more fitness conscious individuals who also like style because this looks more like a classic timepiece opposed to a "geeky" smartwatch. The special edition has a different colour body (Mist Grey or Copper Rose) and comes with a woven band, opposed to the standard band that you find on the regular mode.
In terms of cost,the Fitbit Versa 2 retails for AU$329 and the special edition (reviewed) has a cost of $379. Needless to say both bands are very comfortable to wear, whether the standard or the special edition. Charging is done through the proprietary charger and all in all, it is a well-packed product from Fitbit and opening any device from this company actually feels kind of special.
Speaking of special, the special edition watch comes with a 90-day free trial of Fitbit Premium, whereas the regular Versa 2 will get you a 7-day trial. Fitbit Premium is basically your own virtual trainer which gives you greater detail into your fitness, including more choice when it comes to exercise regimes. If you have sleep issues, Fitbit Premium will look into the reasons why and give suggestions to assist with positive sleep hygiene.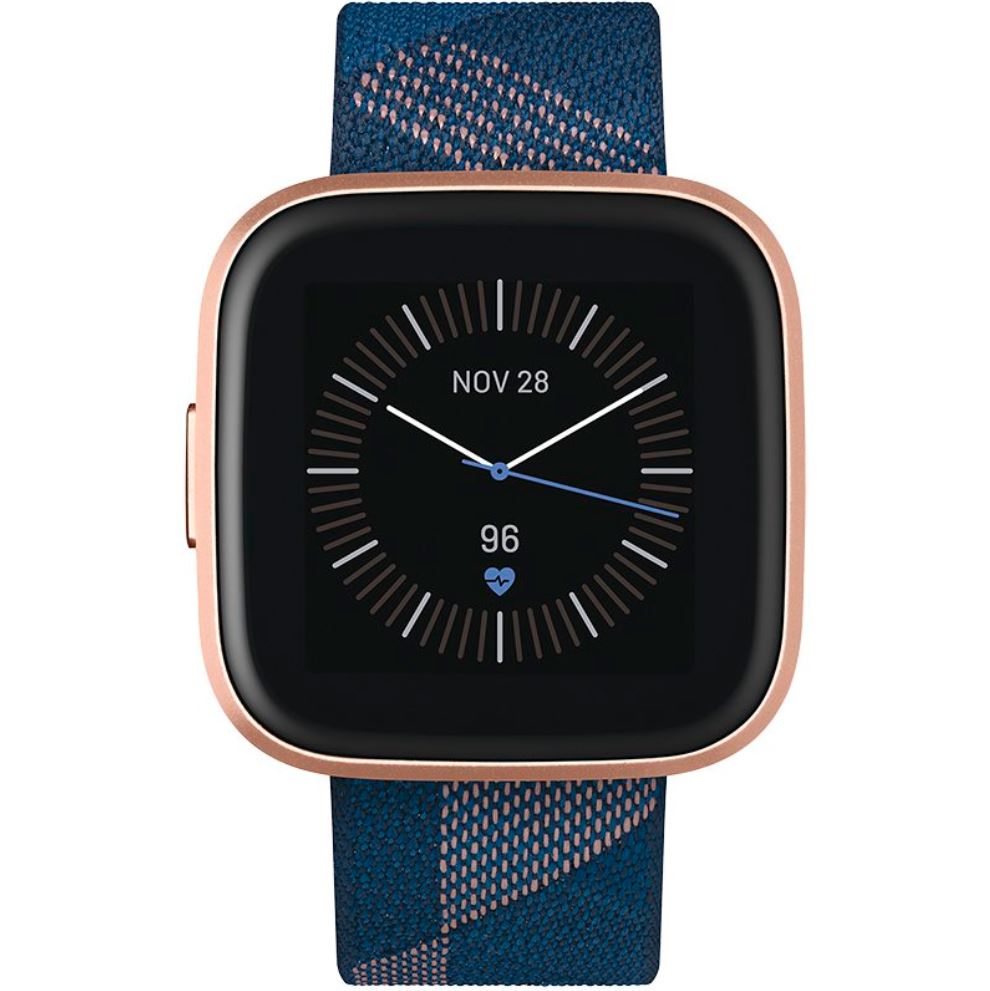 In terms of screens, the Versa 2 is superior than its predecessor which used an LCD. The Versa 2 uses a high quality AMOLED touchscreen with a resolution of 300 x 300 that is protected by Gorilla Glass 3 and looks very clear and crisp, even outside in a bright day.
While it has an always on setting, it also supports an ambient light sensor which is great when the sun start to go down. The Versa 2 also has one button opposed to 3 buttons which actually works quite well in relation to the touch screen. Needless to say, the screen is very responsive and we had no issues whatsoever in navigating this product.
Unbox Photos
Installation is a breeze, you just download the Fitbit app onto your smartphone (Android or iOS) and follow the setup wizard. The only slowdown is installing the latest update for the Versa 2 which did take a little while to download and install. However once installed, we found navigating the Versa 2 a very zippy (or fast) experience.
So before we jump into the Fitness element of the Versa 2 which it does perfectly, let's talk about some of the smart watch side. Besides smart notifications (e.g. calendar and text), you can use the watch to pay for items courtesy of Fitbit Pay plus there are useful apps such as news, sports and a wealth of other apps that can you download.
As mentioned, the biggest addition is the inclusion of Ask Alexa that is activated by holding down the button. Of course, you do need to have your smartphone in the vicinity of the Versa 2 but surprisingly it's a handy feature to have… especially if you're making a shopping list. The only downside is that Alexa won't talk to your and uses text to display its message.
Like other Fitbit devices, you can storage music on the watch itself which gives the user 2.5GB and while this is a little clunky in getting the music to the device, you can access Deezer and Pandora as well. Interestingly the Versa 2 does come with Spotify but unlike the aforementioned apps, it allows you to control the music remotely from your phone which is good if you're relaxing on the couch.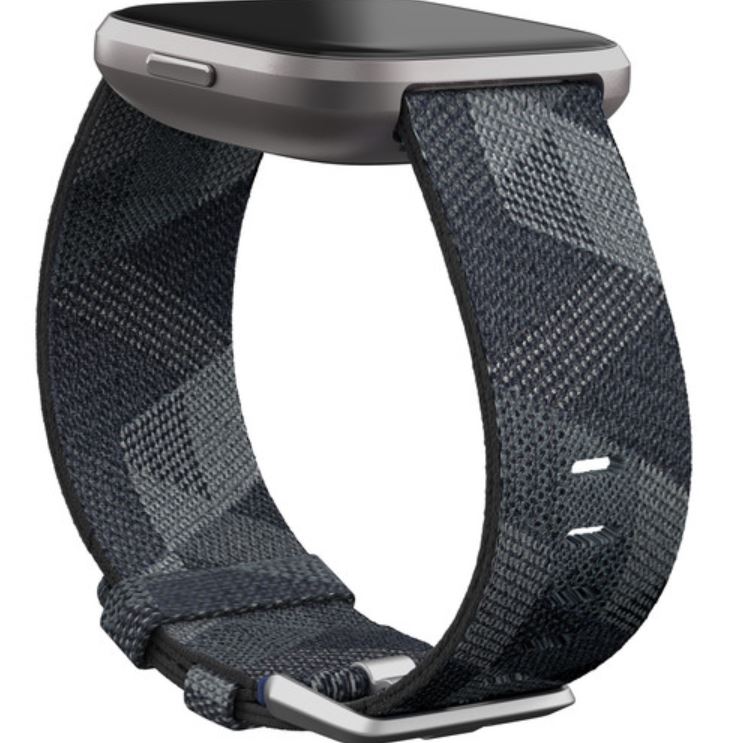 Fitness tracking is once again where the Versa 2 excels. There are 15 workouts you can choose from such as running, cycling and swimming, including the ability to customise workouts. Your heart rate monitor will be displayed, including what zone you're in such as cardio or fat burn. Your statistics can also be shared with other friends and family who own Fitbit devices and you are awarded achievements as well.
Add in on screen workouts, all-day activity tracking and you have everything you need to keep you fit, healthy and happy. A special mention should be made about the Fitbit app which is an excellent product in its own right and allows you to go into your statistics to see how you are improving, including recommendations and deeper insights into your personal health journey. The only thing that I wish they fine-tuned was the nutritional aspect that requires you to enter this through your phone… it would be great if this could be done via the Versa 2 somehow.
Adding to the healthy features of the watch is sleep tracking that does feel more accurate than the previous model and with an almost 6-day battery, it's easy to see how the Versa 2 will become part of your life.
Final Thoughts?
The Fitbit Versa 2 is a worthy successor of the original that is a well-built smart activity tracker with some very useful smart watch features such as the ability to receive notifications, the new Ask Alexa feature and of course, it's excellent fitness functionality. While it doesn't have GPS built-into the watch itself, you can still use this function through your smartphone but in the grand scheme of things, it is a moot point for most users.
Amazon Alexa Built-In
Check the weather, set timers and alarms, control your smart home devices and more with Amazon Alexa Built-in.
Fitbit Pay
Pay without your wallet and keep earning reward points by uploading your credit card and making secure purchases from your wrist.
24/7 Heart Rate Tracking
Get continuous heart rate tracking, follow trends over time & see real-time heart rate zones.
Music Experience
Control your Spotify app and add Deezer playlists—plus store and play 300+ songs on your wrist.⧫
Sleep Score
Based on your heart rate, time asleep, restlessness and breathing, this personalised score helps you better understand your sleep quality each night.
Apps
Access your favourite apps for fitness, sports, news, travel, transport and more with a simple tap.
Smartphone Notifications
See call, text or calendar notifications on screen and get push notifications from your favourite apps. Available when your phone is nearby.
Always-On Display Mode
See real-time exercise stats and check the time with just a glance—even when your hands are full. Turn off to be more discreet.
5+ Day Battery Life
With a long battery life of 5+ days, Versa 2 tracks your morning, night & everything in between.*
On-Screen Workouts
Get on-screen workouts that play on your wrist and coach you through each move.
All-Day Activity
Track steps, heart rate, distance, calories burned, floors climbed, active minutes, hourly activity and stationary time.
Swimproof & Tracks Swims
Track your pool workouts with a swimproof case that's water resistant to 50 metres.
Real-Time Pace and Distance
Learn more about your runs and hikes by connecting to your phone's GPS to see pace and distance on display, plus get a map of your route in the Fitbit app.
Bluetooth
Connect your watch to wireless Bluetooth headphones to listen to your favourite tunes—without the wires.
15+ Exercise Modes
Track specific workouts in modes like run, bike or weights to see real-time stats on screen & get post-workout summaries.
SmartTrack®
Automatically record select exercises like swimming, running, aerobic workouts and more & see your stats in the Fitbit app.
Female Health
Use your smartwatch with the Fitbit app to log your period, record symptoms & compare your cycle against other health stats like sleep, activity and weight.
Personalised Reminders
Stay on track towards your goals with personalised reminders that remind you to stay active, get hydrated, stick to a sleep schedule and more.
Sleep Tracking & Stages
See your time spent in light, deep and REM sleep stages & get tips to help you improve.
Cardio Fitness Level
Get a better understanding of your fitness level and see how you can improve over time with a personalised cardio fitness score.
Guided Breathing Sessions
Find moments of calm throughout your day with personalised breathing sessions based on your heart rate.
Customisable Clock Faces
personalise the hi-res colour touchscreen on your smartwatch by choosing from a variety of clock faces designed for any occasion.
Syncs Wirelessly
Sync stats wirelessly & automatically to computers and 200+ leading iOS and Android devices.
Accessory Bands
Change your look with classic, leather, metal and woven accessory bands.
Lightweight Design
Designed with a super-light aluminium case,

Versa 2

is comfortable enough to wear all day and night.
Dashboard
Set goals, track progress and get a more complete picture of your health and fitness – all on the Fitbit app.
Hi-Res Touchscreen
Amplified brightness up to 1,000 nits & durable screen made from Corning® Gorilla® Glass 3.