Hardware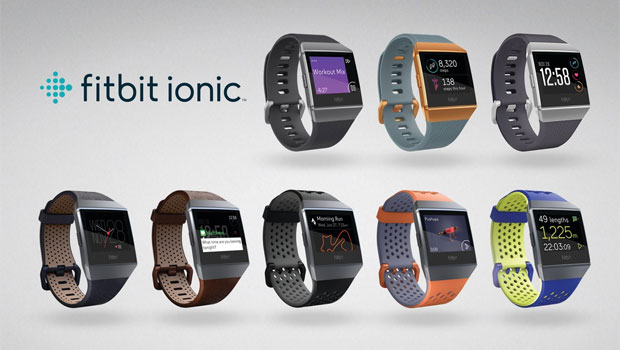 Published on November 5th, 2017 | by Andrew Bistak
Fitbit Ionic Review
Summary: Fitbit is off to a great smartwatch start with their Ionic... even though it's more fitness than smartwatch!
The Ionic is Fitbit's first smartwatch that successfully amalgamates their excellent range of fitness trackers into a fully functional smartwatch that offers a GPS, is water resistant up to 50metres and has an impressive battery life of 4+ days to name a few of the highlights. Sure, it's a little more fitness tracker than smartwatch (for now) but it's definitely a bold direction for Fitbit and I'm really eager to see how this company supports the Ionic in the coming months.
Although some have labelled the appearance of the Ionic a little too space-age or 80's Back to the Future, we actually found it quite a stylish and lightweight smartwatch at just 30 grams and more importantly is very comfortable to wear. While it's the most expensive product from Fitbit, it's unquestionably aimed at the user who wants more from their fitness trackers and it really delivers this element well.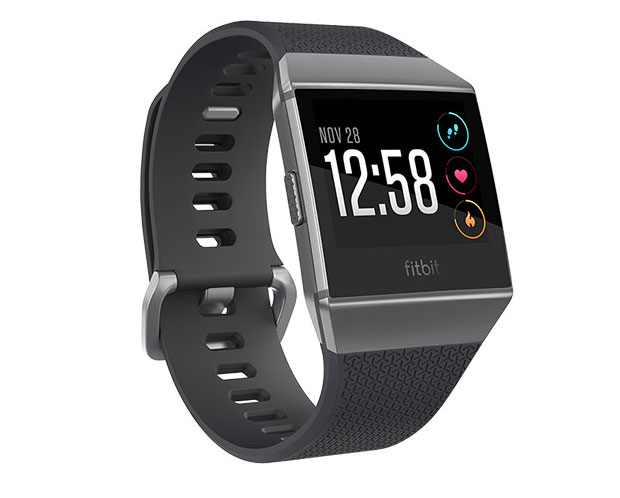 You also may notice that the Fitbit Ionic has some design parallels to the Blaze, however compared to the Blaze, it does seem more sturdy with a smoother finish and less jaggedness. The Ionic also comes with different band sizes, however additional bands (e.g. leather) can be purchased to add some additional flare to this smartwatch.
With that said, the band included is very comfortable to wear and as its waterproof, you can swim and shower with the Ionic. I was also a little excited when I heard that the Ionic would be waterproof because summer here we come and you don't need to carry your wallet either as this product supports contactless payment. It should also be noted that the Ionic is available in three colours that include silver grey body with classic blue grey band, smoke grey body with classic charcoal band and a burnt orange body with classic slate blue band.
Ionic Unboxing
In terms of dimensions, the Ionic has a watch width of 38mm, a thickness of 12mm with a good sized display of 29 x 21mm. Further to this, there are two buttons on the right hand size of the Ionic with another button on the left to help navigate the smartwatch or you can use the intuitive touch screen. On the back of the watch are the optical sensors which are used to monitor your heart rate. Charging is done through its proprietary magnetic charging cable and with basic use, we've managed to get the battery of the Ionic to just over 5 days. Like other Fitbit products, the watch will dim the screen to save the battery and can be woken by moving your wrist or pushing one of the buttons.
The LCD touch screen of the Ionic supports a multi-colour resolution of 384 x 250 and was quite responsive during our testing phase. For additional protection of the screen, it boasts Gorilla Glass and third party screen protectors are also available. Further to that, I must commend Fitbit in their excellent screen which can even be seen in the brightest of days thanks to its 1000 nits.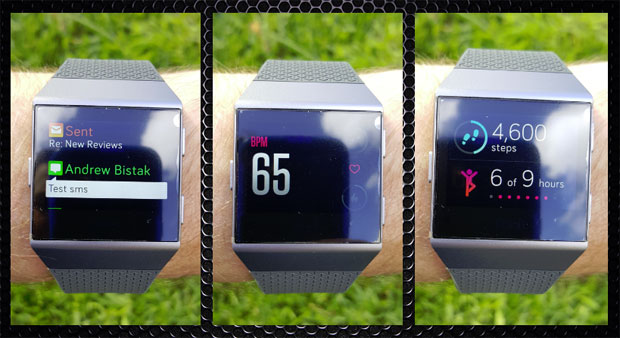 Syncing the Ionic to our Samsung Galaxy S8 was quite simple and all we needed to do was download the Fitbit app which helped us pair it with our phone. It even takes you through a tutorial of sorts and once paired, the installation process is done. Whether you're an Apple or Android owner, the Ionic works on both these platforms, including Windows and Mac computers. Apart from Bluetooth, it even has WiFi connectivity.
We did have one hiccup with the Ionic and when we tried to install the smartwatch on a phone that had an existing Fitbit (okay… we didn't read the instructions saying to remove this),  the syncing process took longer then expected, including connecting to our WiFi. However once removed, it paired and setup perfectly and the moral of the story is… read the instructions more carefully.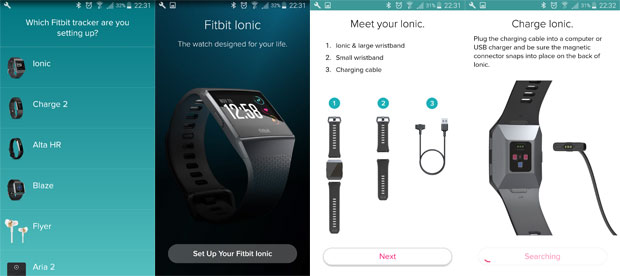 The GPS functionality of the Ionic will use more battery but is ideal for users wanting to track their running and more importantly, you do not need your smartphone. However once back in the range of your smartphone, this information will be transferred to it and then uploaded to your area on the Fitbit website.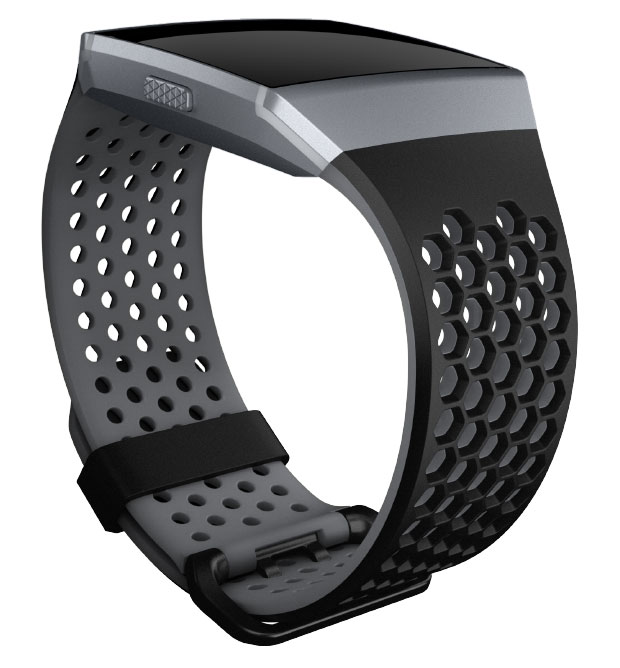 Also, the Ionic allows around 350 songs thanks to its 2.5GB of storage which is perfect for almost any physical activity like running or doing a spin class, however you do need a Bluetooth headset to use this feature or the Fitbit Flyer. Transferring music is done through your computer via the Fitbit app which needs to be installed on your system. Sure, it's a little messy and reminds me of the old iTunes where you drag and drop your songs.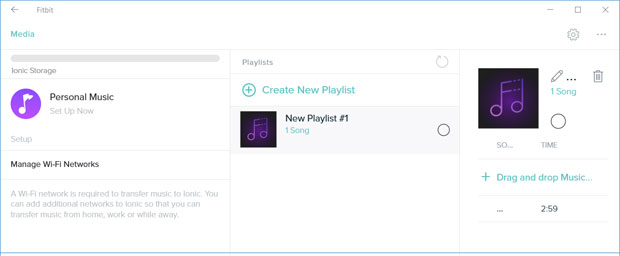 The interface of the Ionic is easy to navigate, e.g. seeing your fitness statistics is done by tapping the watch face which will give you the date, time plus three icons for steps, heart rate and calories. To access the icons, you simply tap on them and they will inform you the number of steps you've done so far, your current heart rate and the number of calories burnt.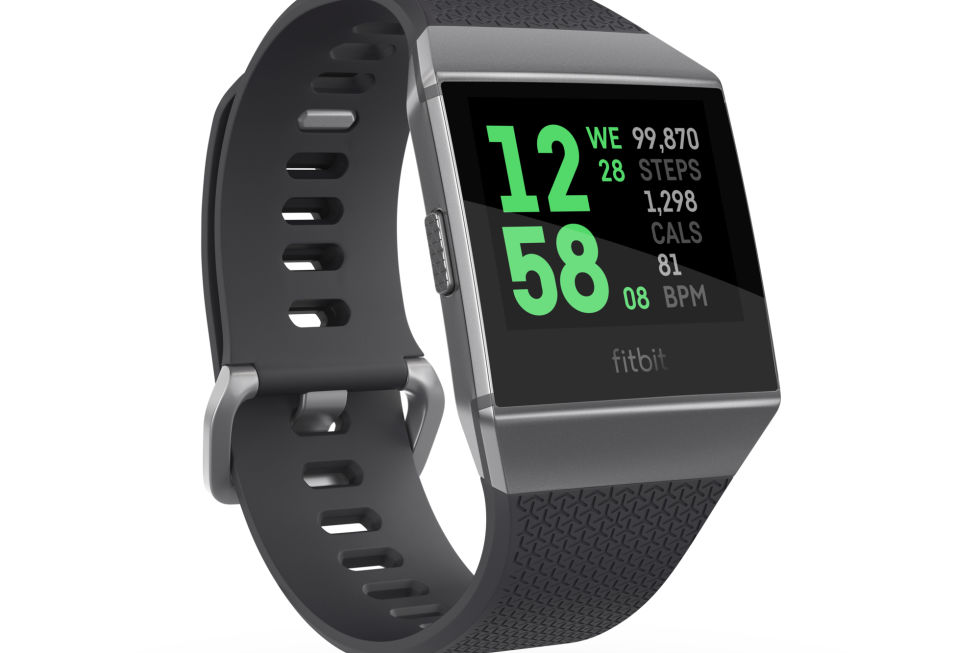 The Fitbit O/S does feature notifications such as text messages, appointment reminders, phone calls and other alerts from various apps on the Ionic. I also like how you can easily swipe through your notifications and even delete them. To access your music, you simply swipe down and to access notifications you swipe up. By swiping to the right, it will load your Fitbit apps and by swiping left, it will display the battery meter, what your screen wake is set to and your notification options.
To get a list of your current stats, you push the top right button which will display steps, number of activity hours, current heart rate (including resting heart rate), kilometers walked, calories burnt, floors climb and number of active minutes so far. By pushing the bottom button on the left, it will display your chosen workouts such as run, bike, swim, treadmill, weights, interval timer and workout. There's also options to tweak these settings via a setup icon.
Compared to other smartwatches, whether Apple or Android, one limitation of the Ionic is the lack of apps, however FitBit will continue adding new programs over time.
The Ionic has the following pre-installed apps available;
Timers
Music
Strava
Exercise
Today
Alarms
Weather
Coach
Relax
Settings
Wallet
Given that, the majority of apps for smartwatches from all different makers are fairly useless, so hopefully there will be some vetting system done by Fitbit, unlike Apple and Google. Also, additional clock faces can be installed as well and some apps need to be setup like Weather such as your locations(s).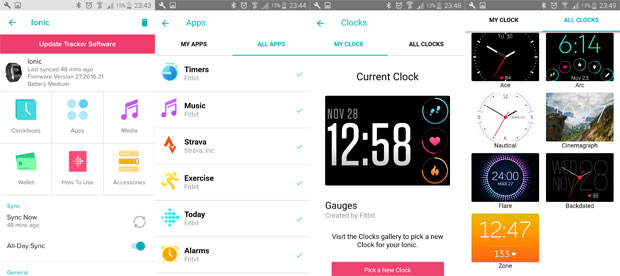 Additionally, the Ionic supports mobile payments (or wallet) which uses the NFC capabilities of the smartwatch to basically tap and pay which is supported in Australia by most major banks. Thankfully I had a NAB account which allowed me to add my debit card details to add contactless payment which meant I just put my watch up to the payment system and presto, all paid. You can also setup a pin number and best of all, your banking details are encrypted.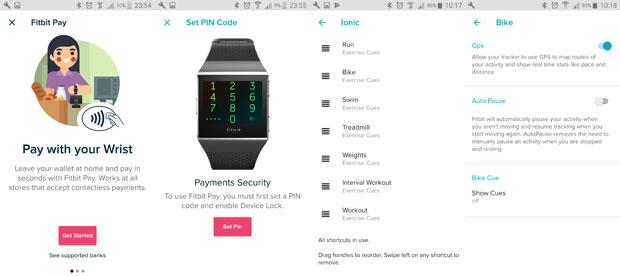 As part of its fitness tracker ability, the Ionic informs the wearer to start moving if you have been inactive too long. Also, the sleep functionality of the Ionic does seem more accurate than previous products from Fitbit which does give more information on your sleeping patterns. However as my wife and I have just had twins 9 weeks ago, my sleep patterns are not the best at the moment!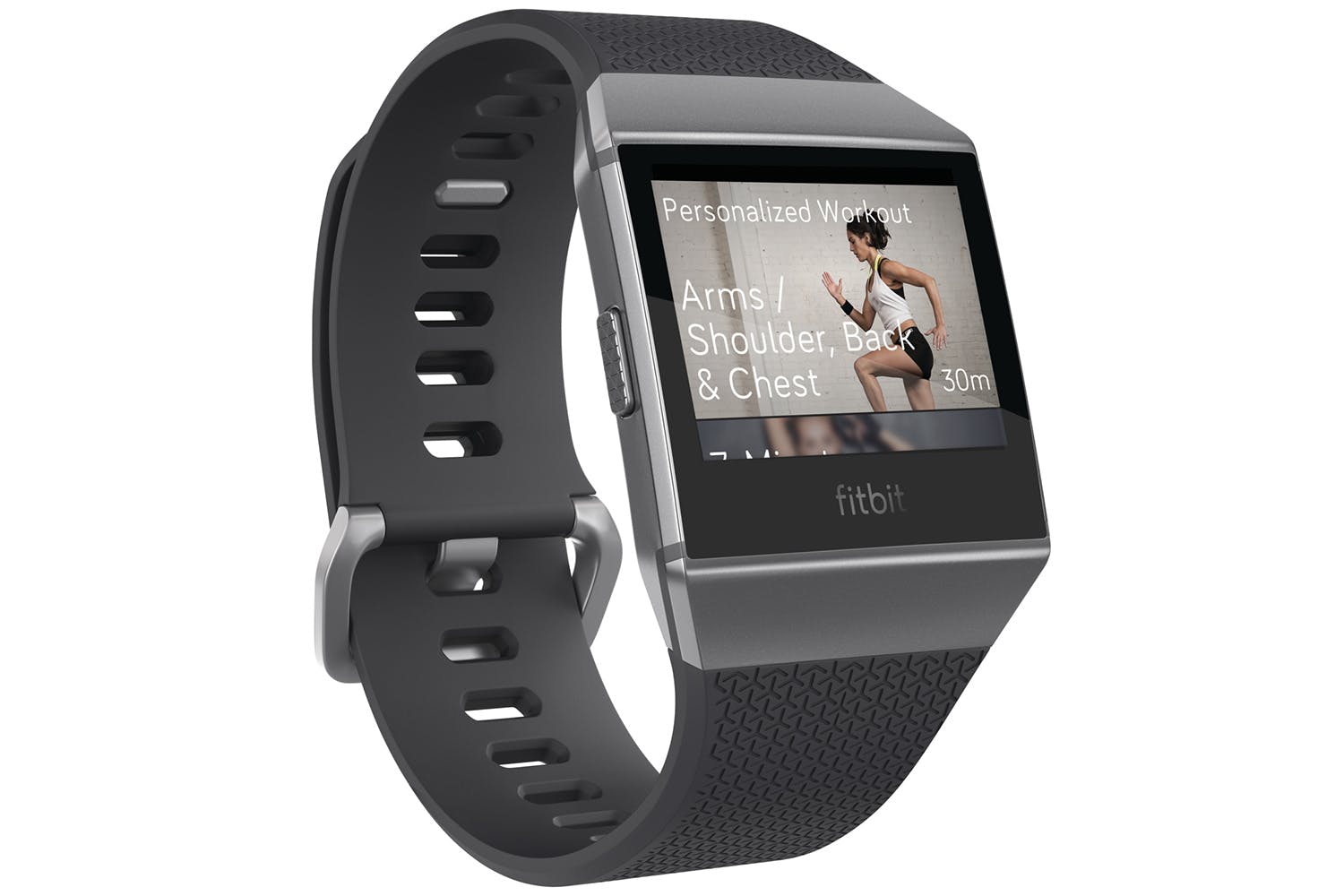 For those fitness buffs, the coaching apps can be tailored to your needs and are quite easy to follow, especially with the animations and instructions which further builds on the Blaze 'coaching' system and is a great motivator. There are around 40 different exercises to choose from which range from short sessions, all the way up to 60 minute workout sessions.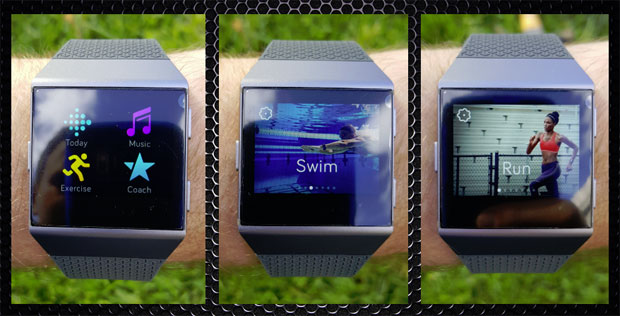 Another clever feature of the Ionic is that when you start running, the watch automatically detects this and tracks a variety of different attributes to this physical activity like elevation and distance, even automatically activating the GPS after 5 minutes which is where the Ionic shines. There's even guided breathing exercises to help lower your stress and relax after exercise.
Although the Ionic may not have the choice in apps like the Apple or Samsung smartwatches, I prefer the fitness element of this FitBit product, particularly the Fitbit app which in my opinion is far superior. It's also compatible with Fitstar which is a paid subscription service from Fitbit which allows you to fine-tune your fitness goals and serves as a virtual personal trainer. However as a smartwatch, the Ionic feels more like an interactive activity tracker then a smartwatch but if you're looking for something that successfully monitors your fitness plus adds some smartwatch elements into the mix, this meets the criteria well.
Final Thoughts?
Fitbit are off to a great start with their Ionic smartwatch that successfully incorporates their excellent suite of fitness tracking with a smartwatch. Sure it might be a little limited compared to Apple and Android smartwatches but it builds on their fitness tracker premise with useful smartwatch features plus a battery life of over 4-days, including GPS and true water resistance.
Recommended!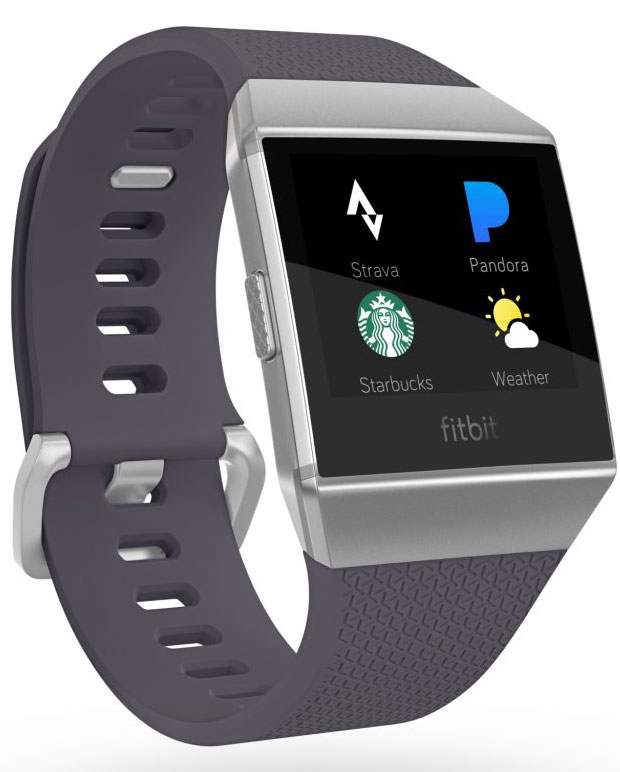 Key Features
Dynamic Personal Workouts
Start dynamic personal coaching right on your wrist, complete with on-screen guidance during every move and routines that adapt based on your feedback.
Built-in GPS
Built-in GPS with GLONASS lets you see pace, distance and other key stats on display, while also recording elevation climbed, split times & a map of your route.
GPS integration
Fitbit Ionic integrated Bluetooth, WiFi and a GPS antenna right into the unibody frame in order to create a much stronger connection with satellites in space and more accurate tracking.
Designed for Fitness
Designed for fitness, Fitbit Ionic takes workout tracking to the next level with dynamic personalised workouts, built-in GPS, multi-sport modes and SmartTrack automatic exercise recognition.
PurePulse® Continuous Heart Rate
Use PurePulse® continuous heart rate to better track calorie burn, optimize intensity during workouts, and measure your health and fitness over time.
Track Resting Heart Rate
Get insights on your cardiovascular health and fitness by tracking your resting heart rate and following your heart rate trends over time.
Multi-Sport + SmartTrack
Use Run, Bike and other multi-sport modes to track specific workouts with real-time stats on display, or rely on SmartTrackTM to automatically record exercises for you.
Water-Resistant + Swim Tracking
Built water-resistant to 50 meters, you can wear Fitbit Ionic in the pool, rain or during swim workouts to track laps, duration and calories burned.
Cardio Fitness Level
Get a better understanding of your fitness level and learn how you can improve over time with a personalized Cardio Fitness Score.
Guided Breathing Sessions
Find moments of calm throughout the day by following personalized guided breathing sessions based on your heart rate.
All-Day Activity Tracking
Track all-day activity like steps, distance, floors climbed, active minutes and calories burned to see how every part of your day adds up.
Reminders to Move
Get onscreen Reminders to Move that help you to stay active throughout the day by encouraging you to mini-goals of 250 steps per hour.
Seamless Smart Experiences
Fitbit Ionic seamlessly delivers the best watch features with key notifications, access to your favourite apps, on-board music and built-in payments.
Smartphones Notifications
Stay connected with call, text and calendar alerts, plus notifications from your favourite apps like Gmail and Facebook (when your phone is nearby).
Popular Apps
Get instant access to important information like weather and fitness updates.
Stores & Play Music
With Fitbit Ionic, you can store and play 300+ songs right from your wrist—giving you the motivation you need at a moment's notice.
NFC-Enabled
Fitbit Ionic includes a built-in NFC chip, which lets you securely store and use your credit card right on the watch with the push of a button.
Sleep Tracking – Overall
Get a better understanding of your sleep quality by seeing your total time asleep, your time spent in different sleep stages as well as time awake.
Sleep Stages
Using PurePulse® heart rate, Fitbit Ionic tracks your time spent in light, deep and REM sleep stages to help you better understand your sleep quality.
Intelligent Frame
Fitbit Ionic was constructed with a watch body that's more intelligent than ever—packing GPS, NFC, on-board music and more inside a lightweight, durable and water-resistant design.
Redesigned Colour Touchscreen
Fitbit Ionic's high-resolution colour touchscreen features scratch-proof Corning Gorilla Glass 3, crisp graphics and amplified brightness up to 1000 nits.
Clock Faces
Customize your Fitbit Ionic clock face with unique designs that range from sleek and understated to fun and fitness-focused.
Multi-Day Battery Life
A day lasts 24 hours. So should your watch. With a multi-day battery life of 4+ days, Fitbit Ionic tracks your morning, night & everything in between. (Varies with use & other factors)
Design & Materials
As Fitbit's strongest, lightest GPS watch ever, Ionic features a sleek, unibody watch case made from aerospace-grade 6000 series aluminium.
Fitbit Flyer & Bluetooth Headphones
Bring music & audio coaching on your Ionic watch to life by connecting it to wireless Bluetooth headphones like Fitbit Flyer—designed specifically for fitness.
Wireless Sync
Automatically syncs to computers and 200+ Android, iPhone & Windows devices, to show your stats, trends and progress on your Fitbit dashboard.
Bands & Accessories
Wear Fitbit Ionic in a way that's all your own by using the quick release button to easily switch your band into sport, leather and other styles.
Dashboard
Set goals, track progress and get a complete picture of your health and fitness—from nutrition & hydration to exercise & sleep—all on the Fitbit dashboard.