Hardware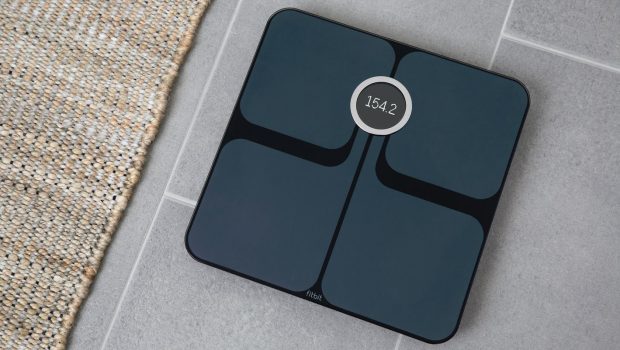 Published on August 29th, 2017 | by Admin
Fitbit Introduces Aria 2 Wi-Fi Smart Scale with Industry-Leading Accuracy
Track and understand your overall health with easy setup and connection to the Fitbit platform 
AUSTRALIA—August 29, 2017—Fitbit, the leading global wearables brand, today unveiled its Fitbit Aria 2™ Wi-Fi Smart Scale, reengineered for improved accuracy and easy setup via your smartphone's Bluetooth connection, helping you track and understand your body composition including weight, body fat percentage, lean mass and BMI. By syncing your data from Aria 2 with the Fitbit app, you can see all of your stats in one place making it easier to track your progress and get results. Aria 2 is available for presale today on Fitbit.com, with availability starting in October 2017.
"Our users have great success when using our app, trackers and scale together to help achieve their health and fitness objectives, with 70% of daily Aria users losing weight in the first six months," said Jon Oakes, VP of Product at Fitbit. "With a simplified set-up and improved accuracy, Aria 2 is a complement to the Fitbit portfolio of leading health and fitness products, giving you another tool to stay accountable and be empowered to achieve your goals."
Industry-leading accuracy, simplified setup and sleek design
Fitbit Aria 2 has been reengineered for greater accuracy, easy setup and an improved interface to get you started faster on your health journey:
Industry-leading accuracy: More accurately measure your weight, track your body composition, and view your results in the Fitbit app to see your trends and if you're gaining muscle, burning fat and achieving long-term results.
Quick and seamless setup: Use your smartphone's Bluetooth connection for a quick and easy setup and compatibility across more Wi-Fi networks; stats sync automatically to your Fitbit dashboard.
Improved and modern design: With a striking sleek profile and bright display to view your stats, the updated interface now includes personalised icons and greetings for added motivation.
Supports multiple users: Aria 2 will recognise eight different users so you don't have to worry about family members or roommates seeing your stats – all of your data stays private.
Get a holistic view of your health with Fitbit
One of the biggest advantages to tracking your weight metrics with Aria 2 is that it works seamlessly with all Fitbit devices and the Fitbit app so you can view all of your activity, exercise, sleep, heart rate, nutrition, weight data and trends over time. Through the Fitbit app, you can also log your nutrition, use calorie coaching to see how many calories you're burning versus consuming in real-time, and compare your food consumption and exercise against your weight trends to stay on track.
"Fitbit provides a more complete picture of your health by showing how everything you do throughout each day contributes to those numbers," said Dr. David Katz, nutrition expert on the Fitbit Advisory Panel. "With this greater contextualisation, you can create a more targeted weight loss plan and develop a deeper understanding of the connection between the stats you're seeing on the scale and the data on your wrist – helping you attain and maintain long term results."
To help you on your health journey, the Fitbit app offers additional personalised guidance, support and tailored insights to help you reach your goals:
Personal Goal Setting: A step-by-step process will help you create achievable goals based on insights from your data, and health and fitness objectives. Fitbit data shows the majority of Aria users who weigh themselves daily and set a weight loss goal will lose weight in the first 3 months.[i]
Community encouragement: Use the new Community section of the Fitbit app to join groups of like-minded individuals focused on Healthy Eating or Weight Management (from maintenance to weight loss) to find tips and inspiration as you progress along your path to better health. Receive badges as you reach milestones, share inspirational moments on Feed, or challenge yourself, friends and family to reach your goals.
Guided Health Programs: With the new Kick Your Sugar Habit program coming later this year, receive tailored guidance, health and fitness insights, and educational tools over the course of four-weeks to learn how to reduce your added sugar consumption and develop healthy eating habits.[ii] Additional fitness, nutrition, wellness and sleep programs will be introduced over the course of the next year.
You can also sync your data from popular apps like Lose It!, MyFitnessPal and more with the Fitbit app to ensure you capture all aspects of your health and nutrition.
Pricing and availability
Fitbit Aria 2 is available in black and white for presale today on Fitbit.com for $199.95. Aria 2 will be available on Fitbit.com and at retailers worldwide beginning October 2017.
About Fitbit, Inc.
Fitbit helps people lead healthier, more active lives by empowering them with data, inspiration and guidance to reach their goals. As the leading global wearables brand, Fitbit designs products and experiences that track and provide motivation for everyday health and fitness. Fitbit's diverse line of innovative and popular products includes Fitbit Surge®, Fitbit Blaze®, Fitbit Charge 2®, Alta HR™, Alta®,  Fitbit Flex 2®, Fitbit One® and Fitbit Zip® activity trackers, as well as the Fitbit Ionic™ smartwatch, Fitbit Flyer™ wireless headphones and Fitbit Aria® and Fitbit Aria 2™ Wi-Fi Smart Scales. Fitbit products are carried in 55,000 retail stores across 65 countries around the globe. Powered by one of the world's largest social fitness networks and databases of health and fitness data, the Fitbit platform delivers personalised experiences, insights and guidance through leading software and interactive tools, including the Fitbit and Fitbit Coach appsGuided Health Programs, and the Fitbit OS for smartwatches. Fitbit Health Solutions develops health and wellness solutions designed to help increase engagement, improve health outcomes, and drive a positive return for employers, health plans and health systems.
Fitbit and the Fitbit logo are trademarks or registered trademarks of Fitbit, Inc. in the U.S. and other countries. Additional Fitbit trademarks can be found at www.fitbit.com/legal/trademark-list. Third-party trademarks are the property of their respective owners.
Connect with us on Facebook, Instagram or Twitter and share your Fitbit experience.