Hardware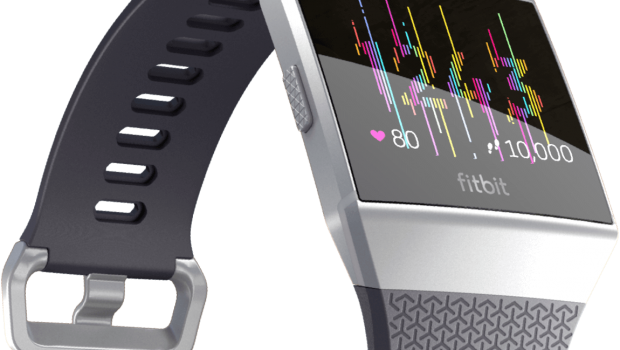 Published on December 6th, 2017 | by admin
Fitbit Delivers First Fitbit OS Update for Fitbit Ionic with New Apps and a Smarter Experience
Fitbit App Gallery features new free apps from popular brands, Fitbit, developers, and 100+ clock faces
for at-a-glance information that matters most to you|
Fitbit R&D launches Fitbit Labs apps and clock faces to accelerate innovation, motivate users, and
help drive positive behaviour change
Fitbit and Deezer partner to offer global offline music service to Fitbit Ionic in 2018
SYDNEY – December 6, 2017 – Fitbit (NYSE: FIT), the leading global wearables brand, today delivers the first update to its Fitbit OS platform for a smarter, more personalised experience for Fitbit Ionic™ smartwatch users with more than 60 apps now available across a wide range of categories, 100+ clock faces, and enhanced performance. Fitbit is also introducing Fitbit Labs, a Fitbit Research initiative that will bring innovative apps and intelligent clock face experiences to users to motivate and drive behaviour change, and help accelerate the company's pace of innovation. Additionally, Fitbit is partnering with Deezer, the world's most dynamic, diverse and personal music streaming service, to provide international users the ability to listen to music directly from their wrist with Fitbit Ionic in 2018.
Next year, users who add the Deezer app will be given access to a massive music catalogue including their favorite playlists, workout mixes and Deezer's signature feature, Flow – a personal soundtrack that combines data analytics and human curation to play the songs that users want to hear.
"Ionic has received strong, positive reviews regarding its leading health and fitness-focused features, long battery life, platform compatibility, and more. With this update, we are delivering on our promise to enhance the smart experience with popular apps, intelligent clock faces, and new motivating tools that help you reach your goals," said Jon Oakes, VP of Product at Fitbit. "This is just the start – along with future enhancements to the Fitbit OS, we have an extremely engaged global developer community excited to continually bring even more unique offerings to our users via the Fitbit App Gallery."
Personalise with apps and clock faces across a broad range of categories
Discover free apps from popular brands across a wide range of categories that provide you with a simple, effective way to interact with your device and adds convenience to your life. Plus, browse new apps and clock faces from developers to customise the look and feel of your Ionic smartwatch and see at-a-glance information, like active minutes, heart rate, games, goal progress, run cadence, sleep, or weather.
New apps from popular brands available for free download include:
● Health & Fitness: Clue, the #1 rated free female health app by gynecologists, to track your menstrual cycle and symptoms (coming by end of year); GAME GOLF, the leader in tracking golf performance analytics, will help to improve your game by providing precise distances to the green and visualizing the hole layout (coming by end of year); and Surfline, the leading surf reporting and forecasting company, to track swells and conditions so you can find the best waves (coming by end of year).
● Home & IOT: Hue Lights, for controlling Philips' leading wireless lighting system.
● News: Flipboard, with stories for every interest, to quickly preview the latest health and fitness stories; and The New York Times, the global paper of record, to easily check current news headlines.
● Travel & Transit: TripAdvisor , the world's largest travel site, to easily discover restaurants and things to do nearby (coming by end of year); Uber by Fitbit gets you fast reliable rides in minutes, displays your ride status, and provides access to your trip details (coming by end of the year); and United Airlines, one of the world's largest airlines, to access boarding passes and check flight status (coming by end of year).
More motivation for global users with offline music, coming in 2018:
Music is an integral part of any workout, and through a new partnership with international streaming music service Deezer, Fitbit users around the globe will have the ability to take their favorite streaming music with them, no phone required (available in 2018).
"Whether it's to run faster, train longer, or push you a little further, music is a motivator that can help you reach your health and fitness goals. We're excited to partner with Fitbit, the leading global wearables brand, to bring our personalised offline music streaming service to its large international community," said Riad Hawa, Global VP of Hardware Partnerships at Deezer. "By bringing Deezer to Fitbit Ionic, users around the globe can leave their phones at home and listen to their favorite music from our vast library right from their wrist."
Engaged and growing developer community
More than 5,000 developers having joined Fitbit's new developer community and registered for the SDK public beta. In addition, more than 1,000 developers have started to build apps or clock faces on an Ionic smartwatch and are designing smart, interactive experiences for Fitbit users that will be regularly added to the Fitbit App Gallery.
Accelerating innovation with Fitbit Labs
In addition to the new apps noted above, Fitbit Labs leverages the Fitbit Research & Development team's expertise in data analysis and behavioral science to test potential new features in the form of experimental apps and smart clock faces designed to motivate users and drive behavior change. The team has built smart, insightful, and motivating experiences using Fitbit's software development kit (SDK)iii, giving the company a highly scalable way to test new features and analyse anonymous user data and feedback to help accelerate the development of future technologies.
Fitbit Labs apps and clock faces include:
● Fitbit Pet clock face series helps you stay active by using your steps to feed and care for a virtual dog or cat.
● Mood Log clock face lets you track how you feel and observe your mood patterns over time (coming by end of year).
● Tennis app tracks your swings to give insights into your playing style and a breakdown of your shots by forehand, backhand and serve to help improve your game (coming by end of year).
● Think Fast task-switching game that tests your mental sharpness. Insights to help you understand the effect of sleep and a healthy lifestyle on your performance coming later this year.iv
● Treasure Trek app helps motivate you to stay active through gamification of your step goal (coming
by end of year).
More information about the Fitbit Labs apps and clock faces can be found here. Additional apps and clock faces from Fitbit Labs will be added throughout 2018 and beyond.
"Over the last 10 years, we have built one of the largest health and fitness databases in the world, and that has directly informed the development of some of our most insightful and innovative features," said Shelten Yuen, VP of Research at Fitbit. "With Fitbit Labs, we are creating a testing ground that will provide us with additional data and insights we can leverage to bring even more meaningful and effective health and fitness features to market in the future – all while offering cutting-edge, motivating experiences to our users."
Get more motivation right from your wrist:
As one of the largest social fitness networks in the world, Fitbit has brought your personal friend network to the wrist with the new Fitbit Leaderboard app. At a glance, you can now see where you stack up against your friends, family or coworkers, and cheer or taunt them directly from your wrist, providing motivation to you and your social community to reach your goals.
Enhanced on-device experience and convenience
Lastly, the update to Fitbit OS adds faster touch interactions and more convenient options for Fitbit Pay™. Now you can choose which credit or debit card you want to pay with, right from your wrist. The list of participating banks has also expanded to include 25 banks across three networks in 13 markets, with more countries and banks rolling out in 2018. See the regularly updated list of partnered banks at www.fitbit.com/fitbit-pay/banks.
Fitbit will continue to add new apps and clock faces to the Fitbit App Gallery throughout 2018 and beyond.