Hardware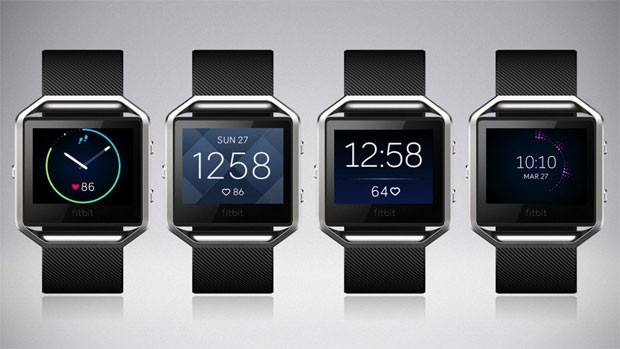 Published on March 9th, 2016 | by Andrew Bistak
FitBit Blaze Review
Summary: The FitBit Blaze is almost an amalgam between a smartwatch and an activity tracker!
FitBit have upped the ante when it comes to "smart" activity trackers by making the gap between these devices and smartwatches even smaller. Add in a very catchy and visually impressive design plus some cool features like notifications and even an interactive fitness option and the FitBit Blaze ticks all the right boxes.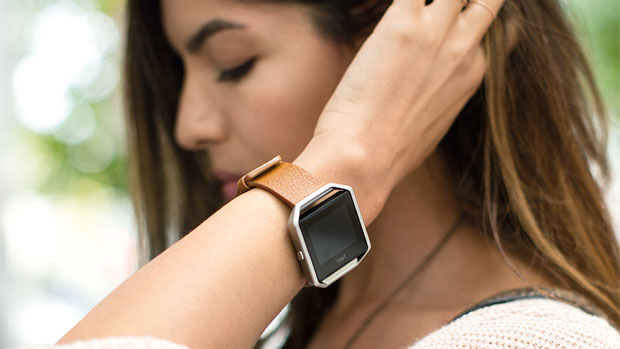 The first thing that we noticed about the Fitbit Blaze was its smartwatch-like appearance that definitely moves away from their simplistic activity trackers like the Charge HR and Flex. Another interesting element of the Blaze is that users can customise the product with a variety of bands including some very high end ones that borders on classic time piece merged with smartwatch. The Blaze also comes in three different sizes that include small, large (reviewed) and extra-large.
The Blaze has an EMS 3-axis accelerometer which measures your steps and also an altimeter which measures the number of floors climbed with every 3 metres (10 feet) mirroring one floor of steps. The heart rate monitor of the Blaze is an optical heart rate monitor which uses Fitbit's PurePulse technology that detects the expansion and contraction of your capillaries in the skin thanks to the LED lights.
Blaze even has SmartTrack technology which allows the user to select the type of exercise they are doing such as Walking, Running, Outdoor Biking and Elliptical in order to count towards your fitness progress. These can also be tailored by the user to include other sports and exercises. Installation of the Blaze is very easy and took around 10 minutes to link, setup and start using.
Installation Screens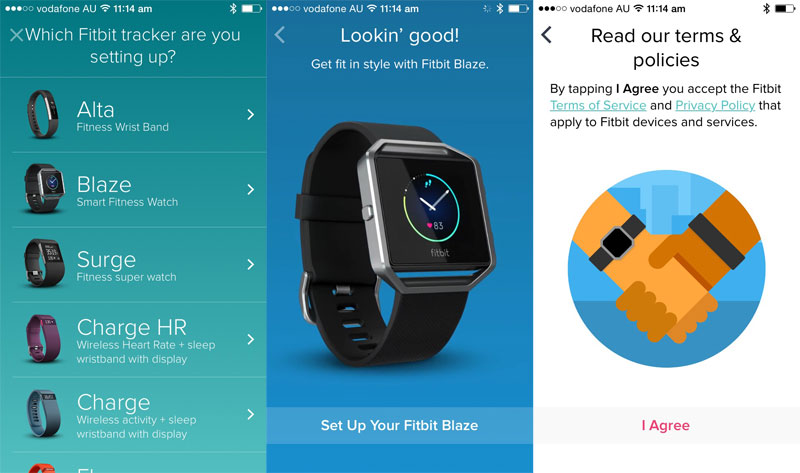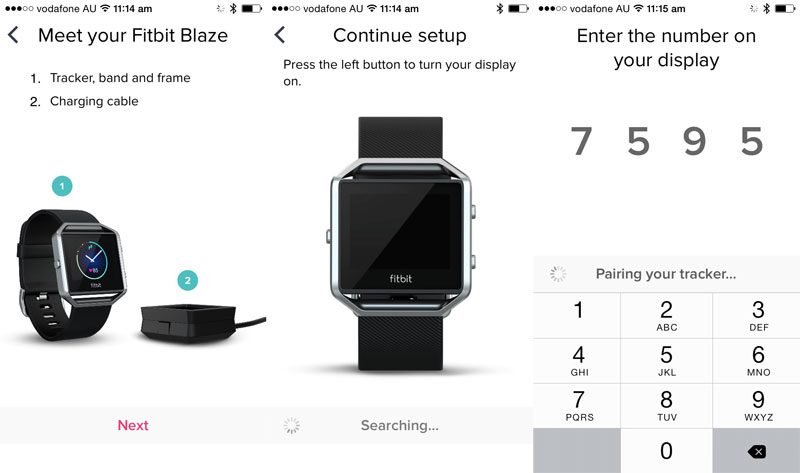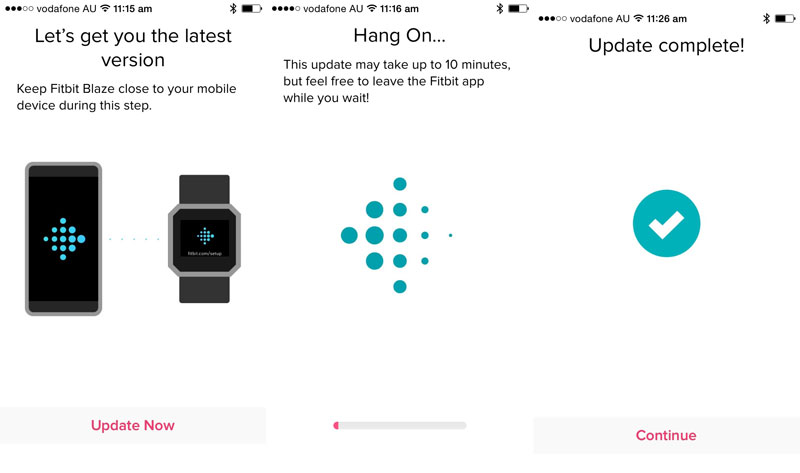 To charge the Blaze, you do need to pop it out of the band in order to place it on the proprietary charger which is like a little docking station that is powered via USB. Removing the Blaze from the band can be a little intimidating the first few times because you're trying not damage the product but some force is needed. After a few times it becomes second nature to you.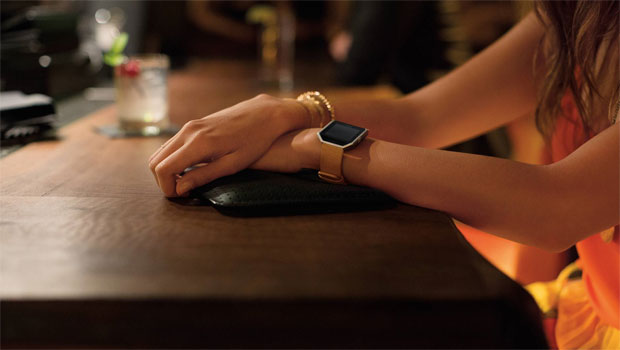 The band of the Blaze is quite comfortable and all in all, it's a very lightweight device (43g) so whether you're training, sleeping or just using it as a watch, the lightness of the product is perfect. Given that Charge HR weighs at 26g, the additional weight is a moot point and it's also slightly lighter than the Surge.
The screen of the Blaze is very clear and its 1.25″ 16-colour touchscreen display produces crisp images and text that can be viewed in a variety of different lights. The touchscreen of the Blaze is very accurate, so swiping or pushing icons on the screen works very well.
Furthermore and to save the battery, the screen will power-off after a few seconds and to reactive, you can simply raise your arm, push the touch screen or one of the buttons. Apart from the touchscreen, there are three buttons on the Blaze, one of the left and two on the right. The left button is basically a back button, whereas the two right buttons are navigation buttons.  The Blaze does not have a GPS, however it can use your smartphone that is great for walking or running.
The menu of the Blaze is well organised and I found it quite intuitive that is broken down into themes. This includes Time, Today (steps, beats per minute, resting beats per minute, kilometres, calories burned and number of floors climbed), Exercise (Run, Weights, Treadmill, Elliptical, Workouts, Stairclimber, Kickboxing – these can be changed by the user), FitStar (Interactive workout), Timer, Alarms and Settings (Quick View, Brightness, Heart Rate Auto, Regulatory Info, Version Number and Shutdown).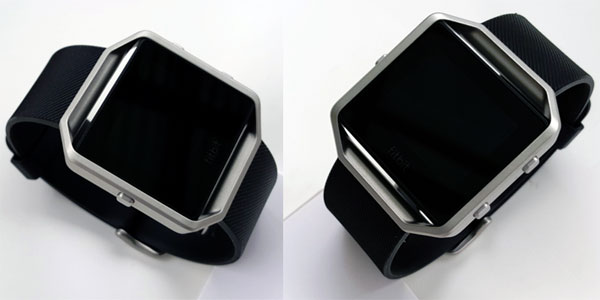 In terms of workouts, the Blaze ticks all the right boxes and measures your daily steps, how many stairs you've climbed, number of calories burned, heart rate, how long you've been active for and also your sleep. As mentioned, you can also tailor the Blaze to particular sporting options such as Kickboxing, Running and Walking. Like just about all activity trackers, the Blaze does have an alarm which is a silent alarm and gently wakes the user via its vibration function.
Companion App Screens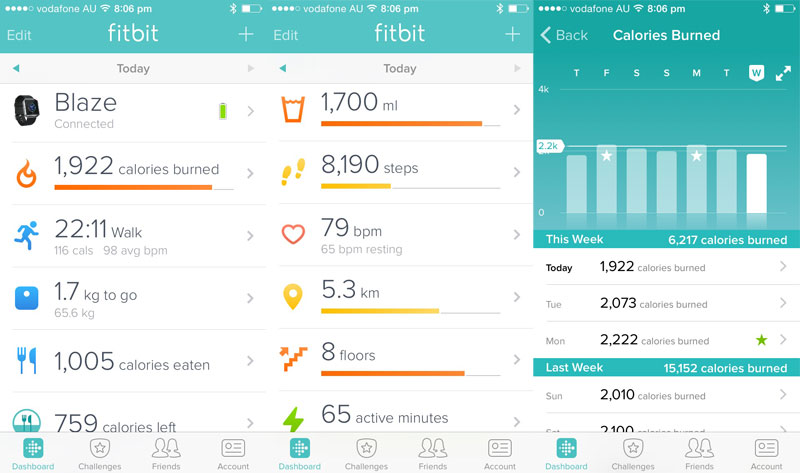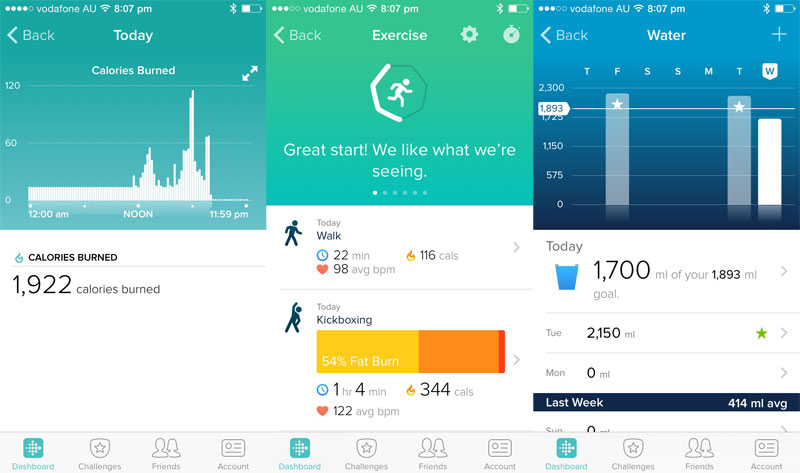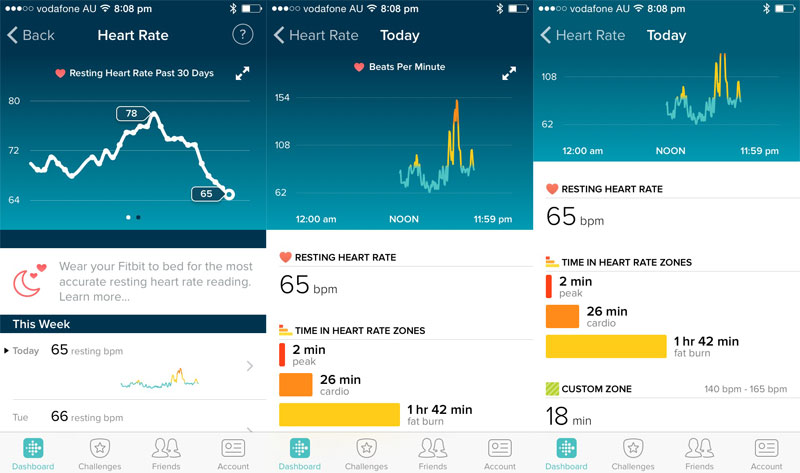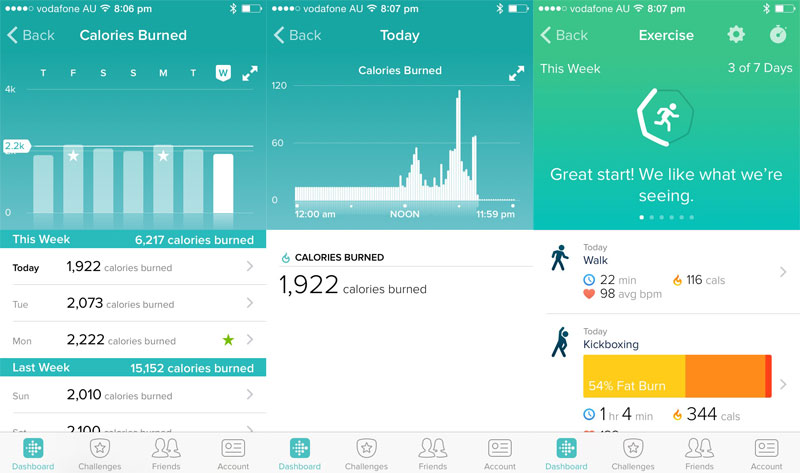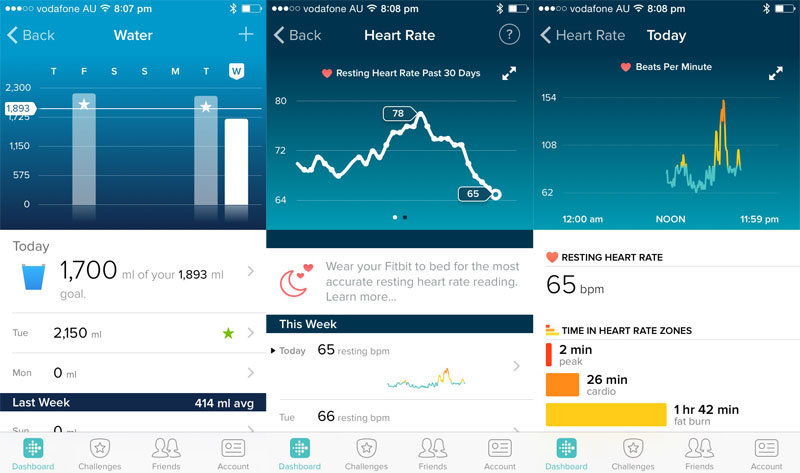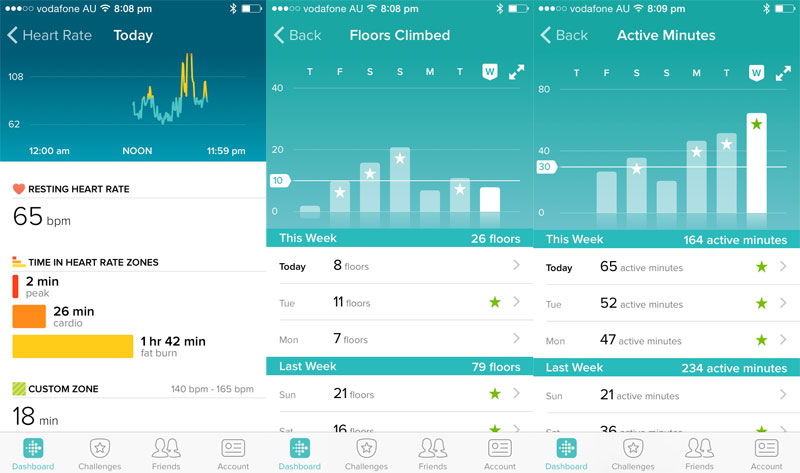 The Blaze does an excellent job at sleep tracking, although I must admit that according to this product, I need additional sleep because I'm averaging just under 5 hours of "good" sleep. Given that, it does estimate your sleep cycle from light to deep and REM, including your restlessness. The statistics it produces is quite exceptional and is a good guide, particularly those wanting to improve their sleep, especially over a given time.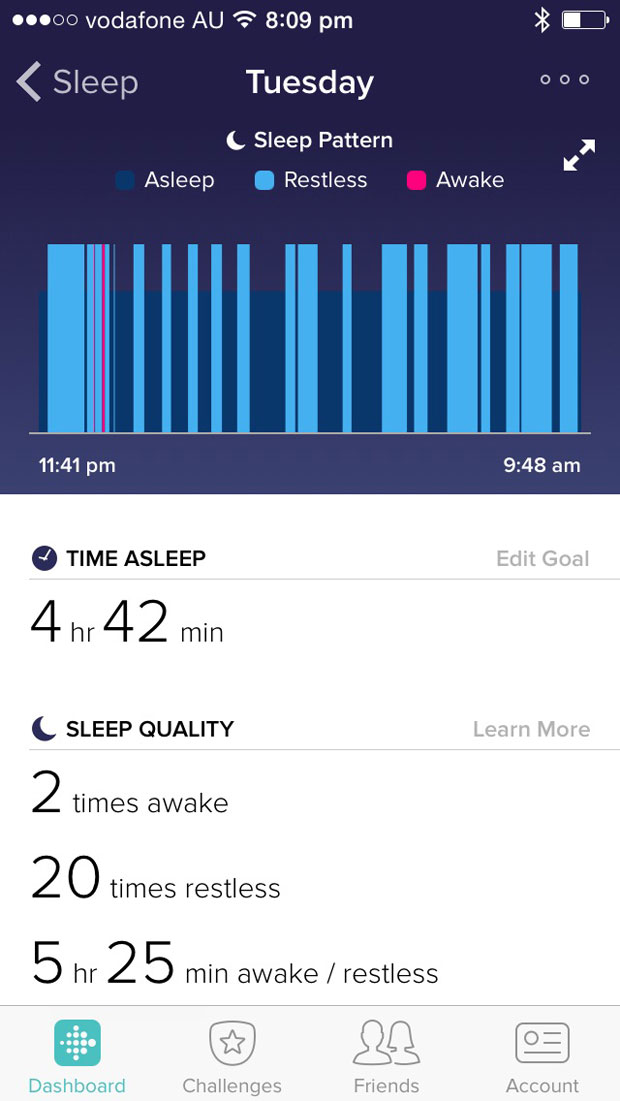 Like the Fitbit Charge, the Blaze does have an optical heart rate monitor and although not as accurate as a chest strap, it's easily one of the better ones available and was close to our M5 Suunto chest strap. As always, optical heart rate monitors using LED's are a guide.
When linked to your smartphone, it does use the GPS function which then informs you of distance and speed. Fitbit also has one of the best apps around and it gives the user a great overall and current statistics of your training with graphs, recommendations and even linking it to other competitive people thanks to the leaderboard. Best of all, the app is very easy to use.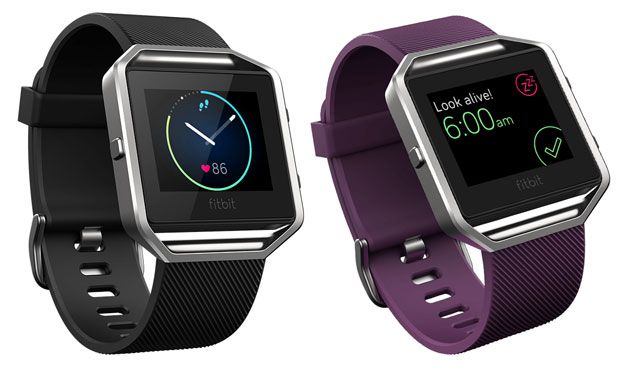 As mentioned earlier in this review, the Blaze allows for smartphone notifications for phone calls and SMS messages. I found this a great feature, particularly at work because if your phone is on silent, the Blaze will silently notify you if someone is calling you. If you receive an SMS message, this gets sent directly to the Blaze and you can even read the message on it as well.
Lastly it pushes calendar notifications as well and another cool option is that you can control your music via the Blaze. Hopefully in the future, additional notifications will be available such as Facebook Messenger or other apps that use this feature.

When it comes to battery, Fitbit state that the Blaze will last five days and during our tests, we can safely say that this is the case, however constant access to the watch, notifications and FitStar will reduce this time. But even with the heart rate monitor, notifications and the other functionality of the Blaze, it definitely keeps its charge well.
The only drawback of the Blaze is that it is not waterproof which means you cannot use this smart activity tracker for swimming. The Blaze is water resistance to an extent but you would not want to submerge it in water. Even though I've tested and purchased quite a few activity trackers over the years, I've never used any for swimming but this may be a deal breaker for some users. Given that, I must admit that the ability to safely have a shower with a totally waterproof product is a bonus, however for this device, I would recommend removing it.

Final Thoughts?
In the end, the Fitbit Blaze is a well-designed made smart activity tracker that features some great tools to help with your overall fitness. From measuring your heart rate to monitoring your sleep and keeping you informed of your goals is all captured by the excellent companion app for your smartphone. The inclusion of notifications is another huge bonus, particularly phone calls and hopefully other apps will support the Blaze in the future. All in all, it's a great product from FitBit that we could happily recommend to almost everyone!