Films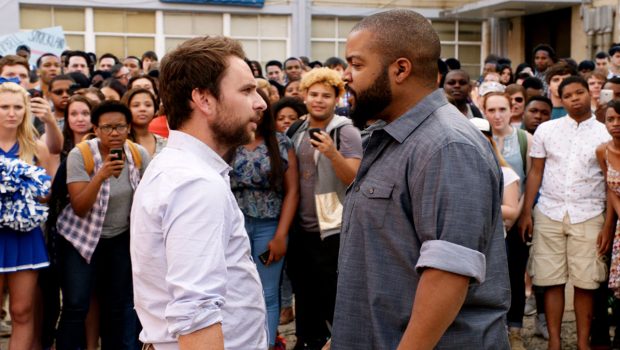 Published on March 5th, 2017 | by Curtis Mayfield
Fist Fight – Film Review
Reviewed by Curtis Mayfield M-H on the 1st of March 2017
Roadshow presents a film by Richie Keen
Written by Van Robichaux, Evan Susser & Max Greenfield
Produced by Shawn Levy, Max Greenfield, John Rickard & Dan Cohen
Starring: Ice Cube, Charlie Day, Tracy Morgan, Jillian Bell, Christina Hendricks & Kumail Nanjiani
Music by Dominic Lewis
Cinematography: Eric Alan Edwards
Edited by Matthew Freund
Running Time: 91 minutes
Rating: MA15+
Release Date: the 23rd of February 2017
Over the last decade or so Charlie Day and Ice Cube (aka O'Shea Jackson) have respectively been carving out their character niche in the world of comedy. Day has capitalised from playing the motor-mouthed lovable idiot in movies like the Horrible Bosses series, Pacific Rim (2013) and of course the TV show It's Always Sunny in Philadelphia. Like other famous comedic actors Day has managed to create a role for himself where he can play a similar character each time and have audiences buy into that and there's nothing wrong with that. It's worked for Ricky Gervais, Woody Allen, Seth Rogen, Ben Stiller, etc. Ice Cube on the other hand has achieved a similar goal but his characters are cut from a completely different cloth. From his days as a rapper making socially emotive songs such as 'Fuck Tha Police' and starting his acting career quite young by playing a L.A. gangster in John Singleton's equally stirring Boyz n the Hood (1991), Cube's image has always been associated with rawness and fear (felt by others, not himself). Cube could eventually make his way into comedy by co-writing the cult comedy Friday in the mid-90s and then rebrand himself for millennials in the 2000s by having scene-stealing roles as tough but funny characters in both the Jump Street and Ride Along series.
So how is it we're talking about both goofy Charlie Day and hardened gangster rapper turned actor Ice Cube? The two have come together to headline the upcoming film Fist Fight, a comedy about two teachers that work for an out of control public high school and ultimately get into a fight once school is out. Day plays the mild mannered and meek English teacher Andy Campbell who doesn't have the respect of the students but gets along with most of the other staff. The one teacher that all of the students (and some of the staff) are terrified of is Strickland (played of course by Ice Cube). As the school year wraps up and the graduating students carry out their end of year pranks, the school staff are facing the chopping block from budget cutting principal Tyler (Breaking Bad's Dean Norris). When Strickland is pushed too far by his students and hilariously takes an axe to a desk, Andy is put in the unfortunate position of ratting the brash teacher out or face being fired. Strickland challenges Andy to a fight, which Andy does everything in his power to avoid. A hilarious concept but does it pay off?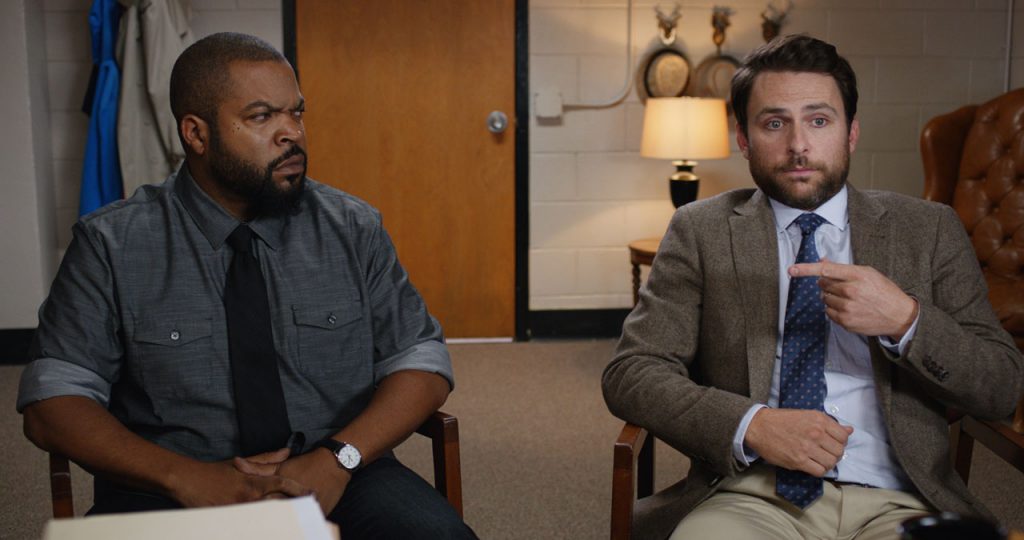 The short answer is sadly no. This movie's success seems like a no brainer on paper. You've have two accomplished, funny actors who are polar opposites bouncing off each other. The cast is on point with comedy legends like Tracy Morgan (SNL, 30 Rock) participating heavily as a PE teacher in the movie, along with relative newcomers Jillian Bell (Workaholics) and Kumail Nanjiani (Silicon Valley) and there is not one weak link in this cast. Even the director Richie Keen has worked with Day by directing 11 episodes of It's Always Sunny…but for some reason a lot of the jokes just don't land. For every four or five jokes that only result in a slight chuckle there are one or two that really deserve a belly laugh. For example, when word spreads through social media and good old fashion word of mouth that the two teachers are going to throw down, the students and the faculty begin explaining the origins of Strickland's mystery past. Some say he was a heavy-handed gangster that specialised in killing snitches. Others say he was a tactical American government soldier in the Middle East. These theories come with some funny visuals that may be the highlight of the entire film.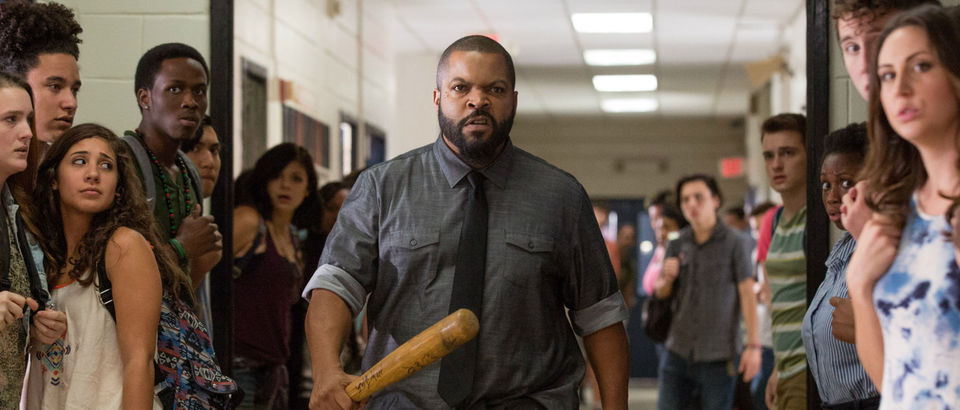 As funny as all of the characters are, their comedic bell is rung one too many times. For example, Bell plays a guidance counsellor who has a casual meth addiction and has ambitions of sleeping with one of the older students. This joke (among a ton of dick jokes) is hit upon so many times it's just not as funny as the movie goes on. The same can be said about the multiple slapstick jokes that are funny but relied upon a bit too much to carry the movie. However, the two leads do have some great opposing onscreen chemistry, which can be seen when Ice Cube stares menacingly into Day's goofy confused face. And this is what we've come to see, the juxtaposition of two brands of comedy but unfortunately, there's still something lacking.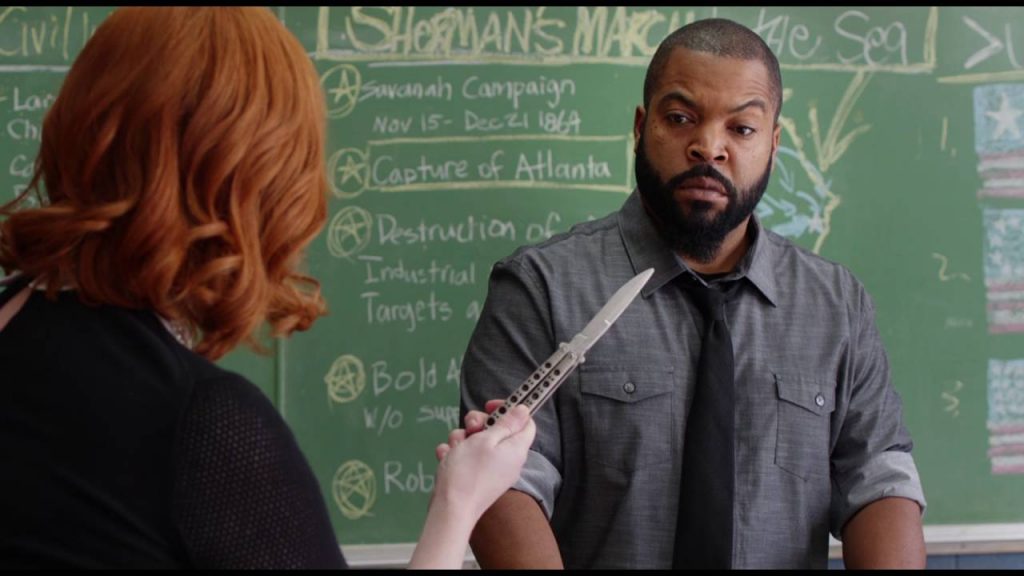 Even the obligatory dramatic-actor-making-a-funny-appearance from Christina Hendricks isn't enough to bring this movie across the finish line. Though Hendricks does do a good job of playing a violently crazed French teacher that the male students pine over. Overall, this is a funny enough movie but it's not likely to go down as a standout moment for all involved but it won't be a blemish either. Look out for the scene where a tiny a kid sings Big Sean's 'I Don't Fuck With You' at a school talent show; that in itself makes the movie worth paying for. Fist Fight will probably come and go without making a major splash but it is an interesting experiment pitting two accomplished actors against each other with a very decent supporting cast of capable comedic players. There's just not enough punch for this movie to be considered anything more than mediocre, even when it does have its hilarious moments. Nice try everybody involved, pats on the back all round. Hopefully you'll get them next time.
Summary: There's just not enough punch for this movie to be considered anything more than mediocre, even when it does have its hilarious moments.