Games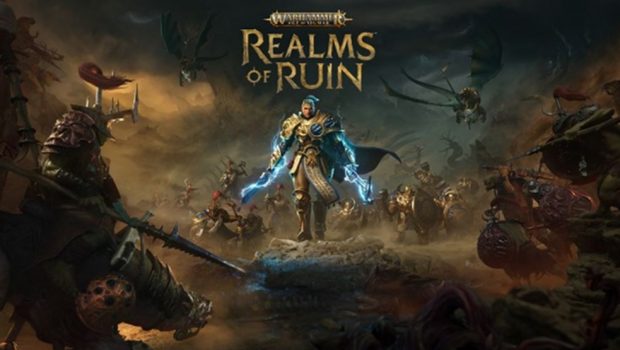 Published on June 12th, 2023 | by Adrian Gunning
First Warhammer Age of Sigmar: Realms of Ruin gameplay trailer
Frontier Developments plc (AIM: FDEV, 'Frontier') revealed today the exciting first gameplay trailer for Warhammer Age of Sigmar: Realms of Ruin, a major real-time strategy game coming soon to PlayStation® 5, Xbox Series X|S, and PC via Steam and Epic Games Store, in partnership with Games Workshop. Featuring both a cinematic singleplayer campaign and 1v1 and 2v2 competitive cross-platform multiplayer, Realms of Ruin is designed for both genre veterans and newcomers. Players will soon have an early opportunity to sample 1v1 online multiplayer for themselves, with an open beta taking place across all platforms on 7th-10th July including both the Stormcast Eternals and Orruk Kruleboyz as playable factions. A second open beta will follow later this summer.
In Realms of Ruin's multiplayer matches, the goal is to control more Victory Points than the opponent, draining their score down to zero in quickfire and exciting games. Players will fight across multiple fronts as they capture Arcane Conduits around the map and strengthen their armies by building Bastions in these locations, accumulating more resources as they push towards the annihilation of their enemies. Unlocking additional tiers of the tech tree enables each faction to unleash their deadliest and most visually spectacular squads, resulting in a furious, ever-changing tug-of-war to control the map. Players who want to experience this for themselves can sign up to learn more about the open betas at www.aosrealmsofruin.com.
Each faction in the game has different strengths and weaknesses that evolve over the course of a battle. The Stormcast Eternals are a resilient force of celestial champions, possessing tools capable of dismantling any foe. Their basic squads include hammer-wielding Liberators and crossbow-carrying Vanguard Raptors, while more advanced combatants include winged Prosecutors who rain celestial hammers down from the sky – not to mention the fearsome Stormdrake Guard, capable of breathing draconic fire down onto the battlefield. The more numerous and cunning Orruk Kruleboyz, meanwhile, field Gutrippaz melee squads and ranged Man-Skewer Boltboyz, with malicious skirmishers like grenade-throwing Hobgrot Slittaz entering the fray as they overwhelm their enemy in a sea of green. As the Kruleboyz grow in force, they bring violent monsters like the Marshcrawla Sloggoth and Mirebrute Troggoth to the frontlines to secure victory.
The gameplay trailer depicts these two factions clashing violently for control of Ghur, the Bestial Realm, showcasing the high-end character models and animations that players can look forward to in this authentic vision of the Warhammer Age of Sigmar universe. In Realms of Ruin, players control one of four Age of Sigmar factions in real-time battles, with all the squads, heroes, monsters and machines on the battlefield inspired by their tabletop counterparts.
Warhammer Age of Sigmar: Realms of Ruin has been developed simultaneously for both console and PC. Players using a controller will experience DirectStep™, an innovative and intuitive new real-time strategy interface, while PC players can also enjoy a traditional mouse and keyboard RTS control scheme.
Warhammer Age of Sigmar: Realms of Ruin is coming soon to PlayStation® 5, Xbox Series X|S, and PC via Steam and Epic Games Store, and is available to wishlist now.
Follow the game on Facebook, Twitter, Instagram and YouTube.